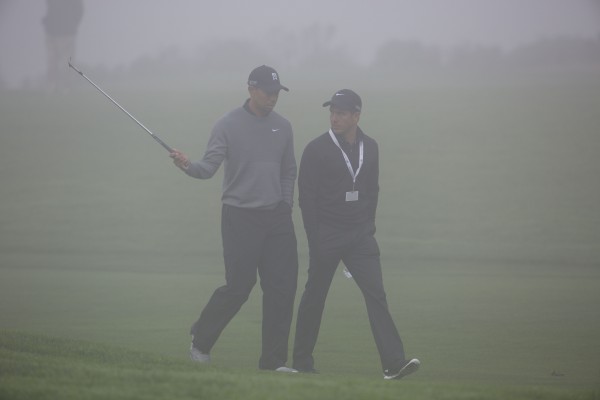 Fog delayed the start of the Farmers Insurance Open pro-am on Wednesday at Torrey Pines Golf Course in La Jolla, eventually limiting play to nine holes.
PGA Tour officials at first announced the delay would be 30 minutes and later said it would be an hour, but it was two hours after the scheduled 6:40 a.m. start that Tiger Woods (pictured with instructor Chris Como) hit the first tee shot at No. 1 on the North Course and Jimmy Walker did the same at No. 1 on the South Course.
"Morning hours are the most likely time for the low clouds and fog to impact the coast," said Wade Stetter, PGA Tour meteorologist, who indicated that fog might be a problem all week at Torrey Pines.
"But the marine layer does on occasion return during the afternoon. Nevertheless, it's a pesky weather feature that we will need to deal with through at least Friday."
Woods took advantage of the waiting time to working on his chipping problems in the practice area with Billy Horschel, Pat Perez and Fred Couples.