Little River Inn on Mendocino Coast is a true golf and relaxation getaway
By Brendan McGuigan 
Traveling to the Little River Inn feels a bit like stepping out of the world. The scenic drive on Highway 128 takes you through towering redwood groves, past picturesque barns and fields, and into the world-famous Anderson Valley wine region. Near the end of your trip the thick, ancient redwood forest gives way to a sprawling view of the Pacific, unlike anything else in California. It's on this stretch of dramatic coastline that you'll find the Little River Inn, perched on a hill just south of the quaint village of Mendocino, with 180° views of the ocean from nearly every room – and from the majestic golf course that dominates the upper stretches of the hillside.
Located three hours north of San Francisco, Little River is a remote hamlet of 117 people with a history dating back to the redwood boom of the 1850s. It's a destination unto itself, and the Little River Inn – still family owned and operated by the fifth generation descendants of settler Silas Coombs – remains largely unchanged from those early days. 
Upon arrival, it's hard not to fall in love with the family charm of the place. The employees are authentic and friendly, and historic photos adorn the walls. When you check in, you're handed a room key – an honest-to-goodness metal key that speaks to the importance of history in this unique setting (though things have updated slightly since the 1930s, when city folk who insisted on locking their rooms were handed one of the 'master keys' that worked on every lock). Every room is unique, from the standard ocean view rooms, which feature a shared deck, to the small bungalows that dot the lower north side of the property, to the spacious deluxe ocean view rooms, to off-property luxury suites with hot tubs.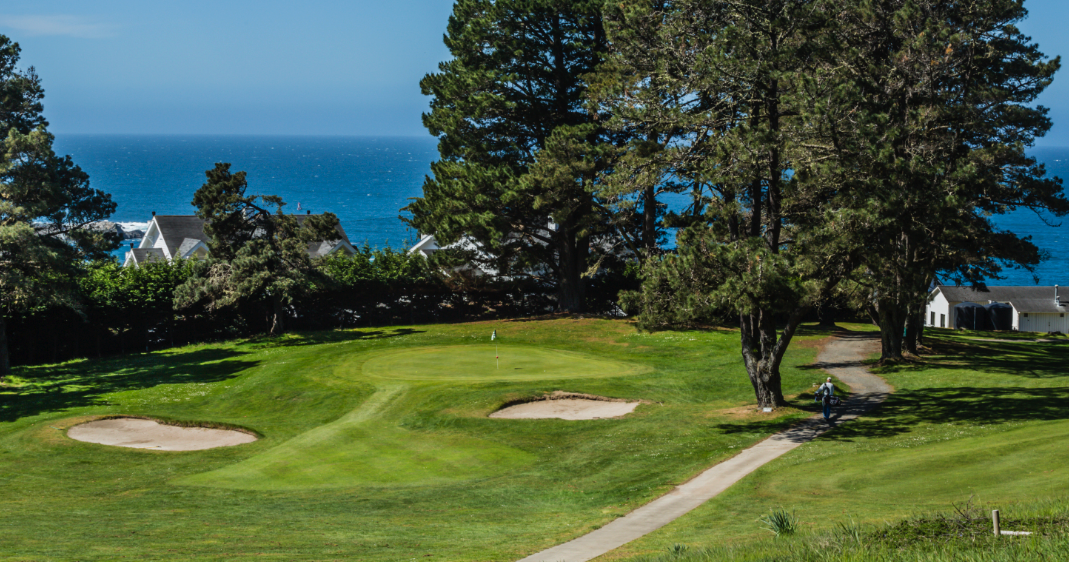 The golf course itself is stunning. It's an Ole Hervilla designed course from 1957. If that name doesn't sound familiar, it's because Ole isn't a renowned golf architect – he's the founder of the Little River Inn, and the grandfather of the current general manager and owner. After watching Arnold Palmer on television one day in the 1950s, he decided his hotel needed a golf course to draw more visitors. And after receiving quotes from three pricey experts, he decided to do it himself – as he used to say, their high prices made a golf architect out of him. 
The 5,458 yard course is surrounded by trees and nature on all sides, and features stunning views of the Pacific Ocean. It's one of only a handful of Audubon-certified courses in the country as well, so don't be surprised to see blue herons, osprey, or deer calling the course home. The Audubon certification is reflective of the overall ethos of stewardship the family owners hold dear, and means the course adheres to best practices in the areas of wildlife habitat management, water quality, water conservation, chemical use reduction, and educational outreach.   
 The course is nine holes that you can play like 18. It features three tee placements, and dual greens on holes No. 7 and No. 9. There's also a driving range and putting green, and a fully-stocked pro shop with snacks, drinks, and gear. Between rounds, you can visit the adjacent Salon and Spa for a full range of treatments. As a 9-hole course, it features 2,775 yards from the longest tees, with a par 36. It's USGA rated 33.7, with a slope rating of 67.9/121 for men and 69.0/121 for women. You can walk or ride, but because of the hilly nature of this course, motorized carts are available.
After an invigorating round, be sure to check out Ole's Whale Watch – the original bar Ole Hervilla opened in 1939. The views from the bar itself are incredible and, as the name implies, it's an ideal place to watch the whales pass by on their annual migration. A robust wine list and full cocktail menu make for an easy end to a perfect day (or beginning to a perfect night), and on-tap you'll find a number of excellent local beers, including the Little River Inn Saison, crafted in conjunction with the Anderson Valley Brewing Company by Chef Marc Dym.  
The bar menu features excellent takes on standard fare – an in-shell steamed clam chowder and 'Billionaires' bacon sliders are local favorites – along with some exciting light fare, like green lip mussels broiled with wasabi tobiko and served with ponzu sauce. If you're in the mood for something a bit heartier, the Little River Inn has a gourmet restaurant on site as well, serving up traditional favorites like Steak Diane and Sole Almondine, along with dishes such as Confit Pork Osso Bucco. And guests swear by the warm Ollalaberry cobbler for dessert. In the morning you have to try Ole's Swedish Hotcakes.
Back at your room, be sure to enjoy at least one evening watching the sunset over the Pacific Ocean while rocking in your Adirondack deck chair. It's a memory that will never fade. Three days scarcely seems like enough time to truly enjoy this course and property, but if you're anything like most guests, it will only be the first visit of many. And after 77 years, it's a good bet your room will still be waiting for you when you return.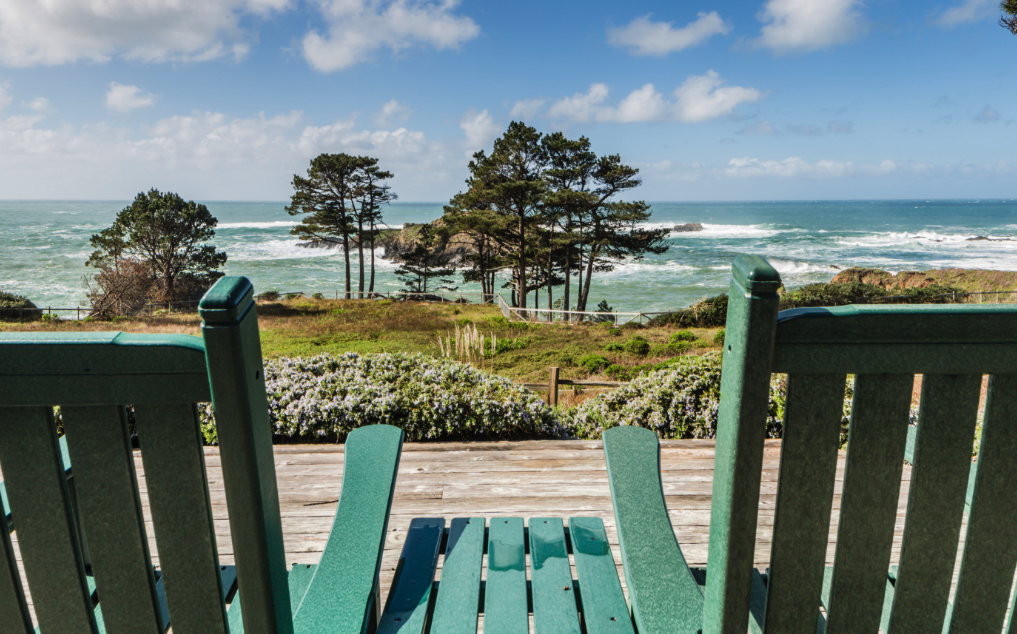 Through October 31st, the Little River Inn is offering their Girlfriend Golf Getaway package, with a two-night stay for two in an ocean-view room, unlimited golf and cart, unlimited driving range use, dinner, breakfast, and spa treatment. 
For more information on golf and travel experiences at the Little River Inn visit www.littleriverinn.com or call 1.888.INN.LOVE.