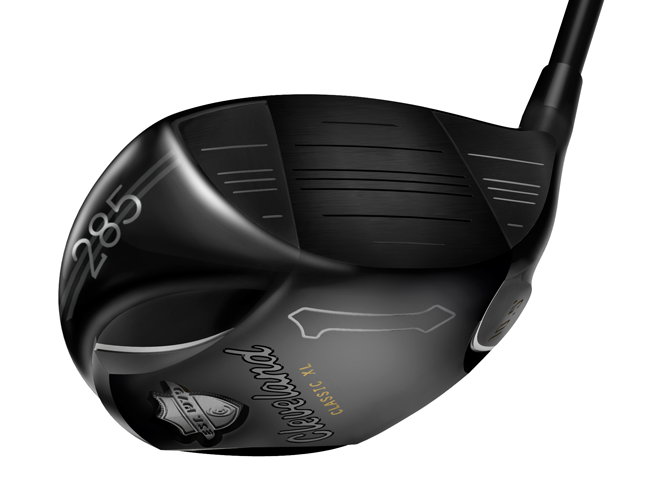 Every year, major golf manufacturers tout their new equipment lines as "revolutionary," "ground-breaking," and "innovative." And they usually deliver the goods.
As it turns out, 2013 might be the year those lofty claims actually exceed the hype.
Adjustable lofts on drivers, woods and hybrids. Irons with slots behind the clubface. Wedges that generate more backspin than ever. And putters with amazing alignment visuals.
The end results are longer drives, fewer mis-hits, more consistency, better feel and many other gifts that could help lower your score and make your round more enjoyable.
There's a lot out there. Here's a peek at 25 of the best.
Cleveland Golf's Classic XL driver has what the company calls the largest and deepest clubface of any driver in golf. Its huge sweet spot maximizes forgiveness, while a lightweight grip and shaft enhance clubhead speed. Last year's model had that cool and retro persimmon look, but this year's rendition looks even more powerful. ($250)
PING's G25 driver sports a deep, forgiving titanium clubhead with loft that can be adjusted to plus or minus a half-degree from the base loft. A thin crown positions the center of gravity low-and-deep for stability. A variable-thickness face boosts energy transfer and ball speed. Ideal for anyone wanting to fine-tune ball trajectory without sacrificing performance. ($385)
You can adjust the loft on Nike Golf's 460cc, bright red VR_S Covert driver, setting it anywhere from 8.5 to 12.5 degrees simply by rotating the shaft orientation. The face angle can be independently fine-tuned, as well. There are 15 different clubhead combinations in all. One is sure to be right for your game. ($299)
The adjustable-loft, large-headed Speedline SUPER S driver from Adams Golf can be set to 9.5, 10.5 or 11.5 degrees – all with the same clubhead. Its aerodynamics translate to long tee shots, while its large sweet spot lengthens mis-hits. The clubhead is white, the clubface is black. That makes alignment a breeze. ($350)
The loft on Cobra's AMP Cell driver is adjustable to six different settings for a diverse and clearly noticeable trajectory range. The "SmartPad" on the sole is a bulge that's shaped to square the face at address, regardless of the loft setting. If all that's not cool enough, the club is available in four different colors. ($375 for standard, $325 for offset)
For golfers wanting to change their tee shot shape, Tour Edge's Exotics XCG6 driver has an adjustable hosel that yields four face angle-loft settings to optimize launch characteristics. Using the included wrench, golfers can adjust the face angle, loft and lie to their preference. The forged titanium clubface's variable thickness helps maximize ball speed. Four weight pads enhance stability and forgiveness. ($349)
Callaway's RAZR Fit Xtreme fairway woods feature a large sweet spot that generates high ball velocity from anywhere on the clubface for more distance. Its face angle is adjustable to open, neutral and closed settings, so you can tune into the ball flight that you want. ($269)
Titleist's 913F pear-shaped fairway woods have a center of gravity that's positioned to maximize distance through reduced spin while providing stability and forgiveness. The SureFit Tour hosel allows you to set loft and lie independently, tune ball flight higher or lower, and draw or fade for improved shot control and maximum distance. These have already been a hit on the PGA Tour. ($279)
TaylorMade's RocketBallz Stage 2 Rescue club utilizes a high-strength steel in its clubface, which the company claims produces extra distance. A pocket behind the clubface also flexes to increase ball speed and distance. The center of gravity is positioned forward and low, which helps get the ball up with lower spin. ($199)
Callaway's X Hot hybrid is touted as a distance monger, attributing the "Speed Frame" clubface and calculated center of gravity height to combine for high ball velocity. Its newfangled Warbird soleplate is versatile, and the club's forgiveness is a pleasure. It's for all skill levels, but a Pro version is also available for better players. ($179)
Mizuno's MP-H4 irons are billed as its most forgiving and playable irons ever for better players. Which is saying something, as the brand caters to that category with its gorgeous forged irons. This set combines hollow hybrid long irons, hollow mid-irons with a large sweet spot, and half-cavity scoring irons. ($1,100)
Nike's VR_S Covert cavity back irons sport weight at the corners, which in turn makes mis-hits perform as if you nutted them, with respect to forgiveness and distance. The variable-thickness clubface also adds to that effect, getting you fast ball speed and long shots from the center of the clubface to the lower toe, where many golfers are likely to make impact. ($800 for graphite shafts, $700 for steel)
The RocketBladez Tour irons from TaylorMade are sized, designed and shaped to maximize distance, control and feel for better players. The set's long irons sport a sole slot that flexes and rebounds at impact, which catapults the ball at turbulent speed for long, high-flying shots that have a steeper descent for fast-stopping shots. Better players will likely enjoy the feel, sound and fantastic performance. ($899)
As you might expect from the name, Cobra's AMP Forged irons feature forged clubheads that generate a solid impact and feel. The longer irons boast high-MOI tungsten inserts to help get the ball airborne. A thermoplastic rubber aluminum medallion and insert in the cavity and directly behind the face mute impact vibration. ($1,125)
Cleveland Golf's 588 RTX CB wedge generates tight backspin due to the large U-shaped face grooves that are especially effective from the rough, sand and wet grass. Surface roughness is milled into the clubface with a deliberate pattern that also induces spin. Your backspin will be noticeable with this wedge right from the start. ($120)
The RM-12 wedge from Fourteen Golf has large trapezoidal-shaped grooves that aim to enhance spin – especially on chip shots. The sole is rounded at the heel and toe with no rear portion (except on the 60-degree model), allowing the face to open and close as a golfer needs. The half-matte finish is durable. ($185)
PGA Tour pro Luke Donald – who has one of golf's best short games – helped create Mizuno's MP-T4 wedges that are made of the company's "Grain Flow" forged, mild carbon steel that softens impact to feel buttery. Precision face grooves enhance spin and trajectory. Bottom line is that they generate plenty of spin around the green. ($130)
Wilson put a lot of thought into its Staff FG Tour TC wedges. Milled, aggressive Tour-Y grooves enhance spin on full swings, while laser-etched lines between each groove improve spin on partial swings. The wedges come in two sole grinds – the Traditional is for players with a medium-to-steep swing; the Tour is for those with a medium-to-shallow angle of attack. ($100)
PING's Scottsdale TR putter has variable-depth grooves within the aluminum face insert, which strive to improve the ball-speed consistency of your putts, whether you've struck it on the center, heel or toe. The grooves are deepest in the center and shallower toward the perimeter. To boot, the shaft length is adjustable, so you can set it to your own comfort level. ($162.50-$235)
Odyssey's Versa putter boasts a high-contrast, black-and-white alignment system on the head that visually emphasizes the face angle at address, through the stroke and at impact. That promotes mental focus during the stroke for more impact consistency. A new White Hot insert yields a uniform sound, feel and performance across the entire surface. Offered in six models, including the 2-Ball. ($170)
TaylorMade's high-MOI Ghost Spider S putter squares with gravity at impact to limit misses on off-center hits. A black-and-white frame has a white center-line that both work in concert for ease of alignment. The surlyn clubface insert softens impact feel. Three models are offered, including a belly version. ($179-$199)
Yes! Golf's i4 Tech Stephanie is from a new putter series offered in five models, including a mid- and long putter. There's actually just three heads – two blades and one mallet – but all sport the company's C-Groove face technology. A new TPU polymer base and flexible adhesives behind the face enhance feel and roll. Tungsten heel and toe weights stabilize impact. ($180)
Scotty Cameron by Titleist's Select GoLo 5 putter is as elegant as any model from this brand. Its heel-toe weighting adds balance and stability. The head also features a slightly asymmetric back profile, triple-angled sole, and a deep-milled face that softens feel and sound. Two neck configurations are available. ($375)
STX Golf's Pitch Black putter looks ominous, with its all-black grip, shaft and head. However, its neon yellow face insert is soft and helps impart more forward spin on putts to keep them on line. It also makes a terrific-looking contrast at address. Four models are available. ($150)
Whitlam Golf's CU-1 putter is part of a new line of upscale, copper flatsticks. Machined from a solid block of copper, the 355-gram head gives players solid feel and tonal feedback. This face-balanced mallet is available in any length. ($350)
– By SCOTT KRAMER