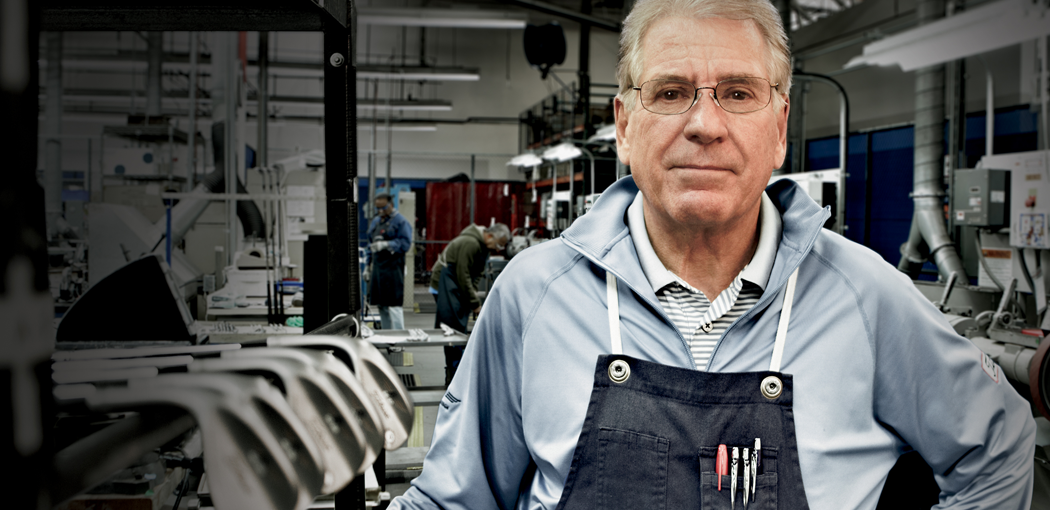 Bob Vokey might be the most creative wedge maker in the history of golf — or at least since Gene Sarazen went into his workshop and created the modern sand wedge.
He's certainly the most prolific. There are approximately eight million Vokey wedges in use around the world today, as Titleist sells nearly 900,000 per year.
The 72-year-old Vokey began making golf clubs in his garage in Anaheim in the late 1960s and later moved to Fallbrook, where he opened Bob's Custom Golf Shop in 1976. He later worked for TaylorMade before helping start Founders Club, and in 1996 he joined Titleist, where he began specializing in wedges.
Over the years, Vokey has worked with the likes of Lee Trevino, Seve Ballesteros, Dave Stockton, Lanny Wadkins and Mark O'Meara, and more recently, Tiger Woods, Phil Mickelson, Steve Stricker and Rory McIlroy.
Is there a specific loft and bounce combination that you would recommend for bunker play, or would this vary from player to player?
It would really vary from player to player. We categorize players into three types: slider, digger, or neutral. Sliders should use less bounce, diggers more bounce in general. The type of conditions also plays a part. For soft conditions we recommend more bounce, for firm conditions, less bounce.
What is grind and how does it affect how the club performs?
Grind refers to the shape, contour, and relief of the sole. A grind with more sole relief reduces effective bounce, but makes it easier to hit what I call the "touchy-feely" shots around the greens. A full sole wedge is going to be a bit more forgiving.
How does weight affect the performance of a wedge? Is there a certain weight that is more popular on Tour?
You need enough weight to be able to feel the club head during the shot, especially on partial shots. But you can't make the wedge too heavy, or you won't be able to hit full shots out of the fairways. Most of the tour players will play their 56 and 60s at a D5 swing weight, which is also what we use for all of our retail wedges.
Should players tailor loft and bounce to the type of course they play (links or parkland), or is it more down to their swing characteristics and ball flight preference?
Most players have a preferred swing type, whether that be a slider or a digger, but some players do change out their sand wedge or their lob wedge depending on conditions. When I was at St. Andrews last summer, I made a bunch of lower bounce wedges for the guys.
Would you recommend carrying more than three wedges (including PW) and, generally speaking, what lofts would you recommend club golfers to carry?
Most golfers don't carry enough wedges. And I don't just say that because I make them! If you ask the average golfer to dial back a pitching wedge to half or three-quarters, they can't do it consistently. They'd be better off putting a gap wedge in there and hitting it full. Tour players are so good they can hit the partial shots. So they can get away with maybe a 47, 54, and 58. But most players would be better suited to a 47-degree pitching wedge, 52-degree gap wedge, 56-degree sand wedge, and 60-degree lob wedge. These are your scoring clubs – you need to get them dialed in.
Your wedges are available in a variety of finishes; how much does finish affect feel?
It's more the look than the actual feel. It's a perception. Some guys swear the oil can spins more, but we've tested them and in a blind test, players can't notice a difference. You want a look that inspires confidence. Our Tour Chrome is a non-glare option. And Black Nickel is becoming more and more popular.
How much did the groove rule change your manufacturing process – and has it made much of a difference to the performance of your wedges?
It was a huge project. Really a ton of work. We had Tour players around the world that needed wedges with the new grooves. It's interesting to note that some people think that our C-C wedges aren't Spin Milled, but they are. All of our wedges are Spin Milled. It's a patented process that we developed to mill the face perfectly flat and they individually cut each groove. The new grooves need to have more rounded edges so they won't spin quite as much. But we changed the launch angle so the C-C wedges will launch a bit higher and still land soft.
What is the most common characteristic that your tour pros look for in a Vokey wedge?
It needs to fit their eye. Most guys are really particular, you can't blame them, it's their livelihood. The shape, the top line, the leading edge – we focus on all of these things to make the wedge set up pleasing to the eye. Tour pros want the same as the average golfer – confidence when they set up to a shot.
Why do you think there has been a reduction in the number of players using wedges over 60 degrees, and would you recommend a 64-degree wedge to anyone?
Well, the new grooves cause the ball to launch a bit higher, so many of the Tour players don't need that extra loft. Our Vokey 62.07 and 64.07 are niche wedges, but it's another option in the arsenal. The 64 is a great trouble club out of deep rough. You also don't need to open it up to make it work. But I will say if you're going to play a 62 or 64, you need to practice with them. You can't be tentative with those wedges.
Are there any benefits to using a softer shaft in your wedges, like Tiger and some leading players do?
A lot of Tour players use shafts a bit softer than their irons. Most of these guys are playing X100 in their irons or the equivalent. You don't need that firm a shaft in your wedges. It's all about feel. Some players like all of the shafts to be consistent across the set. But if you play an X in your irons, moving to a S400 or S300 could help your feel in the wedges.
Many people would be surprised to learn that Vokeys are cast and not forged. What difference do you think this makes to feel and performance?
There are a lot of myths and misconceptions about cast vs. forged out there. Casting and forging are just processes. The feel of the wedge is determined by the metal used, not by the process. We cast the softest metal available, 8620 mild carbon steel. People think we cast our wedges because it's cheaper. That's not the case. It's because of the number of grinds, lofts, bounces that we have available. We start with the Tour and when we find a shape or grind we really like, we're able to make a tool for it quickly. The casting process is able to replicate the grind much closer than if we forged it. Think about this: 80 percent of the wedges on Tour are cast. I've never had a player come up to me and say, "Voke, this wedge doesn't feel good. I really wish it was forged." These are the best players in the world. And that's my R&D department.
Who are the top 3 wedge players you have ever seen, and who do you think is the best short game player on Tour at the moment?
I worked a lot with Lee Trevino, he was amazing, he had all of the shots. And Seve. He was a magician. Jose Maria was his disciple; I worked a lot with him and still do. Those guys could get up and down from anywhere. Right now, there are a lot of great short-game players out there. Steve Stricker has an outstanding short game, very consistent.
How do the top players' short games now compare with those of, say, 25 years ago?
Great question. Back in the day, it was more trajectory bias. To get the ball close, you had to hit it high. Manufacture the shot, I like to say. Now guys hit it lower with more spin. The "two-hop stopper," so to speak. The new grooves have made it harder to hit that shot. Some of the younger guys have struggled making the transition. But the older players, it was no big deal.
Has course conditioning influenced the way Vokey wedges are designed, to perform from lush rough, perfectly raked bunkers and faster greens?
Greens are definitely faster than 20 years ago, there's no doubt about it. The combination of Vokey Spin Milled wedges and the Pro V1 golf ball has allowed players to control their distances and hit it close. But not everybody plays on perfectly manicured courses. So we try to make wedges for every shot and every condition.
You've recently launched Wedgeworks in the UK; what are the benefits of a completely customized Vokey wedge?
We're pretty excited about the launch of WedgeWorks in the UK and Europe. WedgeWorks is my custom shop. It lets me do the same type of customization and personalization that Tour players receive, but for the regular golfer. We offer full customization – special grinds, finishes, toe engravings, stamping, paintfill, shafts, grips, you name it. The works. We can adjust length, loft, lie, grip size, everything. We'll completely dial it in to your specs.
How do Tour players like to add their own touches to their wedges?
Anything that will bring them good luck. Rickie Fowler has RF snow stamped all over his wedge in Cowboy Orange. Some guys have their kids' names, favorite college team, or even a Bible verse.
What difference has the development of the ball made to wedge play over your time in the game?
It's been huge. The Pro V1 is amazing around the greens. That's why we do ball fitting from the green back to the tee. All of our balls are long, but where you'll really see it is around the green with your wedges. Try a partial shot with your Vokey and a Pro V1 out of the rough. You'll definitely see a difference. And I always tell regular golfers, use the same ball all the time. How can you predict the spin from your wedge shots if you're changing balls all the time?
What is it that has made Vokey wedges the No. 1 choice on worldwide professional tours?
I never expected it to get this big. We've been No. 1 on Tour for seven straight years. We've sold over 3 million Spin Milled wedges. It's humbling, even to see your name on a Titleist wedge. I'm just a golf guy, a tinkerer, a grinder. But I've always tried to listen. And I think the guys on Tour appreciate that.
Who is the most enthusiastic tour player you work with?
There's a lot of great ones. The young guys are fun. Rickie Fowler and Rory McIlroy have been a lot of fun to work with. Really mature kids for their age.
Would you recommend a Vokey pitching wedge or keep the wedge from your iron set and what are the differences between using a 47-degree Vokey compared to a Titleist AP2 PW for example?
It's personal preference. Some guys want to see the PW as part of the iron set, for that consistency. The AP2 PW has more offset. Other guys, their Vokeys are their scoring tools, they want them all matched. If you're using the PW for only full shots, you might stick with the iron set. If you hit a lot of chip shots, partial shots, long bunker shots, a Vokey 48 could be the way to go. Maybe I'm a little biased towards the Vokeys.
Do you pay attention to tour stats and utilize them for research? Do these affect the products you make?
Absolutely. I always say I have the best R&D department in the world – the Tour. All of our products are Tour proven and created from Tour feedback. We're working with these guys every week to make the little tweaks necessary to improve their games. When one of their wedges is really good or has become really popular, we'll make a tool and test it. Then it becomes part of our next line-up. If you look at the 58.08 and 58.12, they both have M grinds. Those came straight from the Tour. Same with the 60.04, it has a T grind, it's been extremely popular on Tour and also with the general public. All of our products are derived from the Tour, but I never forget the weekend golfer. The wedge has to perform for both of those guys.