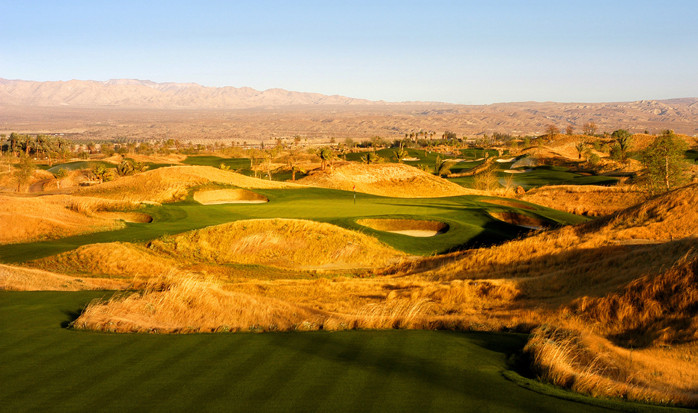 Of the 19 Indian casinos that are located in San Diego and Riverside Counties, none have played a more important role in opening the door for others to follow than Fantasy Springs Resort Casino in Indio.
In 1980, the Cabazon Band of Mission Indians began operating a card room. In 1983, it added bingo. In 1987, it came out on the victorious end of a Supreme Court ruling that opened the door for the explosion of tribal casinos across Southern California.
Today, Fantasy Springs offers a 100,000-square-foot casino, a 250-room hotel and one of its most distinctive features – its own 18-hole championship golf course.
While gaming and lodging came first, Fantasy Springs' golf course, which opened in 2007, elevated it to one of the most comprehensive properties in Southern California.
The Clive Clark-designed Eagle Falls Golf Course is a resort course, emphasizing playability rather than punishment. At 6,715-yards from the back tees, it's manageable for a wide range of golfers. The undulating fairways are generous and the first cut of rough isn't punitive. As the starter accurately pointed out before we headed to the first tee, it's a fair course.
But it does have some bite. The English-born Clark, who played on the European Ryder Cup team in 1973, fashioned it as a link-style course, with 50-foot dunes, pot bunkers and a second cut of stern rough. Wind also can play a factor – particularly in the afternoons – although the day we played could not have been more calm and serene. And, water does come into play on the back nine.
The course is immaculately maintained – marshals do more than monitor speed of play; they can be seen filling divots and repairing ball marks on the greens – and its bright flowers and lush foliage offers a dramatic juxtaposition to the surrounding desert terrain. Its most distinctive feature, next to the 44-foot waterfall on the 18th hole, is the par-3 6th hole: an homage to Royal Troon's notorious Postage Stamp hole.
In addition, the facility offers an all-grass, state-of-the-art driving range and short-game area ideal for pre-round warm up.
Green fees are remarkably affordable for the experience, ranging from $39 to $95 depending on the time of year and day of the week.
The course also is home to several high-profile golf tournaments, including the Frank Sinatra Celebrity Invitational, which raises funds for the desert's Barbara Sinatra Children's Center. The event, set this year for February 21-23, is celebrating its 25th anniversary and will feature a two-day celebrity-amateur golf tournament, three nights of dinner parties with entertainment, and a luncheon and fashion show dedicated to the memory and music of Frank Sinatra.
If gaming is more your style than golf, you won't be disappointed by the casino. It includes nearly 2,000 slot machines and video poker games, as well as 40 card tables. But can you really win? Well, two people did on a May evening in 2011. A retiree from Hemet won $1.1 million on a slot machine the same night that an Indio resident won $163,000 on a side bet while playing at a progressive jackpot pai-gow table. He was dealt a straight flush.
While golfers and gamers will find ample entertainment, Fantasy Springs is also family friendly. Fantasy Lanes offers 24 state-of-the-art bowling lanes, as well as laser bowling and a sports bar. There's also a swimming pool, but to get truly aquatic, the city of Palm Desert's Aquatic Center is 12 miles to the west and Knott's Soak City, in Palm Springs, is about 22 miles west.
Fantasy Springs also attracts big names to its special events center. In February and March, performers from Willie Nelson and Stevie Nicks to Don Rickles and Frankie Vallie and the Four Seasons will appear. Boxing is also regularly scheduled, as are improv comedy and country nights.
Nine dining or drinking options, not including room service, are available. The Bistro is a fine dining restaurant open nightly from 5 p.m. to 10 p.m. It offers steak, Kobe beef, seafood, including sushi, and appetizers ranging from baked escargot to baked oysters and clams. Joy, an Asian restaurant, recently opened, joining a third restaurant, POM, which fuses California cuisine with Latin American and Italian flavors.
The Fresh Grill Buffet is open for lunch and dinner, and more casual dining can be found at the resort's pizza kitchen and Lique, which offers hamburgers, sandwiches and tacos.
There's also the opulent Lit lounge and a lounge and wine bar on the 12th floor.
All 250 of the tastefully appointed rooms, complete with LCD televisions, come with mountain or pool views. Room rates begin at $109 but a range of packages are offered, from a $239 stay-and-play package that includes golf, a $50 dining credit and a $20 slot credit, to a couples package that begins at $418 and includes two massages and a $50 dining credit.
For more information, call (760) 238-5633 or visit fantasyspringsresort.com.