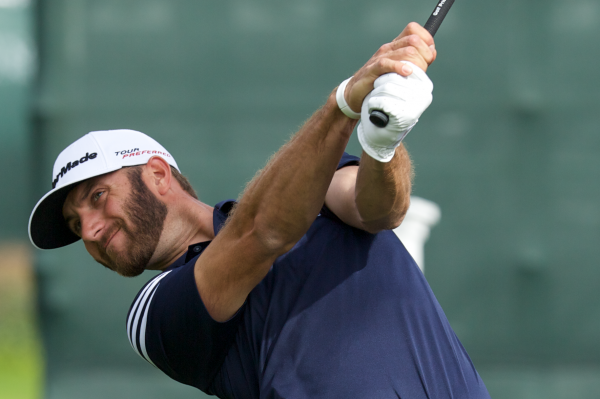 Golf fans were led to believe that a new and improved Dustin Johnson would show up this week at Torrey Pines for the Farmers Insurance Open.
For golf's sake, let's hope so.
Since he came out of Coastal Carolina University in 2007 and won the Turning Stone Resort Championship the following year, there has been no question that Johnson is one of the most talented players in the game.
However, his best moments were interspersed with immaturity issues.
"It was time to grow up, pretty much was the best way to sum it up," said Johnson, who is returning from a six-month break that he said was needed to sort out some personal problems.
"To me, in my eyes, I've just had a mediocre career so far. I feel I should be doing a lot better than that. … I don't want to be just mediocre; I want to be great."
To do that, he got some help from hockey's "Great One," Wayne Gretzky, who reportedly told Johnson last year that he had to clean up his act or he couldn't marry Gretzky's daughter, Paulina.
Paulina, Johnson's fiancee, recently gave birth to the couple's first child, a son they named Tatum Gretzky Johnson.
"I think my life has already changed," said Johnson, who has won in each of his seven seasons on the PGA Tour, the longest active streak on the circuit after Phil Mickelson went winless last year for the first time since 2003.
"There's nothing better (than fatherhood). I was trying to think about it and how to explain it, but you can't explain it. The feeling … everything seems so much less important except for him (Tatum)."
There were reports that Johnson took his sabbatical beginning last August because he was suspended for six months by the PGA Tour for cocaine use, but he and the Tour denied that.
Perhaps it is coincidental that Johnson is returning after an absence of six months and five days.
Whatever it was, it had to make an impression on him because he missed the WGC-Bridgestone Invitational, the PGA Championship and the Ryder Cup, when he had a spot on the United States team locked up.
Those in his camp claim his leave of absence made him a new man, with emphasis on the second word.
"He has a greater understanding of his consistency of dedication, work ethic, (and) lifestyle," said Hambric Sports' David Winkle, Johnson's longtime agent. "It's not just flipping a switch when he goes out on Tour. Sometimes in his downtime, he's far less disciplined. He has a different outlook now. …
"He's such a good guy, good person, has such a big heart. He's imperfect, just like the rest of us, but he's doing the work. It's a really cool deal. Like Dustin says, 'I think I've grown up.'"
Johnson has said that his problem was not cocaine but vodka.
In a recent interview with ESPN, he talked of having something of a revelation on a driving range last summer, the morning after another night of hard partying. He said he realized his life was going in the wrong direction.
During his break, he showed those around him a new dedication to his golf and gym workouts after having a reputation of arriving late or not at all.
"From all accounts down in South Florida, the Dustin Johnson that is showing up for workouts with (trainer) Joey Diovisalvi and at the range at the Floridian with (instructor) Claude Harmon is much different than when we last saw him," Tim Rosaforte reported on the Golf Channel in November.
"Forty workouts with Diovisalvi, including 30-mile bike rides, two-a-days. Diovisalvi said he's more dialed in than he has ever seen him and Claude said his sessions at the Floridian are much more focused.
"He's showing up, he's on time, he's not canceling out, he's definitely engaged. (Harmon) describes him as very healthy, happy and light-hearted."
Now back on the West Coast and living with Paulina in a rented home at Sherwood Country Club in Thousand Oaks, Calif., not far from the Gretzkys, Johnson went to Las Vegas recently to see Butch Harmon, his instructor for much of his career.
Butch Harmon is a no nonsense kind of guy, and he was impressed.
"He seems to have his head on straight and is in great shape," said Butch Harmon, who reportedly was whispering to those close to him that Johnson looks so good he might win in his first time out at Torrey Pines.
Johnson has had his problems, but winning isn't one of them.
–Story courtesy of The Sports Xchange, TSX Golf Editor Tom LaMarre