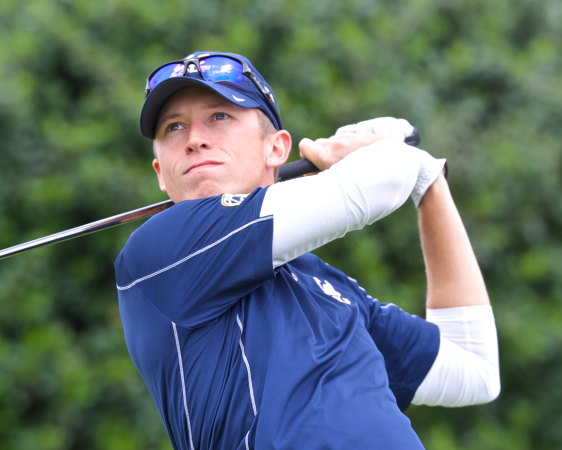 Brandon Hagy, a senior at Cal, has been selected as the 2014 recipient of the Byron Nelson Award presented by Cleveland Golf/Srixon.
The Nelson Award goes to a graduating senior who has excelled on and off the course during his time in college golf.
"Byron Nelson was known as the gentleman of golf and was one of the most likeable and most respected players in the history of the PGA Tour," Coach Steve Desimone of Cal said. "He was known for giving back to communities and people and was one of the best human beings on the planet.
"This award is a very special when you include the student, the athlete, the integrity and the community service. No one has done it better than Brandon and that was recognized by him winning this award. I'm so proud of and happy for Brandon. I'm sure there were other great candidates, but I'd be hard pressed to believe that there was anybody more deserving of this award."
Hagy, who graduated from Westlake High in Westlake Village, is ranked in the top 10 in the world amateur and college rankings, has earned second-team All-American, All-Region and All-Pacific 12 Conference honors.
During his Cal career, he has won four times and finished in the top five on 17 occasions.
This season, Hagy captured the Jack Nicklaus Invitational and the Agggie Invitational, in addition to tying for medalist honors in the Arizona Intercollegiate, among his nine finishes in the top 10.
"It is an incredible honor to receive the Byron Nelson Award," said Hagy, who will represent the United States in the 2014 Palmer Cup matches. "It is humbling to be associated with Mr. Nelson's name and this is a memory I will keep for the rest of my life.
"I feel fortunate to know the other finalists and I will say that college golf and the communities they are from are better off with them involved in the game. They are outstanding in their own ways. I have tried to have balance throughout my golfing career and I feel it is our obligation to give back."
Hagy is involved with a number of community service and volunteer activities. He works with The First Tee, Special Olympics and the Northern California Golf Association's Youth on Course for underprivileged children.
In addition, Hagy is an officer and the golf team's representative on the Golden Bear Advisory Committee, a group that organizes student-athletes in community service including feeding the homeless, visiting local hospitals, and Jog for Jill (a cancer awareness and fundraising project) among others.
Hagy also acts as a liaison to the Cal athletics administration on behalf of fellow student-athletes.