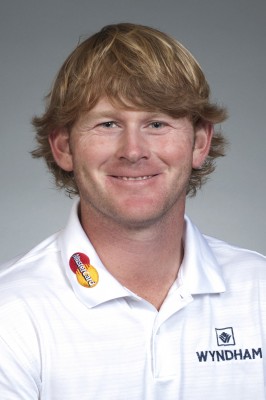 By WIL BARNES
During the second round of the 2007 Farmers Insurance Open at Torrey Pines, I was sitting in the media lunch room when my friend and colleague Jeff Rude of Golfweek came by, tapped me on the shoulder and said, "Get up. Let's go see this kid shoot 59." I looked at him and asked, "What? Who?" Jeff responded as he headed for the door, 'This Snedeker kid is 9 under through 11." I leaped to my feet and off we went. The kid was on the front nine of Torrey Pines North, his second nine where he had gathered a formidable gallery by the time we arrived. At first glance what I saw was a tall, lanky young man wearing a visor, his blonde hair flowing out the back and sides, smiling, looking totally unaware of what he was chasing, the elusive 59. Some youngsters in the crowd were chanting "Sneddy! Sneddy!. He politely nodded their way and smiled some more before lacing his iron toward the 3rd green. The 59 was not to be that Friday but from then on we knew his name and now everyone does.
That was five years ago when Brandt Snedeker was initiating his rookie season on the PGA Tour after winning twice on the Web.com Tour earning his privilege to join the Big Show. Snedeker has found increasing success on the Tour, propelling him to a level that even he finds a little surprising. It culminated last November when he won the Tour Championship that awarded him enough points to capture the season long Fedex Cup for 2012, a trophy that also carries a hefty $10 million dollar bonus. That was Snedeker's fourth PGA tour title, his first coming in 2007 at the Wyndham Challenge. He has accumulated over $16 million in earnings, with just over $5 million of that coming last year. The Nashville native can't wait for the 2013 season to get started and in particular on the West coast, where if you didn't know better, you'd swear he grew up listening to the Beach Boys.
The 32 year old from Nashville, a young Johnny Miller lookalike, has become not just one of the best American players, but on the planet climbing to #8 in the World Golf Rankings. And as his record indicates, his success can be partly attributed to his success in California. How does a kid from Nashville, Tennessee find love on the West Coast? "I have no earthly idea. That's a great question," he said via telephone from Maui where he was competing in the season opening Hyundai Tournament of Champions. "I think there's something crazy, maybe I don't know what it is, maybe it's the laidback lifestyle in California I like so much." He opened the 2013 campaign in Kapalua where only the 2012 winners get invites, but he won't stay in the islands for the Sony Open, rather choosing to get in some practice in the Southern California desert as he prepares for the Humana Challenge, an event he thoroughly embraces. "I remember so many years ago with Bob Hope being the primary guy that made that tournament so special, "he said. "And now with President Clinton, he's done a great job of coming in there, really boosting the morale of that tournament, getting players back interested again and getting the fans back interested again and really rejuvenating that great tournament."
In 2012, Snedeker began his year at the Humana Challenge where he was returning to golf after having hip surgery in the off season. "I literally just started playing golf about ten days before that," he said. For Brandt, he felt great to just be walking four rounds without pain and played some terrific golf, getting himself into contention on the weekend only to shoot a final round 73 finishing 4th to winner Mark Wilson. Still, it was a great confidence boost heading to San Diego, to Torrey Pines and one of his favorite courses that has loved him right back. "Playing San Diego, knowing the way that I can play, my good is good enough and my best is really good enough and I don't have to play perfect to win," Brandt said confidently. "I give a lot of credit to the first time I played there. I had my best finish on TOUR my rookie year there, which gave me a lot of confidence, finished third." At Torrey Pines Snedeker has padded the wallet and made a lot of new friends, especially the young surfing groms with the flowing blonde hair.
Snedeker turned pro shortly after the 2004 Masters, which he qualified for by winning the '03 USGA Public Links.  He spent a couple of years on the Nationwide (now the Web.com) Tour earning over $540,000 and winning twice. He qualified to play in a few majors before finally graduating to the PGA Tour full time in 2007. In his second Masters Appearance, his first as a pro, he was in the final pairing with Trevor Immelman after rounds of 68, 69 & 70. After an eagle on the Par 5, 2nd hole on Sunday, he was tied for the lead but then unspeakably bogeyed 8 of his final 16 to shoot 77 and finish four back, tied for third. Afterwards he publicly displayed his disappointment, crying profusely in the media room and was visibly shaken. Some players never recover from such collapses. Ask Len Mattiace. Snedeker took it in stride and re-dedicated himself to the game and since, well, it's been a helluva ride.
Another highlight for Brandt last year was being selected to his first Ryder Cup team where he was 1 – 2, losing his singles match 5 & 3 to Paul Lawrie on that eventful Sunday when Europe stormed back to retain the Cup in a shocker. That experience has him excited about the opportunity to play for Captain Tom Watson in Scotland, in 2014. "Obviously this year we have The Presidents Cup and that's first and foremost in my mind, but in the back of your mind, you realize Ryder Cup points do start this year so you want to get a good start and try to get your name up in the Top10 as quick as you can and make the team out right so I don't have to rely on a pick like last year, so that's my main goal."
After his hugely successful 2012 campaign he is well aware of expectations of others but he is focused and confident that his could be his best year yet. "Obviously a great start at San Diego and then just to have the way I finished the year, making The Ryder Cup Team, winning the FedEx Cup finale, TOUR Championship, it's pretty special.  I didn't really see it coming but it's been a great thing to deal with," he said. "I feel like my game is exactly where I want it to be, I'm excited what this year can hold.  My main goal is to try to stay healthy.  If I stay healthy for my full schedule, I'm excited about what that could lead to."
After tying for third at Kapalua in the season opener, his game appears ready. He'll tee it up at the Humana Challenge then Torrey Pines and Phoenix for certain. What the rest of year holds is for fortune tellers but the guess here is Sneddy will be in the hunt a bunch. And maybe, just maybe, he gets a little payback at Augusta.