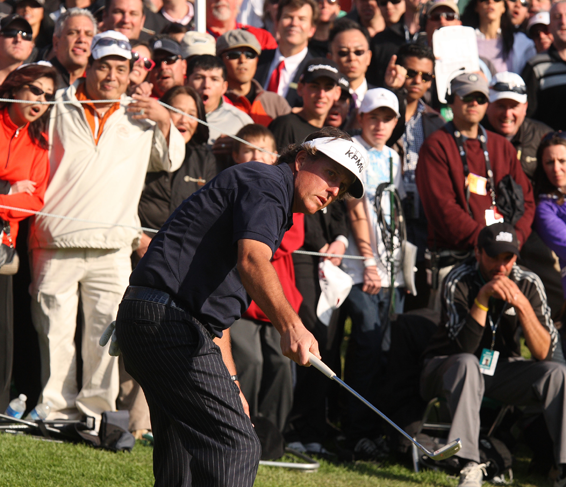 Phil Mickelson has won 40 times in his PGA Tour career, and at least once in each of the last nine seasons, the longest active streak on the circuit.
When Lefty slumped after a fast start last season, there were questions about how much he might have left at the age of 42, especially since he has battled psoriatic arthritis the last few years.
You won't hear any of that out of the Mickelson camp, however, as he prepares to start his season this week at the Humana Challenge.
"You may have noticed (Mickelson) was experimenting with his putting," Dave Pelz, Mickelson's short-game coach, said to golf.com of his switch to the "Claw" grip last season. "He's been doing this because his short game is the best in the world and it's the best it's ever been, and his driving is better than it's ever been. It's not the best in the world yet, but it's pretty long and it's reasonably straight. So his ball-striking is the best it's ever been and his short game is the best it's ever been.
" … If he can get (his putting) better than it's ever been, then he will have the best year of his career."
With the career Mickelson has had, that's saying a lot.
Among his titles are four majors, tied for second with Ernie Els in the Tiger Woods era, and he has won 18 times on the West Coast, where he is a threat to win virtually ever time he tees it up.
And he's coming into the new year feeling good about the way he finished the old one. He closed the regular season strong, tying for fourth in the Deutsche Bank Championship, tying for second in the BMW Championship and tying for 15th in the Tour Championship during the PGA Tour playoffs.
Then he played well in the Ryder Cup and tied for second in the WGC-HSBC Championship in China.
"I had really tough three or four months when I played some of my worst golf in my career," Mickelson told SkySports. "I had to piece my game back and now since the PGA, I played better golf every single week.
" … That three or four months downtime has forced me to piece my game back to where I think I'm better now that I think it has been in a long time. I played some of my best golf at the Ryder Cup, I played very well at the HSBC Champions, and I'm excited about (2013)."
Lefty was diagnosed with psoriatic arthritis in 2010 after experiencing severe pain in his joints, to the point were he had difficulty getting out of bed on a family vacation in Hawaii.
Although he has not spoken much about the effect the condition has had on his game, Mickelson has had problems with stamina in the last few seasons.
Pelz said he seems to be getting a handle on it.
"He's had some problems the last couple years because of the psoriatic arthritis," Pelz said. "He's taken some medication that has made it more difficult for him to practice as much as he wants to. But he's actually getting that under control.
"He's not old, but he's in his 40s. I think he's going to have the year of his career."
Mickelson has won his first event of the PGA Tour season four times in his career, five if you count his victory in the 1991 Northern Telecom Open in Tucson, when he was an amateur attending Arizona State.
Starting the year in the California desert should be a good thing, since he won the Humana (formerly the Bob Hope Classic) in 2002 and 2004, and will be making his 11th appearance in the tournament.
However, he skipped the event four consecutive years after posting a final round 78 in 2007 at the always-windy Classic Club, which was the tournament's host course for several years.
Last year, Mickelson was back with all four rounds taking place near the mountains in La Quinta, and enjoyed himself again, even though the finished in a tie for 49th, bouncing back from an opening 74 with three rounds in the 60s.
"For me, personally, I've always liked coming (to the Coachella Valley) to start the year to assess my game, play golf in great weather and work on my game," Lefty said.
"The reason I don't play Kapalua is it's too windy and I get in bad habits after having not played for six weeks. And then when (the Hope) moved over to the windy courses over by the highway, it again was not a great place for me to start the year. Again, after having not played for six or eight weeks to get in bad habits.
"But to come back in here by the mountains where it's calm, it allows me to assess where I'm at and work on it and get ready for the start of the year."
A season which he hopes will show that he has plenty left in the tank.
– By TOM LaMARRE