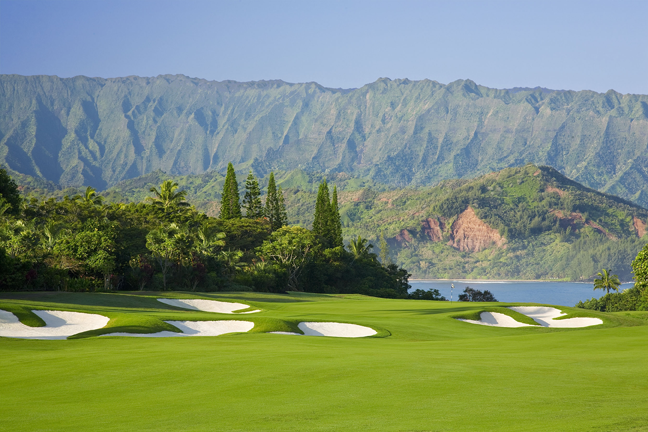 The only thing better than visiting an island is going to three or four … on the same trip! Such an excursion is possible in Hawaii, where our 50th state's cluster of gems offers something for everyone, even golfers. Make that especially golfers because of the panoramic scenery available from the fairways on many of the stunning layouts.
So let's get island hopping and start in Kauai, where one of the game's top designers, Robert Trent Jones Sr., had beautiful property to play with when he got to work at Makai Golf Club and the Prince Course at Princeville Golf Club.
RELATED: Wailea Golf Club and the Fairmont Kea Lani add to Maui's wowie factor
Both courses on Kauai's north shore underwent recent renovation projects that enhance their stature on Hawaii's golf scene. The work at the 7,305-yard Prince Course involved thinning the jungle vegetation, widening playing corridors, adding tee boxes and refurbishing bunker complexes. Not needing a facelift were the 360-degree views of the coastline and surrounding fauna from the 390 acres of roller-coaster terrain that also brings gullies, streams, lakes and waterfalls into the pretty picture.
"The feedback we've received so far is really, really positive," Princeville general manager TJ Baggett said about the renovations at the Prince and the overall scope of golf on the north side of Kauai. "When people see the area they're just blown away."
Makai, just down the road, was the first course to open on Kauai in 1971. One of the most breathtaking par-3s a golfer will see anywhere – inland or island – is the course's 213-yard No. 7, which requires a cliff-to-cliff tee shot over crashing ocean waves to a green surrounded by bunkers.
A short drive south of there is Kiahuna Golf Club in Poipu, where the elder Jones ceded design duties to Robert Trent Jones II. The course, which is mostly flat and open, is affected by the prevailing trade winds that makes club selection tricky. That's particularly true at the 212-yard, par-3 12th hole that requires a stout tee shot to carry Waikomo Stream in front of the smallish green that runs off on all sides.
Landing on Oahu requires a visit to Ko Olina Golf Club in Kapolei and Ko'olau Golf Club in Kaneohe.
The 6,815-yard Ko Olina has mounded fairways and some of architect Ted Robinson's famous water features that immediately come into play because they're designed into six consecutive front-nine holes. His love for water elements is highlighted, however, at the 166-yard, par-3 12th hole where golfers drive under a waterfall en route to the tee box.
Ko'olau, on the eastern side of Oahu, is one of the more ruggedly beautiful courses in the world because of its fairways that wind through a tropical rain forest on the windward side of Ko'olau Ridge. The bold layout features ravines, elevation changes, massive bunker complexes and views of waterfalls from many locations. If you want to scan the area from the 7,310-yard back tees once in a while, go ahead, but playing from there might result in psychological trauma because, with a slope rating of 152, it's considered one of the toughest courses in the nation. Especially stunning is the 358-yard, par-4 15th hole that has a sliver of sloping fairway between the lush fauna and neck-tilting ridge.
Continuing on to the Big Island necessitates a stop at Makalei Golf Club in Kailua-Kona. The 7,091-yard course takes advantage of its location on the island's west side that's known for its cooler climate and coffee farms. With dynamic elevation changes, Makalei provides lovely views from all spots on the course. Other distinctive features include lava tubes and cinder cones, but if you want to say the course is for the birds it's OK because peacocks, pheasants, wild turkeys and other wildlife pop out of the dense foliage from time to time.
Touching down on Maui is a good place to end the trip because the views and memories will linger for a while, and some of the courses on the north and west shores will be recognizable to golf fans because they are or were sites for professional events.
About a 45-minute drive northwest from the airport are Kapalua's Plantation Course and Bay Course in Lahaina.
The Plantation is a 7,400-yard, par-73 stunner designed by Ben Crenshaw and Bill Coore that is the site of the PGA Tour's season-opening Tournament of Champions. The trade winds play a big role in most rounds but that's why the majority of fairways are wide and sloped to make sure good tee shots hit the short grass and scoot. Nowhere is that more evident than the dramatic finishing hole, a 663-yard par-5 from the back tees that could be a moderate ski run if Hawaii ever got any snow.
The Bay Course is a nice resort alternative designed by Arnold Palmer and Francis Duane who did a nice job crafting the 6,600-yard layout known for its rolling fairways and big greens. An especially pretty hole is No. 5, a 205-yard par-3 that requires tee shots to carry a deep chasm of water to a green fronted by a wall of crashed rock and lava.
A short jaunt south in Lanai are two more stellar options in the Royal Ka'anapali Course and Ka'anapali Kai Course.
Royal Kaanapali is a 6,700-yard, par-71 layout designed by Robert Trent Jones Sr. that is the site of the Champions Skins Game. One of the neat things about the setup is that it starts at sea level and climbs the West Maui Mountain foothills as the round progresses.
The 6,400-yard, par-70 Kaanapali Kai is a nice alternative for players seeking extra room to hit their ball because of its more-forgiving layout. Strategy trumps distance when playing this course, which was the site of Golf Channel's recent Big Break Kaanapali.
– BY AL PETERSEN
FYI
Prince Course at Princeville
(808) 826-3040 • princeville.com
Makai Golf Club
(808) 826-1912 • makaigolf.com
Kiahuna Golf Club
(808) 742-9595 • kihunagolf.com
Ko Olina Golf Club
(808) 676-5300 • koolinagolf.com
Ko'olau Golf Club
(808) 247-7088 • koolaugolfclub.com
Makalei Golf Club
(808) 325-6625 • makalei.com
Kapalua Resort
(877) 527-2582 • kapalua.com/golf
Ka'anapali Golf Courses
(866) 454-4653 • kaanapaligolfcourses.com