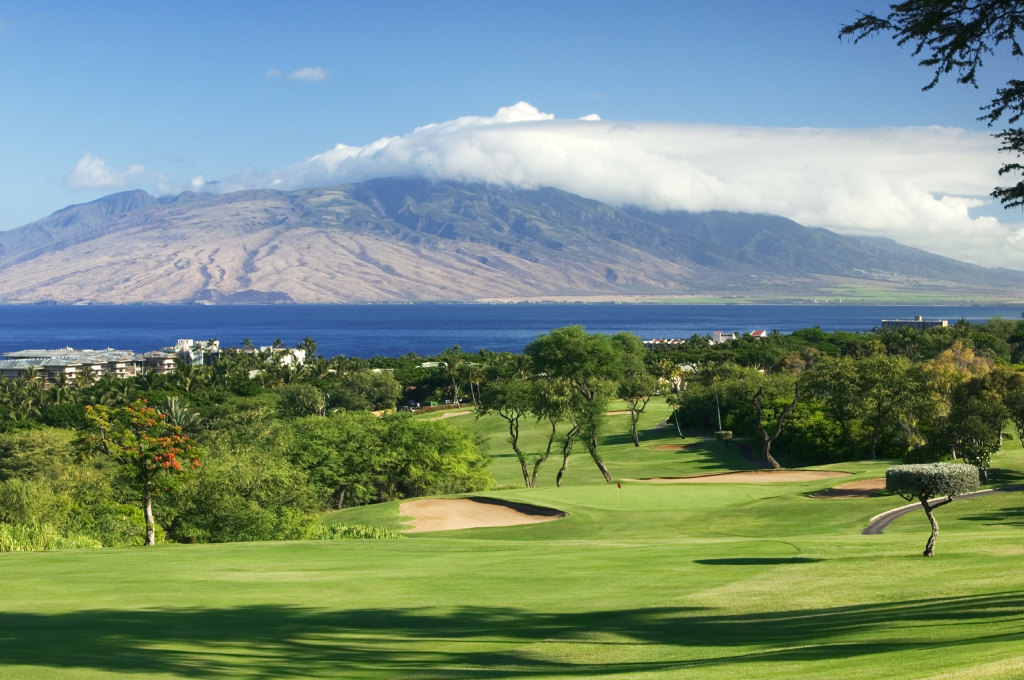 As the second largest of the Hawaiian Islands, Maui is brimming with beauty, possibilities and places to explore. But if you want to narrow your focus a bit, Wailea is a pretty cool spot to unpack and unwind. The resort development community on the island's southwest side is ideally situated to handle a visitor's every desire, whether that's relaxation and romance or recreation and water activities.
For golfers, there are three gems near resort row in the Gold, Emerald and Old Blue courses at Wailea Golf Club. All three layouts take advantage of the rolling terrain and stellar ocean views, with the sight from the opening tee boxes providing a pretty picture of how the round will unfold. All three begin with downhill par 4s that have golfers doing 360-degree turns because of the tropical vegetation, lava rock outcroppings and offshore islands that provide the backdrop for much of your round.
"Wailea, from the start, always wanted to have golf courses that when players got done they'd say, 'hey, I had a great time and one of my best rounds ever.' And I think we've accomplished that because we hear it a lot," said Rusty Hathaway, the club's head professional. "First and foremost, we are a resort golf facility, and that's true with the course setup, the way we treat our guests and the conditions and amenities we provide. The whole gamut of a great golf experience is here."
RELATED: A golf trip to Hawaii includes a beautiful bounty of places to play
The off-the-course experience is enhanced for players who stay at the Fairmont Kea Lani, the luxury resort closest to the club. The oceanfront haven with 413 one-bedroom suites and 37 two- and three-bedroom villas fits cozily into its prime location on Polo Beach, which is visible from the balconies of most upper-level rooms.
Even though the entrances to the Fairmont and Wailea Golf Club's Old Blue Course are only separated by the distance of a U.S. Open-length par 5, the facilities are not formally linked. But the relationship is as comfortable as a Saturday foursome, with preferred rate packages and shuttle rides among the perks.
"You literally look out the back of the hotel and there are the golf courses," said Charles Head, the Fairmont Kea Lani's general manager. "They're wonderful partners because golf is essential to so many programs and visitors, and they have such a great golf product here. We're delighted they're right next door."
Fun on Maui is never far away, however, and Wailea's location makes it nice for visitors who want to make the short drive north to other renowned golf settings, such as Kaanapali or Kapalua, or experience the thrill ride known as the Hana Highway that includes 620 curves, 59 bridges and some meet-your-maker views involving cliffs.
"Maui itself is very well-rounded," said Head, who recently moved there from St. Andrews, Scotland. "It has a lot of infrastructure but if you're looking to get away and have an adventure holiday, or if you want to golf or have a beach holiday, or you're simply looking for relaxation, it's got it all. It's a very magical destination."
Wailea Golf Club
Wailea, Maui, Hawaii
(888) 328-6284 or waileagolf.com
Wailea's Gold and Emerald courses, which opened in 1994, are youngsters compared to Old Blue, the first course built in Wailea in 1972. The Gold and Emerald, which were designed by Robert Jones II, provide more of a test than Old Blue, but all three are relaxing journeys if played from the proper tees. Many of the fairways are wide and banked, and all provide a colorful trip with palm trees, island flora, lava rock waste areas and frequent views of the Pacific Ocean and Mt. Haleakala around every turn.
"This is paradise to me," said head pro Rusty Hathaway, who started at Old Blue in 1978. "I have a soft spot for Old Blue, but the Emerald and Gold are fantastic layouts."
The Gold, though, sets the standard as far as recognition, with the course being the site of the Champions Skins Game from 2001-07 and the LPGA Skins Game in 2003. Playing at 7,070 yards from the tips, it's Maui's second-longest course but there isn't much forced carry and the fairways have plenty of undulation, which means a well-struck tee shot can pick up extra roll.
"You've got to think your way around the Gold, know your distances and factor in the elevation changes," Hathaway said. "But there are options, which make it fun to play."
One of the prettiest sights at the 54-hole complex is the Gold's eighth hole, a 215-yard par 3 with a view of the ocean and Molokini, a popular snorkeling islet just off shore. A papohaku wall between the tee box and green adds contrast and the coconut trees and bunkers around the putting surface help frame the indelible image.
At 6,825 yards, the Emerald has a more forgiving layout with a premium placed on approach shots. The course has repeatedly been hailed by national publications for its women-friendly setup, but that doesn't mean it's a pushover. One of its more interesting features is a severely sloped green shared by the 10th and 17th holes that borders a lake.
"I call the Emerald more feminine than the Gold only because it's a bit more colorful and flowery," Hathaway said. "One of the reasons the Emerald is so popular is because of the four to six tee boxes on each hole, which means you can take it easy or step back for more of a challenge."
Old Blue is the old friend of the bunch, with its lakes, exotic blossoms and ocean and island views a nice setup for a casual round. But there is some test to the 6,740-yard layout, particularly on the greens, which are mostly narrow and tough to figure out. The topography also has some hills, with fairways often lower than the tee boxes and greens. The biggest slope is at the par-5 fifth hole that requires a belted drive to the top of a hill about 90 feet above the tees. But when you reach the crest you'll be rewarded with panoramic views of the West Maui Mountains and Maalaea Bay.
"The Blue sets up for a fun and relaxing round," Hathaway said. "It's perfect for resort visitors."
Fairmont Kea Lani
Wailea, Maui, Hawaii
(800) 659-4100 or Fairmont.com/kealani
It's love at first sight at this luxury resort as guests are greeted in the spacious open-air lobby by views of Polo Beach and beyond. The distinctive property encompasses 22 acres of tropical landscape and is infused throughout with cultural features that make a guest's stay both comfortable and elegant.
"This is really one of our iconic resorts; it's one of the signature resorts in our portfolio," said Charles Head, the Fairmont Kea Lani's general manager. "It's very conducive to a family vacation, but it's also perfect for couples as well, in addition to being in a great spot for golf and water recreation or just relaxing on the beach. We're very much a leisure hotel."
The leisurely pace can be felt on the sand, at the pools, in the spa or at one of the six eclectic dining areas, with the signature restaurant being Ko, the recipient of numerous awards and a recent $5.1 million renovation project. Ko means "sugarcane" in Hawaiian, and the menu reflects the island's plantation era with Hawaiian, Chinese, Filipino, Portuguese, Korean and Japanese items.
The resort's villas close to the beach also are gleaming after undergoing some remodeling touch-ups. The two- and three-bedroom villas are luxurious options for guests or families who want a little more leg room than a hotel suite, which are quite spacious in their own right with 840 square feet of living space and private balconies or patios.
"We've had some exciting upgrades in the past year," Head said. "When people come to Maui they expect the best, and we're doing all we can to make sure that happens."
– BY AL PETERSEN