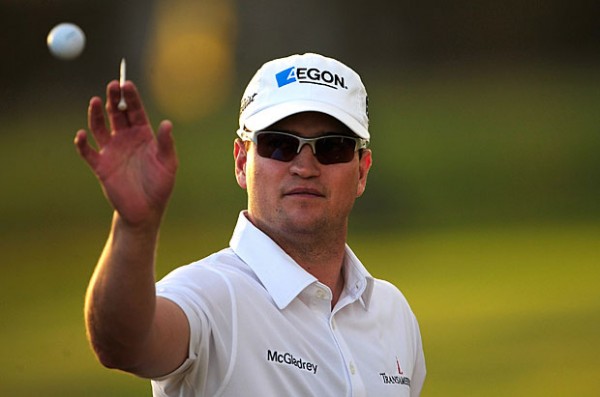 Zach Johnson claimed his second major title, outlasting Louis Oosthuizen of South Africa and Marc Leishman of Australia in a four-hole aggregate playoff to win the 144th Open Championship on the Old Course at St. Andrews in Scotland.
The 39-year-old Johnson, whose victory in the 2007 Masters was the second of his 12 PGA Tour career, made birdies on three consecutive holes — starting on the final hole of regulation.
Johnson sank birdie putts of eight feet and 17 feet on the first two extra holes and survived his fourth bogey in five tries on the famed Road Hole, No. 17, closing with a par to claim the Claret Jug.
"I'm at a loss for words," said Johnson, who became the 13th player to win the Masters and Open Championship. "I don't like to see a tournament end with a miss. Louie is a champion and a friends of mine.
"I'm grateful, thankful, humbled. This is the birthplace of the game and the Claret Jug is a symbol of our game."
Oosthuizen, who won the 2010 Open at St. Andrews, holed a 10-foot birdie putt on the first playoff hole and missed a chance to pull even with Johnson when he missed a five-foot putt for par on the third playoff hole.
Louie barely missed an eight-foot birdie putt that would have prolonged the playoff.
Leishman, seeking his first major title, three-putted from for a bogey on the first extra hole and virtually dropped out of contention with another bogey two holes later.
Johnson got into the clubhouse first by holing a 20-foot birdie putt on the final hole to close out a 6-under-par 66, while Leishman missed an 18-footer that would have given him the victory and also finished at 66, while Oosthuizen earned his spot in the playoff with a five-foot birdie putt on the final hole of a 69.
"I'm obviously disappointed," said Oosthuizen, who lost in a playoff to Bubba Watson in the 2013 Masters. "Zach left the door open for me and I didn't take advantage.
Jordan Spieth's bid to join Ben Hogan (1953) as the only players to win the first three majors of the year ended when he barely missed a 25-foot putt from the Valley of Sin in front of the 18th green.
Spieth, the Masters and U.S. Open champion, holed a 25-foot putt on the 16th hole to tie for the lead, but needed three shots to reach the green on the Road Hole, before missing a seven-foot putt for par.
The 21-year-old phenom wound up at 69 and was one stroke behind in a tie for fourth with Jason Day of Australia, who totaled 70, missing his chance to join the playoff when he left his 25-foot birdie putt short on the final hole.
"It's not just the historical aspect of it, to come that close in a major (and not win), it's a tough feeling," said Spieth, who could have taken the No. 1 spot in the World Golf Rankings from Rory McIlroy with a victory. "Gave it a good run, but it stings a little bit.
"… (But) with everything that went on this week and the momentum we came in with it, yeah, I'm very pleased with the way we battled."
Justin Rose and Danny Willett, both trying to become the first Englishman to capture
Open since Nick Faldo in 1992, finished with 70s and were four shots back in a tie for sixth with Sergio Garcia of Spain and amateur Jordan Niebrugge, a senior at Oklahoma State, who also had 70s.
Adam Scott of Australia, the 2013 Masters champion, was in the hunt most of the way until playing the last five holes in 5-over to close with a 71 and was five strokes behind in a tie for 10th with Brooks Koepka, who had a 68.
Amateur Paul Dunne of Ireland, who recently finished his senior season at Alabama-Birmingham, was tied for the 54-hole lead with Oosthuizen and Day before struggling to a 78 and tied for 30th.
Phil Mickelson, the 2013 Open champion, shot 69 and tied for 20th, while Rickie Fowler of Murrieta, who won the Scottish Open last week, wound up with a 73 and tied for 30th.