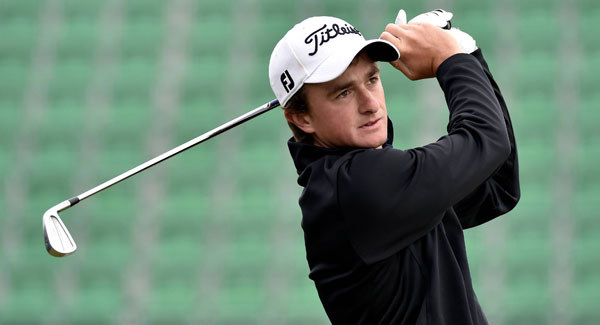 Amateur Paul Dunne of Ireland shot a bogey-free 6-under-par 66 and was tied for the lead with Louis Oosthuizen of South Africa and Jason Day of Australia heading to a Monday finish in the 144th Open Championship on the Old Course at St. Andrews in Scotland.
The 22-year-old Dunne, who recently finished his college career at Alabama-Birmingham, birdied four holes on the front nine and then added two more on the 10th and 15th holes.
"It's cool (to be leading the Open), but there are so many good players up there and there's so much that can happen tomorrow," said Dunne, who captured the 2010 Irish Youths Championship, which also has been won by Oosthuizen and Padraig Harrington. "Again, it's cool, but all that matters is what happens tomorrow.
"I was a little nervous on the first tee, but once I got going it was not too bad. I was really pleased to keep bogeys off the the card. … But this is all a little bit surreal."
Oosthuizen, who won the Open at St. Andrews in 2010, birdied three of the last five holes to finish at 67, while Day, who tied for ninth while fighting vertigo in the U.S. Open at Chambers Bay last month, recorded a bogey-free 67.
Jordan Spieth, the Masters and U.S. Open champion who is trying to equal Ben Hogan's 1953 feat of winning the first three majors of the year, was one stroke back in fourth after a 66, while Harrington, the 2007 and 2008 Open champion from Ireland, was another shot back in fifth following a bogey-free 65.
Marc Leishman of Australia carded a bogey-free 64 and was three shots behind in a tie for sixth with Sergio Garcia (68) of Spain, Adam Scott (70) of Australia, Retief Goosen (69) of South Africa, Justin Rose (68) of England, Robert Streb (70), Zach Johnson (70), Danny Willet (72) of England and amateur Jordan Niebrugge (67), a senior at Oklahoma State.
Dustin Johnson, who led after each of the first two rounds, made his only birdie on the 15th hole while struggling to a 75 and was five strokes back in a tie for 18th that included Rickie Fowler of Murrieta, who came in at 66.