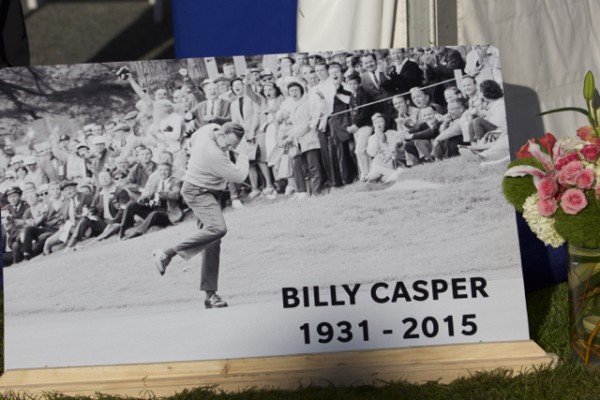 By Wil Barnes
If you remember when Payne Stewart tragically passed away in 1999, they held a memorial service led by Tom Lehman on the first tee at Redstone Golf Club in Houston. Prior to the service this thick fog crept in and it was eerie. A lone bag piper could be heard but not seen until he emerged from the dense fog.
So this past Sunday at Torrey Pines in La Jolla, there was a moment of silence on the first tee for San Diego's own Billy Casper who passed away late Saturday night at his home in Utah at age 83. What was an absolutely gorgeous, sun filled, blue, sky morning turned to the foggy gloom of Thursday, a pall that hung over the cliffs of La Jolla … perhaps in his memory. Casper was born and raised in San Diego, a hero to many in this community with his contributions to San Diego golf through his foundation and charity events building upon his reputation as one the greatest players in the game and a true gentleman. As the fog got even thicker, I was reminded of that day in Houston.
As I walked to the putting green I spotted the great Lee Elder, a veteran African-American golfer who was around long before Tiger Woods, and after Hall of Famer Charlie Sifford (who also died just a week ago). Lee remembered Casper as " a beautiful and kind man."
Billy and Lee competed against each other for many years, and Casper was his Ryder Cup captain in 1979 at the Greenbrier in West Virginia. "He basically told us to have fun," said Lee. "He would ask us for advice, who we wanted to play with and other input from the players. And we won (the Ryder Cup)."
Billy and Lee didn't have head to head matches on the regular Tour, but they did share some such moments on what was then called the Senior Tour (now the Champions Tour). But it was that time as a member of the Ryder Cup that Lee really got to know the man who won 51 tournaments on the PGA Tour, including two U.S. Opens and a Masters.
"Billy was like the forgotten man," expressed Lee. "He was there at the time with Arnie, Jack and Gary, the big three. He was the big four really. When he was our captain in the Ryder Cup he just listened to us and asked who we were comfortable playing with and he trusted us. He was the perfect person for the job."
The tournament committee arranged for black ribbons and portraits on each tee box on Sunday in tribute to one San Diego's heroes. RIP Billy.
Tap ins and lip outs:
* The only California golfer to actually get in the hunt was Sacramento's Nick Watney, who led briefly on Sunday only to fade on the back nine and finish in a tie for 8th. Nick was first to receive a surfboard as a prize where when he won in 2012.
* Of course we in the media all received an education from Tiger Woods on how the back, the "glutes" in particular, "just didn't activate." Tiger appears to have a lot more than just a bad back. He headed home and said he'll be ready to go at the Honda Classic in early March right next door to his new Jupiter home. We shall see.
* I caught up to Rickie Fowler on Sunday as he headed to sign a few hundred autographs as he normally does. This was after he posted a disappointing 79. When asked to assess where his game is currently, he simply stated, "Well, I didn't exactly get off to a good start last year and I had a pretty decent year." Yes you did, Rickie, so we won't panic just yet.
* Farmers Insurance announced earlier in the week that they would continue as the title sponsor of the event through 2019, assuring those in San Diego of a first class tournament in the future and continuing to raise money for the local community. The tournament, which has been named the Andy Williams, the Shearson Lehman Brothers, the Wickes Furniture, and the Buick Open, is in very solid hands with Farmers Insurance and they know how to have a good time doing it.
* While waiting to speak to one of the leaders on Friday, I located young Jake Knapp from Costa Mesa, a junior on the UCLA golf team. He Monday qualified at El Camino CC where he shot 65. It was his first pro tournament and even though he missed the cut, by only one shot, he was genuinely happy. "Oh man, this was so much fun," he said. "To meet and play with some of these guys that I look up to is just so awesome." His UCLA teammates were in Hawaii playing in a college invitational, where he would have been if not for his round on Monday. "I hope they're doing well. I really learned a lot this week. I know I have a lot to work on. But I want to be out here full time one day." With his affable attitude and smile this reporter sees that happening in the near future.
* This was the first time that the trophy going to the winner Jason Day was delivered from the sky. Two members of the Navy Seals parachuted onto the 18th just shy of the green, hitting their marks perfectly, one carrying the Torrey Pines trophy. "I can honestly say that this is first time I have ever had the trophy delivered from the sky," said a grinning Day. "That was awesome!"  Click here to watch video of the SEALS parachuting in.
* Some folks were surprised by the size of the crowd on Sunday, despite the loss of the star power of Tiger and Phil Mickelson from the weekend. Surely had they been in the hunt on Sunday, the crowds would have been much deeper, but still the fans of San Diego showed their support by turning out. When the leaders were coming in the last few holes, spectator s were five to six deep along the ropes.
* Perhaps the biggest winner was Torrey Pines South, where only five players shot in the 60s on Sunday. Players raved about the course conditions calling them fast and firm, but fair. "I think the rough was just as thick as it was in the 2008 Open," said Watney. Day said he loves it when par is a good score. "I always enjoy grinding it out, working really hard and stressing over stuff. This course does that." The headline of the Monday's San Diego Union Tribune read "One Fine Day." It certainly was!