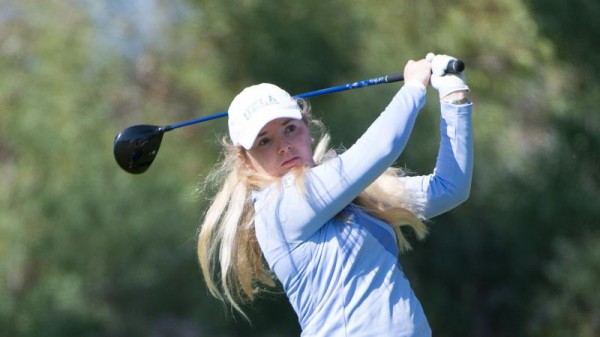 Bronte Law of UCLA took the individual title and USC finished second behind Baylor in the Northrop Grumman Regional Challenge at Palos Verdes Golf Club in Palos Verdes Estates.
Law, a sophomore from England, claimed her third college title and second this season by posting a score of 68-69-71–208,  5-under-par, to earn a two-stroke victory over Hayley Davis of Baylor, who finished at 69-68-73–210.
"I just wanted to go out and enjoy myself, to take the focus away from golf and place it on the opportunities I'm given," Law told the Daily Breeze. "(The third day) was tough because I was hitting the ball really well and I kept going through the backs of greens.
I needed to make sure I kept my cool because I could have easily got a little frustrated."
Amy Lee of USC, a freshman from Brea, shot 68-72-71–211 and tied for fourth with Dylan Kim of Baylor, who totaled 71-72-71–214, and Monica Vaughn of Arizona State was fifth at 69-71-74–214.
USC displayed its depth, as Gabriella Then finished 10th at 73-74-69–216, Kyung Kim tied for 13th at 72-72-75–219 and Karen Chung tied for 18th at 74-74-73–221.
Lydia Choi of UCLA tied for 21st at 76-76-70–222, Marissa Chow of Pepperdine tied for 24th at 73-70-80–223, and Erynne Lee of UCLA tied for 33rd at 76-82-67–225.
Baylor posted a score of 281-289-293–863, 11-over-par, followed by USC at 287-292-288–867 and Arizona at 296-292-292–880.
UCLA finished at 297-305-281–883 and tied for fourth with Oklahoma State, which came in at 292-287-294–883.
The Bruins were playing for the first time since All-American Alison Lee of Valencia left school and turned pro after earning medalist honors at PGA Tour Qualifying School in December.
Pepperdine was 13th at 302-306-306–914.