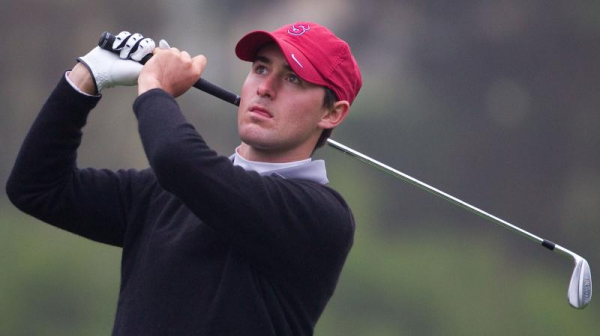 Cameron Wilson of Stanford chipped in for birdie on the 17th hole and sank a 30-foot birdie putt on the final hole to claim a two-stroke victory over Patrick Rodgers, his more heralded teammate, as the Cardinal won the 68th Western Collegiate by 14 strokes over Washington at Pasatiempo Golf Club in Santa Cruz.
Rodgers, who has nine victories in his career and is chasing Tiger Woods' school record of 11, held a two-stroke lead after 15 holes but mad two bogeys down the stretch to open the door for Wilson, who captured his second victory of the season.
"It was kind of bizarre battling for the title with one of my teammates," said Wilson, a senior from Rowayton, Conn. "Usually, I'm rooting for Patrick so hard and I still found myself rooting for him all day.
"It was an unusual situation with Patrick being one of my good friends and someone who I have so much respect for. He told me after the round how happy he was for me and how proud he was of my round today."
Wilson, who won a U.S. Open sectional qualifier in New York last summer, posted a score of 67-67-69–203, 7-under-par, while Rodgers finished at 65-69-71–205.
Pete Fernandez of UC Irvine shot 69-69-68–206 and tied for third with Rico Hoey of USC, who totaled 68-68-70–206, and Beau Hossler of Texas and Mission Viejo, who finished at 66-73-67–206.
Ricky DeSantis of San Diego State carded a score of 70-68-69–207 and tied for sixth with Maverick McNealy of Stanford, who wound up at 71-69-67–207, and Xander Schauffele of San Diego State, who came in at 69-70-68–207.
Cody Blick of San Jose State shot 69-68-71–208 and finished in a tie for ninth that included Joel Statler of Cal, who closed at 65-72-71–208.
Stanford posted its fourth victory of the season with a score of 347-349-344–1040, 6-under, while Washington finished at 347-355-354–1056.
Cal was third at 345-359-354–1058, followed by San Diego State at 357-352-356–1065, and Oregon at 359-352-356–1067.
USC finished in a tie for sixth at 355-355-362–1072, UC Irvine finished ninth at 361-363-357–1081, and San Jose State was 15th at 363-370-365–1098.