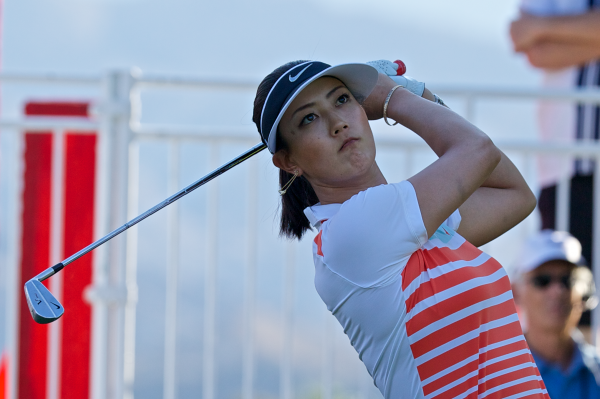 Michelle Wie shot 6-under-par 65 to tie for the first-round lead with Hee Young Park of South Korea in the Manulife LPGA Classic at Grey Silo Golf Course in Waterloo, Ontario, Canada.
Wie, who has risen to No. 10 in the Women's World Golf Rankings after winning the LPGA Lotte Championship earlier this year at home in Hawaii, recorded seven birdies in her round, including three in the last four holes.
"I was early off, and I just wanted to make a lot of birdies early on," said Wie, the 24-year-old Stanford graduate who has won three times in her career on the LPGA Tour.
"It's definitely one of those golf courses where you have to keep making birdies. My 6- under today, it's not enough. I need to keep making birdies for the rest of the weekend. Still a lot of work cut out for me."
Park, who has won twice on the LPGA Tour after claiming seven victories in Asia, carded a bogey-free 65 and pulled even with Wie by carding four birdies in seven holes while finishing on the front nine.
Shanshan Feng of China, who captured the 2012 LPGA Championship among her 11 pro victories, posted a bogey-free 66 and was third, while Cristie Kerr shot 67 and was tied for fourth with Xi Yu Lin of China.
Belen Mozo of USC and Spain totaled 68 and was in a tie for sixth that included Jee Young Lee of South Korea, Kristy McPherson, Marina Alex, So Yeon Ryu of South Korea, Alejandra Llaneza of Mexico, Jacqui Concolino, Paz Echevarria of Chile, Sarah Kemp of Australia, Na Yeon Choi of South Korea, Haru Nomura of Japan and Moira Dunn.
Stacy Lewis, who took over as world No. 1 by winning the ShopRite LPGA Classic last week, was tied for 18th with a 69.