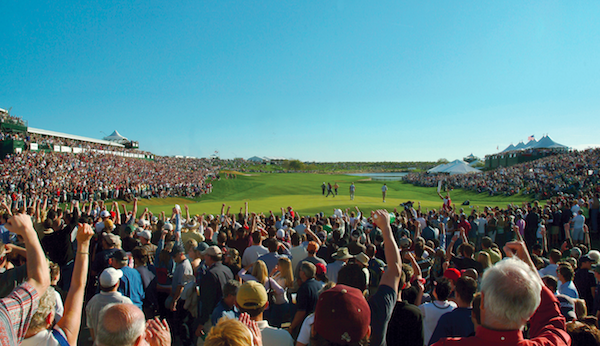 If you wish to be young again I suggest you attend the Phoenix Open, known now as the Waste Management Phoenix Open, the reason the "green" company invested the big dough to be the title sponsor, that's all, albeit substantial. As someone who has now attended over 25 of these festivals, which also features a golf tournament, I know of nothing else like it. Unless you are in attendance all you know is fantasy. In fact, for many in attendance it is fantasy. It's the Valley of the Sun's Kentucky Derby, Indy 500 or Mardi Gras, sans the parades. While eventual winner Phil Mickelson was chasing records on the course in 2013, the Thunderbirds were setting them. At last year's Waste Management Open, day one was highlighted by Phil chasing the illusive 59, while outside the ropes young guys were chasing young skirts and vice versa. Phil is the adopted son of Scottsdale having gone to Arizona State University in nearby Tempe. He has won this event three times now and is loved by all. So after his amazing opening round that should have been 59 or even 58 horse shoeing out on his last hole for 60 on a day of Chamber of Commerce weather, a new generation of partiers and a few people who wish to see golf on a course that features the most exciting hole in golf, the par 3, sixteenth arena, records were set and I would never doubt the Thunderbirds from beating them this year as well, especially with the field assembled, which includes for the first time, England's Lee Westwood.
"I decided this year I was going to start me year over here in the states, "he said last week at Torrey Pines. "I decided to play Phoenix and get that experience that everyone talks about, especially playing the sixteenth hole."
When there is concern on how to get people into golf, this hearty group of souls known as the Thunderbirds somehow summon the masses for a week on the PGA Tour by such an extraordinary margin that it astounds me that no other Tour stop has tried to swipe their mantra. It's not rocket science but you need the right venue and the right attitude, which the Thunderbirds possess.  The venue, the TPC Scottsdale, built for tournament viewing began hosting this event in 1985 and can accommodate and do, surpassing 150,000 on Saturday alone. The community as a whole, including the hundreds of officers required to maintain the peace has a willingness to let people have a blast.
As is customary for the "Greatest Show on Grass," it is held on Super Bowl weekend. While there are plenty of terrific viewing areas, none creates more excitement than the always raucous par 3, sixteenth hole. Last year the Saturday crowds arrived early, and the mass that was expected all week did their best to imitate Mardi Gras both in dress and alcohol consumption. I was fortunate in 1997, having spent most of the day on one of the large rocks on the sixteenth tee box when a young, 21 year-old Tiger Woods arrived in the mid afternoon sun. After playing partner Omar Uresti had stuck it to two feet, Tiger stepped up, hit a smooth 9-iron that took two hops in jumped into the jar. It was the loudest roar ever heard in golf! The growth of that hole has expanded enormously since then to include so many sky boxes (177 last year) that public seating represents about only 25 percent of the estimated 15,000 to 18,000 fans that encompass the hole, soaking up the desert sun and the beverage, ah excuse me, beverages of their choice.  Today the sixteenth is a stadium, fully enclosed with skyboxes three stories high.
"When you walk to 15 green and you hear the roar from 16, it sound like a baseball stadium," quipped Brandt Snedeker.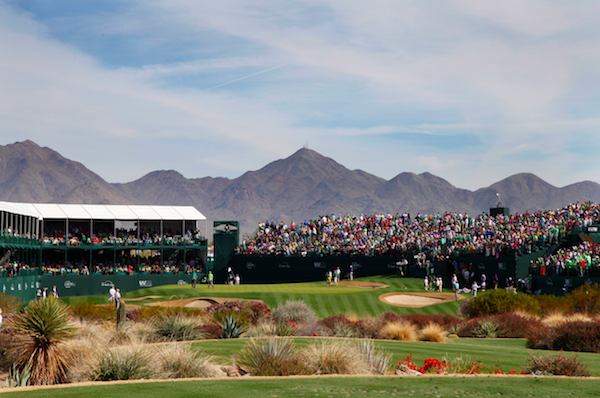 The crowd for Friday 2013 set a record for that day at 120,719. Looking ahead to Saturday the buzz was that the all-time attendance of 175,000 was in jeopardy (it fell) due to the Phil factor and a weather report that makes those in the hinterlands grievously jealous. Believe me the people in Phoenix don't need an excuse to party, but this weekend each year brings out the best in them. How the number is determined is somewhat questionable but who cares. Supposedly the math works like this. They fly over the entire parking areas and multiply the number of cars by 3 and ½ people per auto. I must say that is not bad. Giant buses continue to drop the throng off at the entrance all day into the night as those who don't make it o the course get set to rock the night away at the infamous Bird's Nest. Believe me, if you have not attended the Phoenix Open, you're seriously missing out on one on America's most unique assemblies. It was definitely thick at sixteen and all around fifteen green where the youthful exuberance was on full display in beads, little skirts, funky hats, 80's band themed wigs and high amperage volume.
For at least the last five years the sixteenth has been totally enclosed with bleacher seating available on a first come, first serve basis. On Saturdays they are full by 10 am and lines extended so long you would think The Beatles were getting back together. The usual rowdies, a witty and comical bunch on the left off the tee, get the players attention with jovial fight songs and commentary. They are usually well lubricated but as they have for years acting with the courtesy the tournament has come to appreciate. Last year In between groups, the lads in the bleachers were yelling up to those privileged to be in the upper deck suites things like, "Kiss that girl! Kiss that girl," until there request was answered. It then turned to "Chug that beer," and again they were obliged.
"It's just another year," said Jocko Holliman, longtime Thunderbird who mans the microphone attempting, yes you heard me, attempting to quiet the crowd while players are on the tee, for fifteen years now.
"I love it. They're good kids, really. Last year we actually took away a couple of rows from their bleachers for more skybox seating but we gave them their own restrooms and entrance. They said it was the best year ever."
A few years back, Paul Azinger came by on Friday where he hit his shot as the hearty fans cheered "USA! USA!" in recognition of his captaincy on the winning Ryder Cup team. He then unveiled a U.S. flag and carried it to the green as the masses screamed. A short time later that was followed by ASU grad and local pro Billy Mayfair, who appeared on the tee wearing an Arizona Cardinals jersey he wore throughout his play of the hole bringing resounding cheers for the Super Bowl bound team. Two years ago young heartthrob Rickie Fowler emptied a box of his brilliant colored Puma hats that are so popular that he could live off the residuals of those alone. Most of the players gladly participate in some manner. Last year, Irishman Paddy Harrington was asked to throw NFL footballs into the crowd. Being Irish he was more accustomed to rugby so he chose to kick them instead. He's quite good as proven when he kicked one out and over the bleachers.
One of the unique features of this stadium hole are the bets being placed by fans on a player who gets close to the hole, but even more entertaining is which caddie will arrive at the green first, which prompted some caddies full on racing with bags in tow. There will be none of that this year as the Grinch; PGA Tour commissioner Tim Finchem has put the kybosh on those festivities.
Funny, I saw him 2 weeks ago at the Humana Challenge with Bill Clinton and again last week at the Farmers Insurance Open, but he is always absent from this affair. Then again, this is definitely not his cup of tea.
I still feel sort of melancholy as to whether the sixteenth is better today or 20 years ago when the bank behind the tee, "Sun Devil Hill," evoked the kind of theater only seen at Scottsdale. It is still a grand spectacle for sure and one that must be experienced.
"In '09,'10 and '11,we were definitely down a little due to the economy," said Holliman. "But we rebounded in 2012 selling 146 skyboxes and last year with 177 sold on this hole alone, it is spectacular." And although the Thunderbirds do not like to discuss money, it is pretty well assumed that the 16th hole alone drives about $7 million plus in revenue for the week. Perennially this tournament raises more charity dollars than any event on Tour.
While the sixteenth is obsolete, there are so many more places for viewing and skyboxes on the seventeenth and eighteenth represent excellent viewing. The toughest ticket to get is entrance to the Greenskeeper, long known for hosting the best party of the day and where good looking ladies parade out front with the hopes of an invite from a Thunderbird or someone with clout. At night those who wish to take it all in stroll across the parking lot to the Bird's Nest. I would need a book to tell all the stories I have witnessed in the last 28 years. As usual great bands perform like the Goo Goo Dolls, Doobie Brothers and Dirks Bentley. This year will feature again O.A.R on Wednesday and Weezer on Friday. The party never stops in Scottsdale.
I suppose I failed to mention there is also this golf tournament that takes place. Hal Sutton said years ago, "You know, somewhere out here there is a golf tournament going on." There have been many great champions in the WM Open over the years. Who can forget the infamous "Noonan" playoff between Justin Leonard and Phil Mickelson? The last four holes are fantastic and offer opportunities for players to pull off some magic with a reachable par 5, 15, a reachable par 4, 17, of course 16. My friend David Feherty once mused what it would be like if they held a Ryder Cup at TPC Scottsdale. It would be mayhem, much like it is every year at the Waste Management Open. Did I mention they play golf too?
Follow us on Twitter: @cal_golf_travel