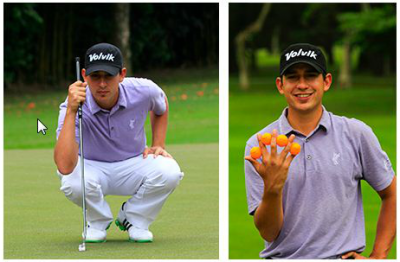 Volvik, the #1 Color Golf Ball on Tour, today announced the signing of Web.com Tour player Erik Flores to a two-year endorsement contract.
Flores currently plays an Orange Volvik Vista 4-piece golf ball and will play his first Web.com Tour event of the 2013 season this week at The Brasil Classic at Sao Paulo Golf Club.
"This is a very exciting week for Volvik," said Volvik USA President Don Shin. "Erik Flores will be the first men's professional to put a Volvik colored golf ball in play in a US professional event. We are proud to have signed such a talented, up-and-coming player like Erik for the next two years and that Erik has found that Volvik helps his game to the point where he trusts the golf ball to take him to the next level. This is a statement that Volvik will be able to have as much success on the PGA TOUR as we have had on the LPGA Tour."
Flores, a three time NCAA All-American at UCLA, played his first fully exempt season on the Web.com Tour in 2012 and finished the season with one Top 10, two Top 25 finishes and a 5th place finish at the News Sentinel Open. Flores made 10 cuts in 2012. He finished the 2012 season ranked 1st on the Web.com Tour in Putts Per Round and 13th in driving distance at 305.2 yards.
"I am thrilled to be joining the Volvik professional staff, " said Flores. "I did extensive testing with the golf ball and I found it to be an extremely high performance golf ball that does everything I need it to do. I enjoy the strong flight of the ball and the heavier feel off the club face due to the solid core of the ball, as opposed to the soft core of other golf balls. This also adds more control to my approach shots."
"I am excited to be a part a company that is bold in their use of new materials and is not afraid to break the paradigm of the white golf ball," said Flores. "Finally a golf ball that contributes to my game and my style."
Flores was a four-time 1st Team All Pac-10 recipient, the first UCLA Bruin to accomplish this feat, and was also the 2006 Pac-10 Freshman of the Year and a member of 2008 NCAA Championship team. His junior golf career included two- AJGA All-American, FCWT All-American nominations and he was a five time AJGA and FCWT Tournament Champion. He turns 26 years-old tomorrow.