Santa Cruz, Calif.—– The University of California posted the best 18-hole team score of the tournament with a 10-under par 340 and overcame a nine-stroke deficit to capture the Transamerica/WFG 67th annual Western Intercollegiate men's golf tournament.
The Golden Bears, ranked No. 1in the nation by GolfStat, won for the ninth time in 11 tournaments this season with a 54-hole total of one-over par 1051. Three of California's six players recorded an under-par score for the last 18 holes led by Michael Kim and Max Homa, each with a four-under par 66.  James Yoon's 67 and Joel Stalter's even par 70 factored in significantly to Cal's outstanding team score.
UCLA, the leader through the first two rounds, was second at 1,064. The #5-ranked Bruins led after each of the first two rounds, but faltered with a 12-over par 362 for a 1,064 total.
"We've been playing here for years and years. I've doing this for a long time and this is the first time we've won here. It's very special. It's such a great golf course – a MacKenzie Golf Course, a great field. When you get an opportunity to play here, you do it," said University of California men's golf coach Steve Desimone, whose team has 15 tournament wins since the start of the 2011-12 season. "When you win, you know you have a very special tournament.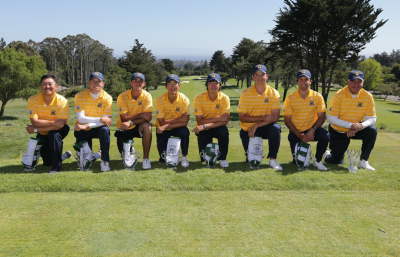 "This is a mini-Augusta. There are shot demands and the greens are so tough. It's so similar to Augusta. That's how I would describe it (the Pasatiempo Golf Course).
"Obviously, it's been a special year and we've had a lot of wonderful rounds – great rounds. This might have been the best one of all," Desimone said about the Golden Bears' 10-under par 340.
No. 7 Stanford at 1,081 was third, followed by No. 3-ranked Washington fourth at 1,085 and San Diego State at 1,090 to round out the top five teams in the 14-team field. Host San Jose State was seventh at 1,101.
UCLA senior Pedro Figueiredo was the individual winner in the 88-player field with a six-under par 204 total. Figueiredo, who had the tournament's low score with an opening-round 65, shot a two-under par 68 for his final 18 holes. The 67th Western Intercollegiate is his second win of the 2012-13 season. Figueiredo won The Prestige in La Quinta, Calif., in February.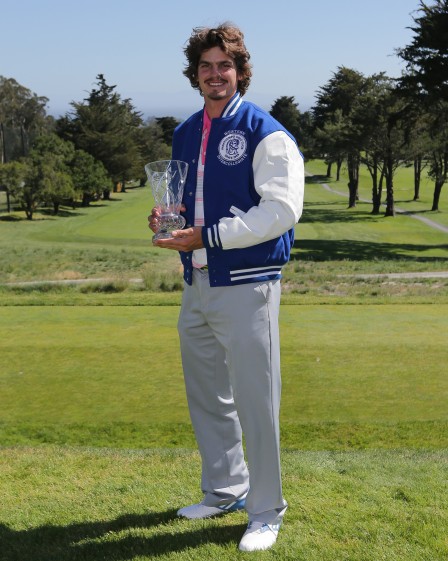 California's Kim, the nation's number-one player, and Homa, tied for second in the individual standings at four-under par 206. Lorens Chan of UCLA, playing as an individual entry, Xander Schauffele of San Diego State, Pontus Widegren of UCLA and Chris Williams of Washington, the #1-ranked player in the R&A World Amateur Golf rankings, were the only other players under par tying for fourth place at 209.