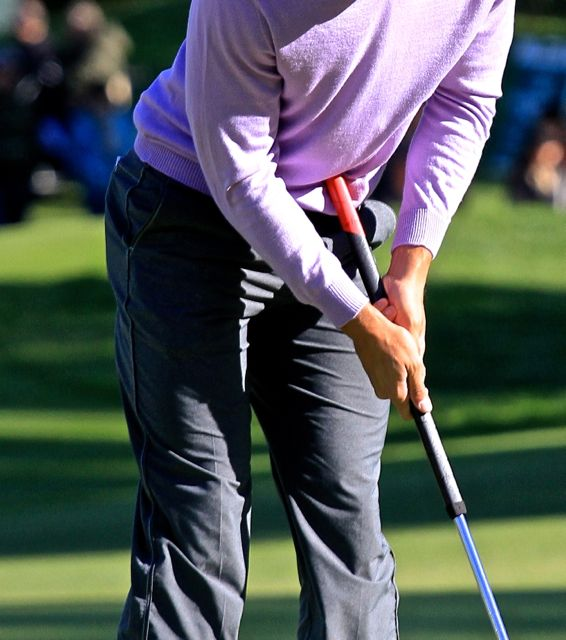 The United States Golf Association will not enact an extension of the ban on anchored putters beyond 2016 for recreational players, the association announced.
Ted Bishop, president of the PGA of America, and Tim Finchem, PGA Tour commissioner, made the proposal to extend the ban on anchoring for recreational amateurs at the USGA's annual meeting last month.
"While we are disappointed with the USGA's decision not to extend the implementation date beyond Jan. 1, 2016, I know that all PGA professionals are committed to helping amateur players choose a permissible putting stroke that will help them continue to enjoy the game well into the future," Bishop wrote.
The USGA released the following statement: "After further discussion among our executive committee and leadership, the USGA's judgment continues to be that it is in the best interests of the game for Rule 14-1b to take effect for all golfers on January 1, 2016. The USGA is committed to working with the PGA of America and its members, as they will be instrumental in supporting golfers through the transition and implementation of the Rule."
Bishop was disappointed with the move but told golfchannel.com that he believes it is time to move on.
"I can't say I am surprised," Bishop said. "I'm going to give them the benefit of the doubt; it was about a month from the time we made the presentation and I felt like they gave it fair consideration."
Keegan Bradley, Webb Simpson, Ernie Els and Adam Scott have won major championships using anchored putters in recent years, which many people believe led to the anchoring ban.
The ban was proposed by the USGA and the Royal & Ancient Golf Club of St. Andrews in November of 2012, and after a 90-day comment period, the ruling bodies of golf announced last May that it will go into effect on Jan. 1, 2016.