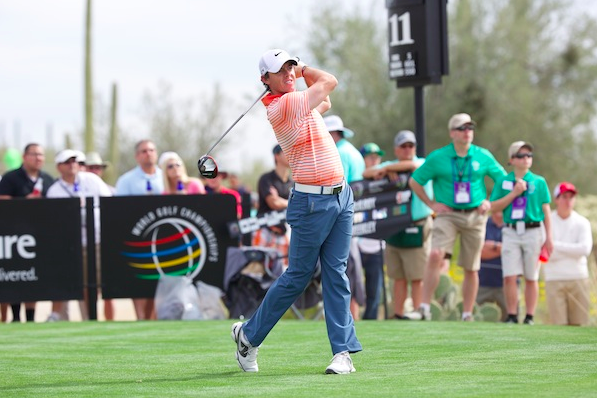 Despite what you saw Sunday, on a weekend when the two best golfers in professional golf from California — Phil and Tiger — failed to finish at the Honda Classic, a sparkling young lady from Pleasanton, Calif. sank an improbable, incredible, bending and blazing 75-foot bomb on the first playoff hole to capture the HSBC Championship on the other side of the globe in Singapore. Paula Creamer, now 27, won her tenth LPGA Tour event. That's right, ,her tenth! And it became her first win since the 2010 US Open at historic Oakmont Country Club. But as is the world of golf, her efforts were overshadowed by the drama that unfolded in South Florida.
Golf fans witnessed the meltdown of Rory McIlroy, who led after each of the first three rounds of the Honda Classic at the penalizing PGA National, where he opened with a fashionable 63, holding a two-shot lead as he entered Sunday's final round. But before he concluded, news rippled about the grounds that Tiger Woods had withdrawn after 13 holes due to back spasms. He was five-over at the time, shooting a front-nine 40.
It was the sixth time that Woods has withdrawn from an event as a pro.
One reporter mentioned that in "his illustrious career, Tiger has ONLY withdrawn six times." For the record Jack Nicklaus, who played many years longer, withdrew ONLY twice. At 38 now, Tiger's body has certainly showed the wear and tear of the millions of violent swings he has made famous, making him ever more fragile. That pursuit of Nicklaus' 18 majors is seemingly a planet much further in reach in his solar system. It's perfectly understandable with The Masters lurking just a month away to shut it down rather than risk further damage, but the signs are apparent that his body is nowhere that amazing specimen we've watched for the last 17 years.
Now as for the Ulsterman McIlroy, who went five over in six holes beginning at the seventh on Sunday, well it was one of those days. At the 13th he three-putted for the first time in 188 holes. For many of us, 8 holes would be delightful. He admitted afterwards that the swing got a little out of whack and was hitting balls left for a while.
"I three‑putted 13, and I started to hit some of those shots, obviously the second shot on 16 was what sort of killed me," said a demure McIlroy. " I hit a six‑iron wide and instead of starting it right at the target and letting it come back into the wind, I was underneath it and came in a little heavy."
It was uncharacteristic for someone of his stature, I suppose, unless you recall how he imploded at Augusta in 2011 when he led by five in the final round only to shoot 80; a day he would soon forget. And that appeared to be what happened. Two months later at the year's next major, the U.S. Open at Congressional, he returned with that swing; that priceless move through the ball that is so pure, smoking the field by eight shots. It was a performance for the ages. He was only 22 and No. 1 in the world.
After watching him the first two days this past weekend, I say, "get the 42 regular ready for Adam Scott to help him into come this spring."
If you take Sunday's misgivings aside, what we witnessed for the first three days, in particular Thursday, there it was, that swing that captures your attention. That swing that in 2010 at the Wells Fargo Championship in Charlotte, he fashioned a five-iron from over 200 yards on the par-five, 15th to inside ten feet on his way to victory. It was a swing that prompted CBS' David Feherty to chime, "you will not see a golf ball hit so purely in your life!" That swing appeared momentarily again on Sunday at the 72nd hole when from 245 yards he hit a cut five-wood to 11 feet with the game on the line. Yes, you heard me correctly, a cut 5-wood. If he made that eagle putt he would have been holding the trophy instead of eventual surprise winner Russell Henley and there would be little discussion on the subject. Even after a period of disasters, there he was with a putt to still win it. You may not see a better golf shot the rest of the year so bank this one in the memory vault.
"I counted myself very fortunate even to be in the playoff.  I didn't play well enough at all down the stretch to win this tournament," Rory said, still looking a little stunned. "Yeah, it's very disappointing.  Look, it was a perfect opportunity to win.  No one was really coming at me.  Eight‑under got in the playoff, so I'm just thinking, play those last few holes just solid, and 16 was what really cost me."
Discouraged? He didn't appear so.
"But look, it's been a decent week.  Got myself into contention again, it's my third stroke‑play event of the year and third time I've been in contention with a chance to win."
Like all the great players, you stuff this loss in the bag and move one to the next week.
"You know, as I said, pick myself back up, try to get back into the thick of things at Doral next week and do a better job."
It's a an hour drive down I-95 to Doral Resort where the Donald (Trump) has made some dramatic changes to the course, the Blue Monster, with the help of noted architect Gil Hanse. No one is sure if Tiger will tee it up, not even him.  Phil is in the field as is the top-50 in the world, including Russell Henley who jumped to No. 50 by virtue of his victory. The WGC Cadillac Championship already is loaded with storylines. The Masters remains five weeks out but it's on the minds of many right now, no one more so than McIlroy. So get the 42 regular cleaned and pressed. I just have a hunch.
Shot of the week: While Russell Henley is deserving of this for his second shot on Saturday at 14, which he holed out for an eagle-two, or even his chip in for three at the same hole Sunday to tie McIlroy at 10 under, Paula Creamer gets it. That 75-foot bender won the tournament, in a playoff and her reaction immediately afterward said it all as she fell to her knees, crying and laughing. She's back in the winners circle and I think we'll see here win more this year. It could start in two weeks at Aviara Resort in Carlsbad at the Kia Classic. Creamer has recently taken up membership at the prestigious Big Canyon Country Club in Newport Beach where she celebrated her victory party on Monday. At least one of our California golfers is winning.