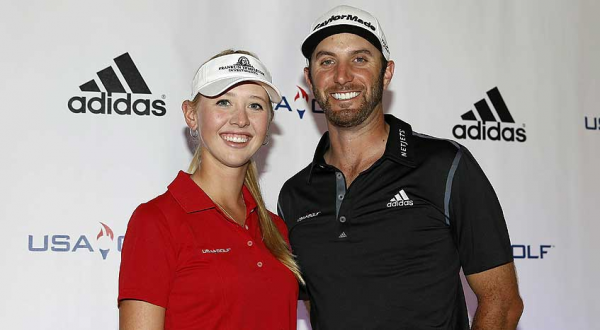 USA Golf announced that adidas Golf will be the official uniform supplier for the U.S. Olympic golf team at the 2016 Olympic Games in Rio de Janeiro, where golf will be played in the Olympic Games for the first time since 1904 in St. Louis.
Adidas plans to launch a USA Golf branded line of apparel later this year.
"Being back in the Olympics with golf is truly an honor," said Dav Mattuicci, footwear product manager at adidas Golf. "We're extremely excited and appreciative of the opportunity and are very much looking for to bringing to the best innovative products to the best golf athletes in the world."
Mattuicci said the U.S. Olympic golf team uniforms will be designed in 2015 and unveiled in early 2016.
Dustin Johnson of the PGA Tour and Jessica Korda of the LPGA Tour were on hand for the announcement wearing two samples of Team USA golf shirts.
"Adidas Golf not only has great products, they also have an extensive history in the Olympics," said Andy Levinson, executive director of USA Golf. "They were extremely prominent in London at the 2012 Games, and they've really showed a commitment and excitement to helping USA Golf as a new organization and golf entity build our brand. We feel strongly that they're the best one for the job."
Even though the uniforms will be designed by adidas, they won't feature the company's three-stripe logo because of Olympic regulations.