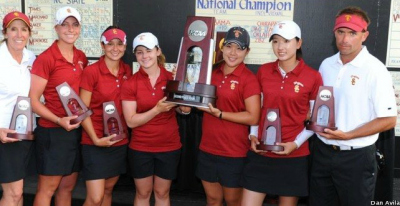 Trailing by 14 strokes midway through the Women's NCAA Division I Championship in late May at the Vanderbilt Legends Club in Franklin, Tenn., the USC Trojans had some work to do with two rounds remaining. And while they made a valiant comeback, it wasn't enough to overcome the Alabama Crimson Tide, who captured their first national championship by a single stroke on the 72nd hole.
It was the second time in four years that USC, which pulled to within two strokes heading into the final day, fell short by that margin. The Trojans came up shy against Purdue in 2009.
The final day produced a seesaw battle, with two-time champion USC (2003, 2008) at one point taking a five-stroke lead before giving it up on the back nine. The tournament was sealed when Alabama's Brooke Pancake rolled in a 4-foot putt for par on the final hole. The Crimson Tide finished at 19-over-par, 1,171. The Trojans finished at 1,172, followed by LSU (1,173) and Virginia (1,175).
"When I was standing over [the putt], I kind of had the feeling of … this is my moment," Pancake said. "I've put four years into it and I can't think of a better way to finish my senior year."
Here's a look at some highs and lows from the week:
Oklahoma sophomore Chirapat Jao-Javanil captured medalist honors, becoming the first Sooner to win the national title. Jao-Javanil finished at six-under par with rounds of 69-73-70-70 (282). Pancake, an Alabama senior, finished runner-up at four shots back.
Entering the tournament ranked 59th in the country, Jao-Javanil made three birdies over her final nine holes to grab the victory. A Thailand native known by "Ja" to her friends and competitors, she was euphoric over her accomplishment.
"This all feels so surreal," she said. "This is an incredible honor for me and I'm really happy that I could represent my family, OU and the country of Thailand. I'm really happy that I had an opportunity to compete alongside such a talented field of golfers. It's such an honor to even be in contention with golfers like Brooke Pancake. I just think I played solid throughout the whole week and was able to keep myself calm."
Arizona State senior Giulia Molinaro entered the championship as one of the favorites to win the individual title. Ranked fourth in the nation by Golfweek/Sagarin, Molinaro was tied for the lead after an even-par third round during the championship's toughest conditions. Her final-round 79 led to a tie for eighth place in her final appearance as a Wildcat.
"We're definitely going to miss Giulia," said Arizona State head coach Melissa Luellen, whose team finished in a tie for sixth place. "She was a huge leader for us."
UCLA senior Brianna Do, the 2011 U.S. Amateur Public Links Champion, finished in 14th place at 5-over par to lead the defending champion Bruins. Firing a 1-under-par 71 in the second round, Do led UCLA into a tie for second place and within 11 shots of eventual champion Alabama. That was as good as it would get for the top-ranked Bruins, who finished in eighth place.
Despite the team's finish, Do's play received praise from head coach Carrie Forsyth. "I'm very proud of Brianna for leading us this week in her final collegiate tournament," she said.
Other top UCLA finishers included Erynne Lee (T29) and Lee Lopez (T51).
University of Virginia sophomore Portland Rosen produced the round of her lifetime with a 6-under 66 on opening day, which included a hole-out eagle on the first hole that led to a front-nine course-record 29.
Using a long putter on the advice of head coach Kim Lewellen, Rosen rolled in six birdies during the round to place herself on top of the day-one leaderboard. She finished in a tie for eighth place at 3-over par.
Considering that Rosen had broken par just once all season, the Cavalier sophomore now knows what it means to get on a roll.
"I now believe everyone when they say they get in a zone," Rosen said. "I was definitely in that. It was very calm."
Meanwhile, the Cavaliers fell victim to what is becoming a familiar story in amateur golf. Sophomore Elizabeth Brightwell was disqualified from the opening round when she signed an incorrect scorecard. Brightwell signed for a round of 1-under-par 71, but actually shot 72. Her score was eliminated and cost the Cavaliers five shots that day and a possible championship considering they finished in fourth place – four shots back of Alabama.
Alabama junior Jennifer Kirby felt the pressure of the moment coming down the stretch when she had the opportunity to close out the championship on the final hole. Playing in the penultimate group, Kirby needed to get down in three from 85 yards for par and put the championship in the bag. She airmailed the green and chunked her first chip en route to a double-bogey 7. She wound up with 74, which included a 3-under-par effort on the front nine, and tied for 14th place at 5-over par for the championship.
USC freshman Doris Chen, who led the Trojans for most of the tournament, struggled to a 77 on the final day, which turned out to be the Trojans' drop score – it was the team's highest that day and didn't count – and eliminate any hope for a late Trojan push since Chen was playing in the final group. She also finished in a tie for 14th place.
Other top USC finishers included Lisa McCloskey and Inah Park, who tied for 21st place.
– By Jim Dover