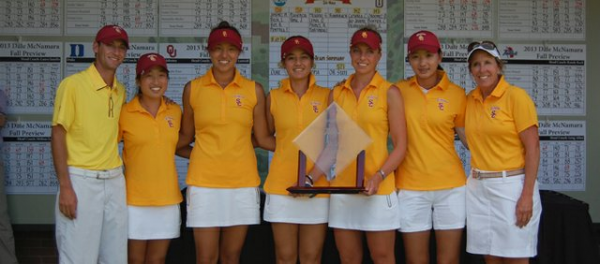 Top-ranked USC, the defending national champion, rallied on the final holes to beat Washington by one stroke and win the NCAA Women's West Regional at the Tumble Creek Club at Suncadia Resort in Cle Elum, Wash.
Doris Chen birdied the 17th hole and all five Trojans made par at No. 18, as USC came from behind on the back nine to claim its school-record ninth victory of the season and fifth consecutive regional title.
The top eight teams advanced to the NCAA Championships on May 20-23 at Tulsa Country Club in Tulsa, Okla.
"The conditions were very difficult, the wind blowing about 20 mph, and we didn't play very well on the front nine, and were five or six shots down," said Coach Andrea Gaston of USC, a three-time national coach of the year, including last season.
"We just had to stay patient and we turned it around with a lot of birdies on the back nine. The 14th and 15th holes, back-to-back par-5s playing downwind, were key, and we made four birdies there.
"We actually thought we finished in a tie (with Washington), but one of their scores was wrong and we didn't find out we had won (outright) until we were finished playing. We're really excited about it and looking forward to going to Tulsa to defend our title."
The Trojans posted a score of 284-294-298–876, 12-over-par, with the Huskies finishing at 288-292-297–877.
Arizona State was third at 289-289-311–889, followed by Oklahoma at 281-295-309–895, and Michigan State at 291-311-301–903.
UC Davis finished 12th at 300-308-319–927 and San Diego State tied for 21st at 317-318-320–955.
Noemi Jimenez of Arizona State, a junior from Spain, claimed the individual title at 67-74-72–213, three-under-par.
"It feels really good," said Jimenez, who claimed the third victory of her college career. "We made it a goal to make it to Nationals, and it feels really good to advance to the championship this year.
"Today was a tough day overall, so the scores weren't as low. But it was a good finish anyway."
Annie Park of USC shot 71-71-73–215 and tied for second with Soo Bin Kim of Washington, who finished at 70-70-75–215.
Kyung Kim of USC totaled 66-74-76–216 to tie for fourth with Marijosse Navarro of Texas A&M, who came in at 67-74-75–216.
Rounding out USC's lineup, Karen Chung tied for 10th at 77-72-73–222, tied for 22nd at 72-78-76–226 and Sophia Popov tied for 28th at 75-77-76–228.
Clariss Chase of Cal State Northridge finished in a tie for eighth at 68-77-76–221, Madchen Ly of Fresno State was 54th at 74-81-78–223, Emma Henrikson of San Diego State tied for 68th at 76-77-83–236, and Regan DeGuzman of San Jose State tied for 75th at 76-80-81–237.
UC Davis was led by three players who tied for 44th: Betty Chen, who shot 74-77-80–231, Paige Lee, who totaled 75-76-80–231, and Blair Lewis, who came in at 76-77-78–231.