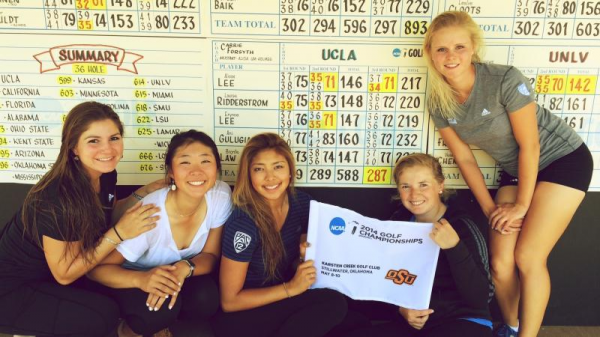 Top-seeded UCLA rolled to a 17-stroke victory over Alabama in the NCAA Women's Midwest Regional at Karsten Creek Golf Club in Stillwater, Okla.
Carrie Forsyth claimed her 53rd victory as coach of the Bruins, who captured their ninth regional title in the last 15 years, all under Forsyth, and advanced with seven other teams to the NCAA Championships on May 20-23 at Tulsa Country Club in Tulsa, Okla.
"We came into the round with a chance to win, we didn't get that done, but UCLA is a very good team," Coach Mic Potter of Alabama said.
The Bruins, ranked third in the nation, collected their fourth victory of the season with a score of 299-289-287–875, 11-over-par, with Alabama finishing at 295-297-300–892.
Mississippi State was third at 302-294-297–893, followed by Cal at 295-294-305–894, while Ohio State totaled 305-288-306–899 to tie for fifth with Kansas, which came in at 309-290-300–899.
Wad Phaewchimplee of Kent State, a freshman from Thailand, took the individual title at 65-73-71–209, seven-under par.
Dana Finkelstein of UNVL posted a score of 72-70-72–214 to tie for second with Emma Talley of Alabama, who finished at 68-75-71–214, and Ally McDonald of Mississippi State was fourth at 73-72-70–215.
Freshman Alison Lee led UCLA in a tie for fifth at 75-71-71–217, but got plenty of help.
Erynne Lee tied for 10th at 76-71-72–219, Louise Ridderstrom tied for 13th at 75-73-72–220, Bronte Law tied for 24th at 73-74-77–224 and Ani Gulugan tied for 61st at 77-83-72–232.
For Cal, Hannah Sun tied for seventh at 72-74-72–218, Lucia Gutierrez tied for 16th at 75-71-75–221, Nicola Roessler tied for 24th at 74-73-77–224, Carly Childs tied for 51st at 74-76-81–231, and JoEe Kok tied for 104th at 82-80-82–244.