What once looked like a runaway United States victory at the 2012 Curtis Cup Match is now poised to be one of the best finishes in years.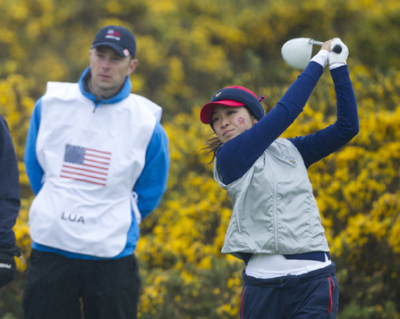 A resilient Great Britain and Ireland Team captured two of Saturday afternoon's four-ball matches and halved the third to cut the USA's lead to 6½-5½ going into Sunday's singles matches at The Nairn Golf Club in Nairn, Scotland.
"We knew we had to go out there and get three points this afternoon to have a chance tomorrow," said Kelly Tidy, a 20-year-old from England who won the 2012 English Ladies Close Amateur Championship.
USA captain Pat Cornett had only good words for her team following a disappointing afternoon.
"They played hard, they hit quality shots coming in," said Cornett, who returned to the course after breaking her ankle on Friday afternoon. "Nobody should be hanging their head. We're still ahead."
While only three of the opening nine matches required the full 18 holes, all of the afternoon's matches went the distance, much to the excitement of the nearly 3,000 fans that lined Nairn's fairways.
Tidy and Holly Clyburn, 20, of England, survived a fierce battle with Amy Anderson, 19, of Oxbow, N.D., and Emily Tubert, 20, of Burbank, Calif., and emerged with a 1-up victory. Neither team was able to pull beyond a one-hole advantage in the tightly contested match. The Americans played to two under and the GB&I Team three under, with the usual match-play concessions.
"We played pretty good," said Anderson, the 2009 U.S. Girls' Junior champion who leads the Americans with a 3-1 Match record. "Certainly we can look back on certain holes where we would like to hit a shot or putt again, but overall we played solid."
Brooke Pancake, 22, of Chattanooga, Tenn., and Austin Ernst, 20, of Seneca, S.C., paired for the third time after winning two foursomes matches. The All-American duo earned the USA's only afternoon point, halving their match with 17-year-olds Leona Maguire, of Ireland, and Bronte Law, of England.
As they had in all three previous matches, Pancake and Ernst dropped the first hole for an immediate deficit. Maguire and Law stretched the lead to 2 up with a birdie at the par-3 sixth.
"We started off a bit rocky, but I guess that is how we have always been," said recent University of Alabama graduate Pancake. "We started off a bit slow and then picked it up.
"At the beginning, [Leona] was chipping in and making 30-foot putts and there was nothing we could do about that."
A GB&I bogey at the par-4 13th set the match at all square, and neither team was able to pull ahead down the stretch.
The final point of the afternoon came courtesy of the lone Scot in the field, Pamela Pretswell, 23, and Stephanie Meadow, 20, of Northern Ireland. After trailing early to Erica Popson, 21, of Davenport, Fla., and Tiffany Lua, 21, of Rowland Heights, Calif., birdies at Nos. 7 and 8 gave GB&I a 1-up advantage. Popson and Lua were able to square the match, but Pretswell's 4-footer for birdie at the 17th earned GB&I the point.
"Both Tiffany and I played well today," said Popson, a rising senior at the University of Tennessee. "We gave ourselves a lot of chances. We hit some really good putts that just didn't go in today."
The Curtis Cup concludes with eight singles matches on Sunday.
A point is awarded for each victory and a half-point goes to each side for a draw. The USA, winners of the last seven contests in the biennial series, needs 10 points to retain the Cup, while GB&I needs 10.5 points to regain the Cup.
– Courtesy Christina Lance, USGA coordinator of championship communications.
Pairings
Sunday's round of singles matches at the 2012 Curtis Cup Match, conducted at the par-72, 6,313-yard The Nairn Golf Club (all times GMT):
Match One
10 a.m. – Austin Ernst, Seneca, S.C. (USA) vs. Kelly Tidy, England (GB&I)
Match Two
10:10 a.m. – Emily Tubert, Burbank, Calif. (USA) vs. Amy Boulden, Wales (GB&I)
Match Three
10:20 a.m. – Erica Popson, Davenport, Fla. (USA) vs. Holly Clyburn, England (GB&I)
Match Four
10:30 a.m. – Lisa McCloskey, Houston, Texas (USA) vs. Pamela Pretswell, Scotland (GB&I)
Match Five
10:40 a.m. – Tiffany Lua, Rowland Heights, Calif. (USA) vs. Bronte Law, England (GB&I)
Match Six
10:50 a.m. – Lindy Duncan, Fort Lauderdale, Fla. (USA) vs. Charley Hull, England (GB&I)
Match Seven
11 a.m. – Amy Anderson, Oxbow, N.D. (USA) vs. Stephanie Meadow, Northern Ireland (GB&I)
Match Eight
11:10 a.m. – Brooke Pancake, Chattanooga, Tenn. (USA) vs. Leona Maguire, Ireland (GB&I)