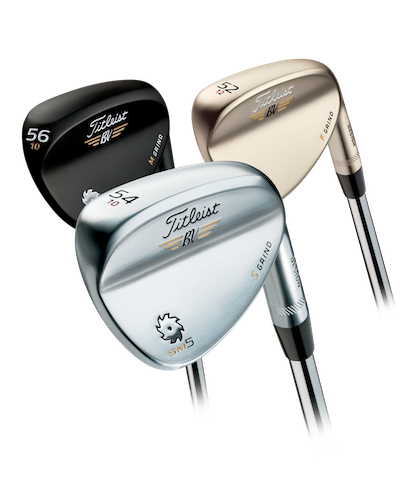 New TX3 Grooves Deliver Maximum Spin with Trajectory and Distance Control
Story by Eric Soderstrom of Titleist
FAIRHAVEN, Mass. (Jan. 21, 2014) – New Titleist Vokey Spin Milled 5 wedges deliver more spin and more types of shots, providing golfers with more ways to hit it close and shoot lower scores.
Vokey Spin Milled 5 (SM5) wedges are the best performing wedges in the game, a result of Master Craftsman Bob Vokey's decades of research and collaborating with the world's best players, such as Adam Scott, Steve Stricker and Jason Dufner. Since 2004, Vokey Design wedges have been the #1 wedge on the PGA Tour and the most played wedge at every level of competitive golf.
Precisely designed and manufactured using proprietary Spin Milled technology, Vokey SM5 wedges provide a distinct performance advantage through new, deeper TX3 grooves, tour-driven shapes and the industry's most extensive range of bounce and grind options.
New TX3 grooves, with seven percent larger groove volume and two performance configurations, deliver maximum spin by channeling away grass and sand for improved contact between the ball and groove edge. Spin Milled technology also provides trajectory and distance control through precisely milled grooves and machined face texture. Every SM5 wedge is milled to the tightest tolerance in the industry, with each groove individually cut to the maximum dimensions allowed by the Rules of Golf and 100-percent inspected. A localized, high frequency face treatment provides increased groove durability for longer spin retention over the life of the wedge.
For years, Vokey and his team of craftsmen, including Vokey Tour representative Aaron Dill, have utilized tour player input and feedback to produce the largest and most effective range of bounce and sole grind options in the game. Vokey SM5 wedges are available in 21 different loft/bounce/grind combinations and six tour-inspired sole grinds, appropriately slotted into low, mid and high bounce categories to fit all swing types, shot-making styles and short game conditions. 
"I've always said I have the best R&D facility in the world – the PGA Tour," Vokey said. "I worked closely with our team of craftsmen and engineers to apply everything I've learned from the best players in the world to Spin Milled 5. We've increased the spin. We've given players more control. And we've got a bounce and grind matrix that will provide the versatility and confidence to hit a variety shots around the green and get up and down more."
Available in golf shops beginning March 14, SM5 wedges feature a more compact and balanced profile with three new finish options ­ Tour Chrome, Gold Nickel and Raw Black. Each wedge has new, clean graphics, with the grind designation (i.e., "S Grind") called out on the club, and increased space for five-character personalized stamping. Vokey's popular personalization and custom options have also been expanded.
MORE SPIN THROUGH NEW TX3 GROOVES: New Spin Milled TX3 grooves, the third generation of Vokey's tour extreme scoreline, produce maximum spin for improved trajectory and distance control. TX3 scorelines – with two different performance configurations – feature 17 precise, individually cut and 100-percent inspected grooves that continue to push the confirming limits of effective edge radius for increased backspin. 
TX3 grooves in the 46º to 54º lofts are deeper and narrower than the previous generation Vokey SM4 grooves. With seven percent larger volume, each groove better channels away grass, sand and debris for cleaner ball to edge radius contact and increased spin. The narrower geometry delivers precision distance and trajectory control, significantly reducing the chance of "flyers" from the rough.
"We received a lot of feedback from tour players regarding 'flyers.' They don't want them," said Dill, who works on the Titleist Tour Van, building and grinding wedges for PGA Tour players. "On tour these guys have to aim to a lot of small targets. They need to trust that their golf ball will travel the exact distance they need it to, even from a tough lie in the rough. The deep and narrow TX3 groove helps push the grass down better, which gives you that increased edge radius contact for more spin and consistent distance."
TX3 grooves in the 56º to 62º lofts take advantage of the highly precise Spin Milled process.  They maintain the same width as the prior generation but are deeper, with seven percent larger volume, for more spin and control around the greens.Most players will experience up to 500 rpm of additional spin on full shots from the rough with the lower-lofted SM5 wedges, and up to 400 rpm in the higher lofts, compared to previous generation SM4 wedges. Both configurations provide the same spin performance from the fairway and shorter grass.
"These two groove geometries delivered the best performance," Vokey said. "The groove configuration changes with the 56º model because this is where testing showed that the player makes a more oblique impact versus a more direct impact in the lower lofts. The wider TX3 groove on the higher lofts will sheer away the grass, rather than pushing it into the groove, and perform better on partial shots."
SPIN MILLED PROCESS: Every Spin Milled 5 wedge is made of 8620 carbon steel and manufactured with industry-leading, proprietary Spin Milled technology. The process begins with a double fly cut face that provides the perfect preparation for texture and grooves. The face surface is precisely machined with a series of milled micro edges to the maximum conforming surface roughness, creating higher face friction for more consistent spin on partial shots. TX3 grooves are CNC milled for precision to the maximum dimensions allowed by the Rules of Golf, resulting in maximum spin for trajectory and distance control. Each groove is individually cut at a slower speed for improved tolerances on both groove size and edge radius. Every SM5 wedge also undergoes a unique localized face heat treatment that significantly increases the durability of the wedge's groove edge radius, substantially impeding the loss of spin due to wear with no difference in feel.
100% GROOVE INSPECTION: Prior to the launch of the Vokey SM4 wedges, Titleist made a significant investment in technology that establishes 100-percent inspection of every groove on every Vokey wedge that is produced. This allows Titleist to manufacture wedges to tighter tolerances than the rest of the industry. Each new TX3 groove is evaluated using computer-guided plotting technology in which a digital stylus is piloted to trace the contours of each groove. Three-dimensional coordinates are recorded and plotted as the stylus moves, compiling data that can be translated into measurements of the groove's total volume and edge radius. This enables the manufacturing team to machine the grooves right up against the edge of the maximum allowable 0.011-inch radius specification, providing players the highest possible spin and trajectory control without fear of non-compliance.
MORE TYPES OF SHOTS: With more bounce and sole grind options, as part of an industry-leading model matrix, Vokey SM5 wedges provide the versatility for improved shotmaking, giving players the confidence to execute more shots around the green.
Spin Milled 5 wedges are available in lofts of 46º to 62º (in two degree increments) and six tour-inspired sole grinds (L, T, S, M, F and K), with each model properly sorted into low, mid and high bounce categories. The result is the game's most extensive and effective selection of bounce and grind options, made up of 21 different loft/bounce/grind combinations to satisfy all swing types, shot-making styles and turf conditions. 
"With wedges, it's never one size fits all," Vokey said. "Wedges are required to hit many different types of shots. And every player has a different technique, a different style. That's why we have so many options. It's important that players see an authorized Titleist fitter to get fit for their SM5 wedges, so they know they're playing a setup that fits their game."
Two of Vokey's most popular grinds – S and M – are now available in 54º, 56º, 58º and 60º lofts. There are also four bounce and grind choices in the 58º and 60º lofts, including the addition of the new K Grind, which played a part in two major championship victories last season. The 46º to 52º F Grind models feature wider soles for increased playability, while the 54º to 60º M Grind models have enhanced heel to toe radius for improved turf interaction. 
SM5 offers two mid-bounce sand wedge options in both the 54º and 56º lofts, based on feedback from Titleist fitters and tour players that more bounce is preferred out of the bunker. The S and M Grinds, with 10º of bounce, also provide more versatility from the sand.
TOUR-PROVEN SOLE GRINDS: Each SM5 sole grind is derived from Vokey's work with players on the PGA Tour. The S Grind, for example, was inspired by Steve Stricker, who likes to play his wedges in a square position with the shaft leaning away from the target. Available on four mid-bounce SM5 models (54º to 60º), the S Grind features a full sole with moderate heel relief and a medium ribbon ground along the trailing edge.
"Steve has a shallow angle of attack, with little to no wrist action. The S Grind gives him the versatility to hit many different shots around the green, even with his neutral style," Vokey said. "For players that like to rotate the face open, the M Grind is a very popular option."
The K Grind, the newest addition to the Vokey Spin Milled family, was born out of Vokey's recent work with several tour players, including Adam Scott and Jason Dufner. The K Grind features a wide sole with increased bounce and enhanced camber that is playable in a variety of conditions. Last season, both Scott and Dufner played K Grind wedges in their victories at the Masters Tournament and PGA Championship, respectively.
"Both Adam and Jason were looking for a sand wedge that was very forgiving out of the bunker, but still allowed them to hit a lot of different shots around the green," Vokey said. "When Adam put it into play last year at Augusta National, with all of its tight lies, I knew we'd found it."
(Please see below chart for full bounce and grind matrix and grind descriptions.)
COMPACT PROFILE: Based on tour player feedback, Spin Milled 5 wedges feature a more compact, balanced profile than their SM4 predecessors. SM5 wedges have a rounder toe profile than SM4, as well as a shorter blade length and taller toe and (par) heel heights.
TOUR VALIDATION: Jordan Spieth is one of more than 30 players who have already switched to the new Vokey SM5 wedges. Spieth made his 2014 PGA Tour debut with two SM5 wedges in the bag, finishing runner-up at the Hyundai Tournament of Champions. 
"I'm looking for a lot of versatility. I'm looking to be able to hit it high, hit it low, shots that are going to spin back but also shots where they can drop and just stop where they land," said Spieth. "My favorite shots are those low spinners, those two hop-and-stop pitch shots from 30-40 yards – they're awesome with the new SM5 wedges."
Other players with SM5 wedges in the bag include: Steve Stricker, Bill Haas, Scott Piercy, Brendon de Jonge, Scott Stallings, Marc Leishman, John Merrick, Geoff Ogilvy, Morgan Hoffmann, Bud Cauley, Greg Chalmers and Charley Hoffman.
NEW FINISHES, CLEAN LOOKS: Spin Milled 5 wedges are available in three new finish options: Tour Chrome, Gold Nickel and Raw Black. The new, brighter Tour Chrome has a dark blast face for better contrast and framing, a soft nickel layer base for feel and rust prevention, and a thin top chrome layer for durability. Gold Nickel utilizes a double nickel layer process to help create better feel, rust prevention and durability. Raw Black, previously a tour-only finish, utilizes a QPQ process to create a thin protection layer for feel and durability. Raw Black will rust during the course of play.
SM5 wedges have a cleaner look, with updated graphics and the grind designation (i.e. "S Grind") stamped on each club. There is also a larger area for personalization, allowing up to five characters.
ADVANCED PERSONALIZATION AND CUSTOM OPTIONS: SM5 wedges can be custom ordered with a wide range of specifications and personalization, including an industry-leading selection of shafts, grips, shaft bands, ferrules, stamping and paint fill. For a complete list of personalization and custom options, visit Vokey.com.
PRICE AND AVAILABILITY: Vokey Spin Milled 5 wedges are available in golf shops beginning March 14, with an MSRP of $145 (MAP $129).
ON THE WEB: www.Vokey.com