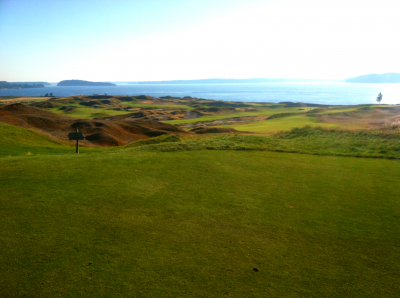 Like many average golfers, I'm always game for playing courses where the pros play. Well, the 2015 U.S. Open is coming to Chambers Bay, a six-year-old public course in Seattle. And what not a better place to fly into on an early August day, to get a round in. My plane leaves San Diego at 8:30am and arrives in Seattle at about 11. There, I meet up with friends, excited about our 2:15pm tee time. The 50-minute ride to University Place, where Chambers Bay resides, gets more scenic as we near. Finally we reach a bluff above Puget Sound with a spectacular view of the course in the foreground.
After checking in and hitting a small bucket of balls on the sparse driving range, I'm ready to go. I head for the first tee where I'm reminded that this is a walking-only course. And I'm looking up at very steep hills, wondering how daunting an experience this is actually going to be. I decline the option to take a caddie, and instead opt for a pushcart. Trust me, I was just planning on carrying my stand bag around and decided to go for the pushcart. In retrospect, it was one of my smartest moves of the day.
We're also warned that rounds here – mostly because of the rigors of walking – take between five and six hours, on average. Uh-oh. I'm a pretty fast player, so this might test my patience.
The elevation of the front nine seems to keep rising until it peaks on the 8th green. Much of the most-difficult walking stretches are the steep climbs between greens and the ensuing tee boxes. No doubt, this is a Links-style course. That means no lakes, but plenty of bunkers, fescue and unkempt waste bunkers. And in this case, it means many of the greens on the front side are more like compacted dirt greens with occasional patches of grass blades. I wouldn't mind so much if several short putts on the early holes hadn't suddenly skidded away from the cups, just before dropping. There's simply no way to predict it – regardless how great of a putter you are and how much course knowledge you possess. The green conditions thankfully improve as you move on, though. But you still get the feeling that every green is a potential three- or even four-putt, because of the extreme undulation.
I've played plenty of Links-style courses, but none as mountainous as Chambers Bay. Some bounces are as unpredictable as those early putts: On the 9th hole — a tight, severely downhill par-3 — local knowledge helps, as every shot bounces drastically to the right. My shot hits the hillside left of the green, then caroms down to within a foot of the cup. It was just dumb luck, and of course my only birdie of the day.
The layout of the front nine I find to be rather difficult for average players, yet the panoramic scenery of the water and distant islands and peninsulas is simply jaw-dropping. As for the course, itself, I constantly thought of Tom Watson's insightful quote about the U.S. Open: "The whole idea of the U.S. Open is to identify the best golfer, not to embarrass them." That line will be put to the test in 2015.
The back nine seems much more player-friendly. It has more predictable bounces and undulation. You can negotiate distances more easily, as the terrain doesn't seem as severe. The greens have more grass, too. Warning, though: The 17th green is narrow and breaks strongly at a bordering, steep pot bunker along its entire right edge. No one in our group can get the green to hold an approach shot. Then we encounter a tiny-yet-very-steep pot bunker, replete with a staircase, in the center of the 18th fairway. How anyone can escape with less than a 70-degree wedge is beyond me. Is this supposed to be course designer Robert Trent Jones, Jr.'s charming homage to Scottish Links courses? I personally found these two hazards cheapening an otherwise credible experience.
Which reminds me, if you take on Chambers Bay, remember to bring your lob wedge. There seems to be no flat lie on this course. Also wear comfortable shoes. The 7.5-mile trek – which seems much longer, because of the land – is a workout. If you aren't in good shape, you will be breathless at points throughout. Counting my score afterwards, I'm actually surprised that it wasn't too far off my norm. Anyone getting the opportunity to play it will likely get a true challenge and an enjoyable day.
Afterwards, we drive an hour to Shelton, where another top-ranked course – Salish Cliffs Golf Course – awaits. We check into the adjacent Little Creek Casino & Resort (it's on an Indian reservation, where gambling is allowed), a quaint 190-room hotel with a cool-looking wooden-themed lobby bearing relaxing leather chairs and an espresso bar. It's late, so we grab some seats at the Squaxin Island Seafood Bar and share some oysters, crab legs, shrimp and drinks. It's a great end to a long day.
The next morning, we get on the Cadillac golf cart (for real!) for a three-minute shuttle over to the course, ready for 18. Salish Cliffs Golf Course is kind of the anti-Chambers Bay. For one, you can take carts. Secondly, it's lush and green. Most fairways are tree-lined and well defined, and shots bounce the way you expect them to. Very fairly.
The Gene Bates-designed course is only two years old, and plays longer than it's listed. There are lots of subtle hills and into-the-wind shots. The front nine features some nice, wide-open holes with plenty of strategically placed bunkers, and lots of long fescue in the rough. For example, the second hole is not long – it maxes out at 305 yards – but has a more-than-ample landing area that rewards well-struck drives, like many of the holes. The 10th hole is listed at 540 yards from the middle tees, but it plays more like 600 yards, due to it being uphill and perpetually into a breeze. Speaking of, afternoon rounds are much more subjective to wind conditions than morning loops – claim the locals. The back nine reaches a stretch of three consecutive and wonderful par-4 holes, from the 14th-16th holes. Then it finishes with a shorter par-3 17th and par-5 18th that wraps around water to a bunker-protected green. The 9th and 18th holes share a massive green.
Those playing from the back two tee boxes will get challenged all round by some long carries off the tee – one measuring 240 yards from the tips, just to reach the clearing. Fairways are all immaculately conditioned, as is the entire course. The greens are phenomenal, in meticulous condition, and roll very true. There's also a lot of great scenery in the distance, throughout the course. Overall, it's a very fun course to play and your score will reflect exactly as you deserve.
Golf Digest ranks this the sixth-best course in the state of Washington for 2013. Best of all, Salish Cliffs runs stay-and-plays from $99 that include a hotel night and round of golf with cart. Regular greens fees from Monday throughThursday are $89, and Friday through Sunday are $99.
After golf, we head to the Island Grille for some excellent local red wine. I order a surf-and-turf dinner that more than satiates my hunger. A nightcap upstairs in the Skookum Spirit Cigar & Wine Lounge is the perfect end to this vacation, as I regretfully have to leave the next morning. On the hour-long ride back to the Seattle airport, I'm already contemplating a return visit. There are some other nice courses in town. And Seattle's so easy to fly non-stop from Southern California in about two hours, that I now deem it a great new golf getaway destination.