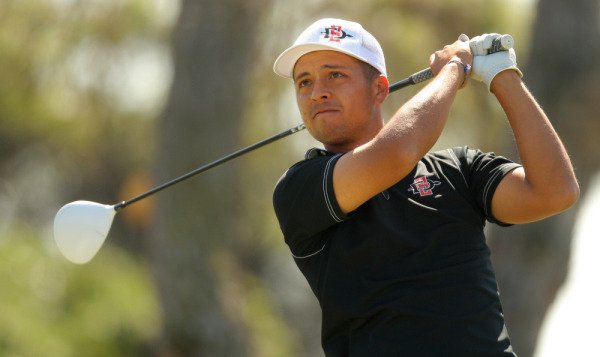 Xander Schauffele of San Diego closed with a 7-under-par 65 to win the Northern California Open by one stroke over Brian Thompson of Burlingame at Bayonet Golf Course in Seaside.
Schauffele, the 2014 California Amateur champion who is a senior at San Diego State, finished with a score of 70-69-65—204, 12-under, while Thompson, a Northern California PGA apprentice at the Olympic Club in San Francisco, wound up at 67-70-68—205.
Parker McLachlin of Scottsdale, Ariz., and UCLA was third at 67-69-71—207, while Mac McClung of Fremont shot 70-69-69—208 and tied for fourth with Daniel Semmler of Belmont and San Jose State, who came in at 66-71-71—208.
Andre De Decker of Menlo Park was sixth at 67-71-71—209, followed by Kaz Hoffman of Tiburon at 71-70-70—211, while Ryan Williams of Sacramento totaled 71-69-72—212 to tie for eighth with Cory McElyea of Santa Cruz, who came in at 65-73-74—212.