Rodgers tries to emulate pal Spieth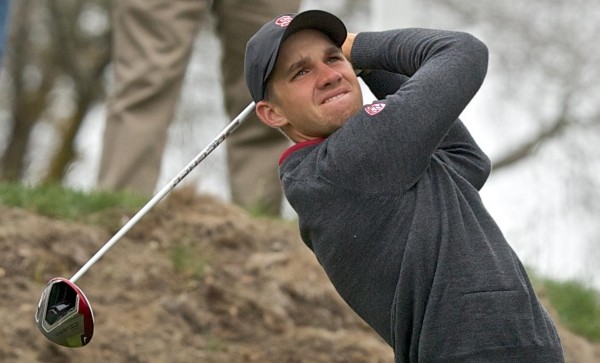 Patrick Rodgers hasn't had nearly the brilliant rookie year his pal, Jordan Spieth, put together two years ago, but the former Stanford All-American has proven to be a quick study this season.
Like Spieth, Rodgers planned to mostly play the Web.com Tour in his first pro season, but performed so well early that he was able to put together a full PGA Tour schedule.
"It's been good, obviously starting on the Web and getting a win under my belt gave me a lot of confidence, and freed me up to take advantage of some opportunities out on (the PGA Tour)," said the 23-year-old from Avon, Ind., who probably will see his first season on the circuit end this week at the Wyndham Championship.
"To lock up special temporary status was huge and really freed me up this summer. … I feel really comfortable with where I am and I'm excited about next year being out here full time."
Rodgers will be playing in his 17th, and probably last tournament on the PGA Tour this season beginning Thursday at Sedgefield Country Club in Greensboro, N.C., because he must win to advance to the FedEx Cup playoffs opener, the Barclays, next week.
Spieth, came right out of Texas and started with some good results on the web.com Tour in 2013, but then he claimed his first PGA Tour victory in the John Deere Classic, advanced all the way to the Tour Championship and made the United States team for the Presidents Cup.
While Rodgers has been unable to match that phenomenal performance, he has been able to virtually wrap up full playing privileges on the PGA Tour for next season — no mean feat after starting with no playing status at all.
"I'm just getting more comfortable out here," said Rodgers, who tied Tiger Woods' school record with 11 career victories at Stanford and won the 2014 Haskins award as best college player in the nation.
"I'm putting myself in the mix a lot more. I'm playing a lot more consistent golf. I need to do a better job of finishing off golf tournaments. That's something I'm still working on."
Rodgers captured the Colombia Championship on the Web.com Tour in February, giving him access to any many exemptions he could land on the PGA Tour for the rest of the season.
And he has taken advantage of them.
Even though he often started tournaments well before fading on the weekend, Rodgers tied for second in the Wells Fargo Championship and finished third two weeks ago in the Barracuda Championship.
"Yeah, it was nice to finish like that," said Rodgers, who holed a nine-foot eagle putt on the final hole of the Barracuda. "I thought today was my day, to be honest. I played really well. Hit a lot of good putts. Had so many edges and lips, it was frustrating.
"Felt like I really played well and I can definitely build on it."
Rodgers has earned $1,015,071 on the PGA Tour this year, which last week would have put him 77th on the money list if he were a full-time member. He needs to equal or better the total of the player at No. 125 after next week, so that virtually guarantees his playing card for next season.
Along with Spieth, Justin Thomas of Alabama and Daniel Berger of Florida, Rodgers is one of several guys who graduated from high school in 2011, left college early and are already making their marks on the PGA Tour.
"Our graduating class of 2011 has probably eight or nine (PGA) Tour players that will come out of it," said Spieth, the Masters and U.S. Open champion. "There's, what, three or four on the PGA Tour, another couple on the (Web.com Tour) already, and we should still be in school."
Said Rodgers: "Jordan and I have been good friends for a long time. We grew up playing golf together throughout the junior ranks, played a lot of golf together my freshman year in college, and obviously his trajectory just happened a little bit earlier than mine with him turning pro (in the middle of his sophomore year)."
Rodgers stayed in college a bit longer, thanks in part to a talk he had with former Stanford quarterback Andrew Luck, who left after his junior year and now is a star with the Indianapolis Colts.
After also staying with the Cardinal for three years, Rodgers seems ready to really blossom, and he can feel it.
"I feel like I belong out here," said Rodgers, who was No. 1 in the World Amateur Golf Rankings for 16 weeks last year. "I've never lacked the confidence that I can play out here, but it's nice to know that I have some opportunities down the road.
"I feel like I'm ready to win out here."
Sounds like Spieth, not that long ago.
–Story courtesy of The Sports Xchange, TSX Golf Editor Tom LaMarre