When it comes to great golf destinations, there are many reasons to applaud the Valley of the Sun
By Joel Beers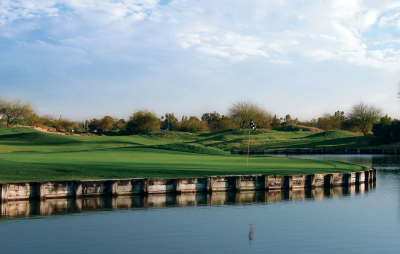 Sure, he may be a little biased, but talk to Kris Strauss about the lure of the Phoenix-Scottsdale region as a golf destination, and it's hard to not get infected by his enthusiasm.
"This is arguably the pre-eminent golf destination in the U.S. — if not the world," said Strauss, Vice President of Sales and Marketing for OB Sports Golf Management, which manages 15 golf properties in the Phoenix Metropolitan area. "The proximity of an international airport makes accessibility to the courses ideal, and the resorts, night life and restaurants are second to none. It's a complete golf destination that should be on every golfer's bucket list."
Four OB Sports-managed properties are part of our list of six must-play public facilities in the Phoenix-Scottsdale region: ASU Karsten Golf Course, Raven Golf Club, McDowell Mountain Golf Club and We-Ko-Pa Golf Club. Rounding out the list are the Arizona Biltmore and the Wigwam Resort.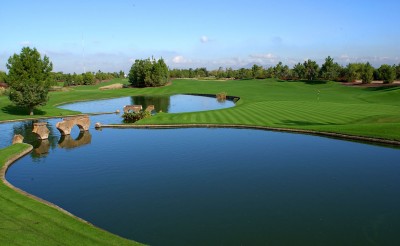 While obviously a small sample of the approximately 200 golf courses in the greater Phoenix area, which includes the cities of Chandler, Glendale, Mesa, Scottsdale, Tempe and many others, these six courses embody key characteristics of what makes the region a genuine golfer's paradise, particularly the natural amenities of a valley created by the Sonoran Desert bumping against dramatic mountains.
"It really is a perfect destination for anyone," Strauss said. "If it's a buddy trip, there's great night life. If it's a couple's vacation, the art, culture, dining and shopping are exceptional. And there really are a lot of outstanding quality golf facilities."
The first four months of the year are peak season in the region, and the sooner you set up tee times the better. That's particularly true the week of January 30 through February 5, when the PGA Tour's annual Phoenix stop holds court, and in March, when 15 major league baseball teams, including all five California franchises, hold their spring training games in 10 Cactus League stadiums.
But even if you're just in town for an overnight business trip or weekend getaway, or plan a longer stay to experience all the region has to offer, it's hard to find a more fitting destination than the Valley of the Sun.
Arizona Biltmore
Phoenix
(602) 955-6600 • arizonabiltmore.com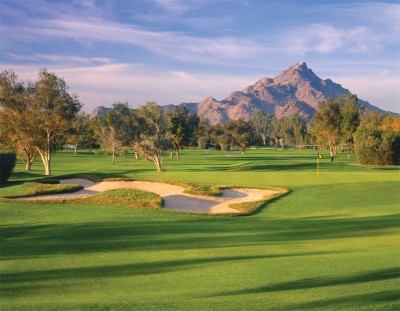 Travelers from around the world have flocked to this property since 1929, when a Frank Lloyd Wright-inspired hotel opened. And part of its maturation into a world-class luxury resort has been its two 18-hole golf courses: The Adobe, which opened in 1928 and received a full restoration in 2004; and The Links, which opened in 1978. Both are resort courses, meaning their lengths are quite manageable (each is less than 6,450-yards from the back tees) and both are eminently playable. The William P. Bell-designed Adobe is a step back in time, as it's a traditional layout with lush fairways and no gimmicks. The par-71, 6,300-yard Links is an interesting combination of desert topography, rolling, pine-flanked fairways, and Scottish links golf.
ASU Karsten Golf Course
Tempe
(480) 921-8070 • asukarsten.com
If it was good enough for Phil Mickelson to hone his game in college, this Pete Dye-designed course should be good enough for anybody. The home course of the Arizona State University golf team, the length ranges from 4,765 yards to 7,002 yards from the professional tees. Like any Dye design, it is dramatic. "It's only minutes from the airport, so it's a perfect way to begin or end a trip to Phoenix," said OB Sports' Strauss. "You've got Dye's signature railroad ties, Hershey Kiss-like mounds and three really tough finishing holes, including the stunning 18th, which is very similar to the Dye's final hole at TPC Sawgrass."
McDowell Mountain Golf Club
Scottsdale
(480) 502-8200 • mcdowellmountaingc.com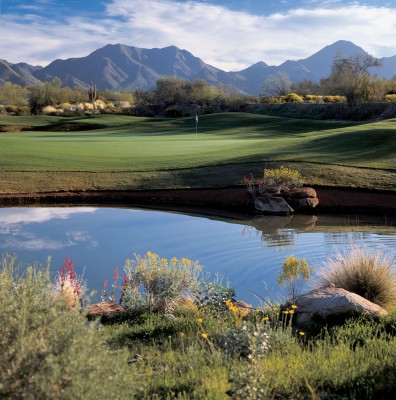 In January 2011, Mickelson purchased this course, formerly known as Sanctuary Golf Course. The new owner then authorized Randy Heckenkemper to oversee a dramatic revision, which included flipping the nines, widening the playing corridors, reshaping fairways, and adding new teeing areas and waste bunkers. "The improvements have really pushed this course up on the Arizona must-play list," Strauss said. The par-71, 7,072-yard track is located 600 feet above the valley floor and features dramatic elevation changes and stellar views of Camelback Mountain.
Raven Golf Club
Phoenix
(602) 243-3636 • ravenphx.com
Though located only minutes from downtown Phoenix, playing this David Graham and Gary Panks-designed course, with its nearly 6,000 pine trees lining the fairways and the Flagstaff red cinder border "almost makes you feel like you're playing a course in Northern Arizona," Stauss said. Opened in 1995, length ranges from 5,759 yards to 7,078 yards. Offering stellar views of both mountains and the downtown Phoenix Skyline, Raven is eminently playable, but its complex, multi-tiered green system offers plenty of challenge. The Raven Golf Club recently underwent an extensive renovation, including bunker enhancement, and landscape and clubhouse improvements.
We-Ko-Pa Golf Club
Fort McDowell
(480) 836-9000 • wekopa.com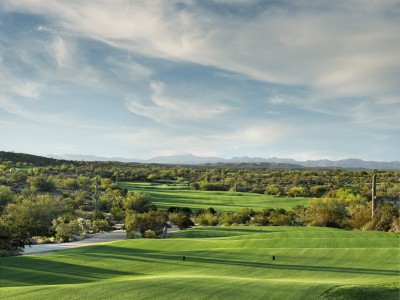 "If you're a scratch player looking for a true desert test, We-Ko-Pa ranks right up there," Strauss said. "It offers the challenge of desert golf off the tee, as well as exceptional shot values and really challenging and creative green complexes." The facility includes two courses, the 7,225-yard Scott Miller-designed Cholla, which opened in 2001, and the 6,966-yard Bill Coore and Ben Crenshaw-designed Saguaro, which opened in 2007. The Cholla is the tougher of the two, but each benefits from what may be We-Ko-Pa's greatest attribute: its location. Situated on the Fort McDowell Yavapai Nation, there are no homes or structures within eyesight, making this not just a desert golf experience, but a desert golf reality.

Wigwam Golf Resort
Litchfield Park
(623) 935-3811 • wigwamresort.com
Part of a 440-acre, 80-year-old resort that blends modern amenities with the region's Native American history, the three golf courses on this property rank among the most scenic and lush in this golf-saturated area. The Gold Course, designed by Robert Trent Jones Sr., opened in 1964 and is a true monster, as it stretches 7,430 yards from the tips. The far more manageable Patriot Course, also designed by Jones, is a par-70, 6,001-yard track with sharply contrasting nines. Resting comfortably between is the 6,852-yard Heritage Course. Though each has its own character, all three offer generous, tree-lined fairways and you're never too far from water. A $7 million "rejuvenation" of the resort finished in January 2011.