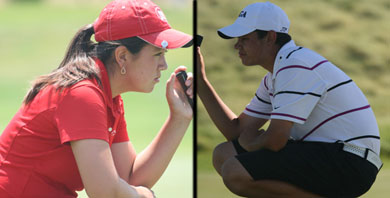 O'Sullivan Claims Title at her First AJGA Event at Stockton Sports Commission Junior Open
Hossler comes from behind to take victory in Boys Division at The Reserve at Spanos Park

STOCKTON, Calif. –Hannah O'Sullivan of Cupertino, Calif., playing in her first AJGA tournament, wasted no time taking home a win after she carded a 2-under-par 70 in the final round of the Stockton Sports Commission Junior Open. Coming off his win at the Trader Joe's Junior Championship hosted by Pat Hurst two weeks ago, Beau Hossler of Rancho Santa Margarita, Calif., fired a 5-under-par 67 to win the Boys Division.
Conducted by the American Junior Golf Association, the Stockton Sports Commission Junior Open was a 54-hole stroke-play event held at The Reserve at Spanos Park.  The 99-player field featured 72 boys and 27 girls, ages 12-18, from seven states, Mexico and Thailand. The Boys Division played the par-72 course from 7,037 yards and the Girls Division played from 6,241 yards.
At age 12, O'Sullivan is the fourth youngest player to win an AJGA Open event. O'Sullivan played a steady three rounds, as she shaved strokes off her score each day and finished the tournament at 2-under-par 214. After qualifying for the event at Monday's K12Qualifier, O'Sullivan was able to come in with a level head and not let the pressure of competition affect her game. She had been anxiously waiting for her twelfth birthday to be able to compete in AJGA events.
"I was just trying to treat this like any other tournament and stay focused," O'Sullivan said. "I tried to take it one shot at a time and not worry about the ranking or scores."
Rounding out the Girls Division leaderboard were Lilia Vu of Fountain Valley, Calif., who took home second place with a tournament total of 1-under-par 215, and Lauren Diaz-Yi of Thousand Oaks, Calif., who finished third with a 1-over-par 217.
Coming into the final round, Hossler sat in a tie for fifth place and seven strokes behind the leader, but was able to climb the leaderboard throughout the day as he carded six birdies and just one bogey to finish at 8-under-par 208 for the tournament. Hossler took home his second win of his AJGA career two weeks ago at the Trader Joe's Junior Championship hosted by Pat Hurst and attributes his recent success to being able to have error-free rounds.
"I've reached my goal of getting a win this summer, and it feels awesome to now have two," Hossler said. "Coming from behind, I had no expectations, but I know that in this game anything can change."
Byron Meth of San Diego, who led the first two rounds, finished just one stroke back from Hossler at 7-under-par 209 to take second place. In third was Shuai Wu of Beijing, China with a 6-under-par 210. In a tie for fourth was Mark Jensma of Aliso Viejo, Calif., and Yi Keun Chang of Diamond Bar, Calif., each at 4-under-par 212.
The American Junior Golf Association is a 501(c)(3) nonprofit organization dedicated to the overall growth and development of young men and women who aspire to earn college golf scholarships through competitive junior golf. The AJGA provides valuable exposure for college golf scholarships, and has an annual junior membership (boys and girls ages 12-18) of approximately 5,000 junior golfers from 49 states and 30 countries. To ensure scholarship opportunities for all junior golfers who have the skill, the AJGA created the Achieving Competitive Excellence (ACE) Grant program to provide financial assistance to young players in need.
Titleist, the AJGA's National Sponsor, has been the catalyst and driving force behind the Association's success since 1989. Rolex Watch USA, which is in its third decade of AJGA support, became the inaugural AJGA Premier Partner in 2004. In 2007, after 12 years of support, Polo Ralph Lauren became the AJGA's second Premier Partner.
AJGA alumni have risen to the top of amateur, collegiate and professional golf. Former AJGA juniors have compiled more than 400 victories on the PGA and LPGA Tours. AJGA alumni include Tiger Woods, Phil Mickelson, Stewart Cink, Cristie Kerr, Paula Creamer and Morgan Pressel.