By TOM LAMARRE
Rak Cho wasn't sure what to expect returning from a month off because of a back injury.
All the 17-year-old from Brea did was run away with the Tee Up Junior Challenge presented by Kamen Rider Dragon Knight Cup, claiming his second American Junior Golf Association victory by six strokes at Oak Valley Golf Club in Beaumont.
"I didn't expect to win at all," said the senior at Brea Olinda High, who wrapped up the victory with an eagle on the 16th hole in the final round. "I took a break because I was having some problems with my back. I am excited to get my second win.
"On No. 16, I had a great drive with a fade over the bunker. I was 174 yards out and used my seven iron to get about 15 feet from the hole. I thought I hit my putt too hard, but it wound up going in for eagle."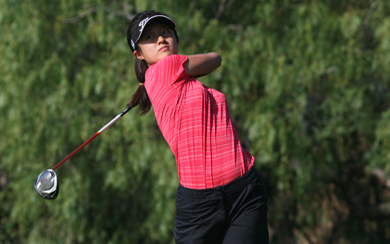 Yu Lui of Beijing, China, also had an eagle in the final round, and she needed it to post a one-stroke victory over Chieh Peng of Beaumont in the Girls' Division.
Liu, who captured the qualifier for the Trader Joe's Junior Championship hosted by Pat Hurst a week earlier, posted a score of 72-66-73–211, five-under par, with Peng finishing at 73-70-69–212.
"I hit my first shot well, to about 200 yards from the pin," Liu said of her eagle on the ninth hole. "My second shot was great; I got it to about one foot and tapped in for an eagle."
Elisabeth Bernabe of Anaheim Hills shot 73-69-72–214 and tied for third with Gyeol Park of Anaheim, who finished at 72-72-70–214, while Hana Lee of Hacienda Heights totaled 75-70-71–216 to tie for fifth with Lauren King of Los Altos, who wound up at 71-73-72–216.
Esther Lee of Los Alamitos finished seventh at 78-68-73–219, followed by Lauren Diza-Yi of Thousand Oaks at 76-71-73–220 and Tisha Alyn Abrea of Murrieta at 79-71-71–221.
Veronica Valerio of Temecula wound up at 72-72-78–222 and tied for 10th with Yang Yue Hill of Palm Desert, who came in at 74-73-75–222.
Cho, who was second in the Tee Up Junior Challenge a year ago, posted a score of 69-70-66–205, 11-under par, recording five birdies to go along with his eagle in the final round.
Jonah Texeira of Northridge shot 68-73-70–211 and tied for second with Matt Pinizzotto of Salinas, who finished at 69-67-75–211, and Shuai Wu of Cherry Valley was fourth at 70-71-71–212.
Ki Taek Lee of La Quinta totaled 74-70-69–213 to tie for fifth with David Gazzolo of Riverside, who came in at 70-73-70–213.
Ryan Tetrault of Orange totaled 72-69-73–214 and tied for seventh with Nick Thomas of Westlake Village, who finished at 73-72-69–214, and Macgregor Hoobery of Santa Maria, who wound up at 76-69-69–214.
David Kim of Manhattan Beach rounded out the top 10 at 75-68-72–215.