By Al Petersen
When I told Jason Goldsmith that most of my rounds can get derailed by just one horrible shot, a smile creased his face.
"You're the kind of golfer we're here to help," he said. "Getting beyond what you see as failure and not letting it affect the outcome or your enjoyment is what this program is about."
That program is Beyond Performance Sports, a blended training idea that uses psychology, imagery, neural feedback, meditation, breathing routines and other instructional methods to help golfers and other athletes go with the flow.
"Are you doing or are you thinking?" asked Goldsmith, a sports performance coach and the creator of FocusBand, a wearable headset that measures brain activity to assess what causes emotional stress. "Negative thoughts can be eliminated through the right process. Getting your brain to function in a performance, or neutral, state helps on many levels, on and off the course."
Goldsmith is one of six people on the Beyond Performance team that will close 2017 with three- and five-day seminars on Oct. 20-24, Nov. 10-14 and Dec. 1-5. Mixing technology and meditative lessons sounds like an odd combination but, under the guidance of Deepak Chopra, a pioneer in mind-body medicine and personal transformation who has a center at La Costa, it's presented in a practical way.
"Total and effortless spontaneity should be the goal for all athletes, especially golfers," Chopra said. "One of the biggest problems athletes have is performance anxiety. And that is because many are focused solely on the outcome and forgetting about the process. But peak performance is all about getting the mind out of the way. Internal dialogue can ruin the experience and, therefore, the outcome."
Chopra sees golf as the perfect entry point for Beyond Performance Sports since it provides instant feedback and gives participants goals and exercises – both mental and physical – to achieve better  health and well-being.
"Beyond Performance means getting the mind out of the way – no resistance, no regrets, no anticipation; just this moment as it is," Chopra said. "That will lead to truth and peak play."
Another recognizable name on the team, Tom House, likens Beyond Performance's approach to humanizing technology.
"Our goal is to keep humanity human while technology enters into it," said House, a former major league pitcher, founding member of the Titleist Performance Institute and a pioneer in helping rotational athletes stay physically and mentally prepared for the course, court or field. "There are a million things out there, but only one you. We're going to personally adapt everything we know and apply it specifically to you. Working with technology is not a confrontation, it's a collaboration."
That collaboration flows to all aspects of La Costa, where two golf courses, a spa, several dining options, a Golf Performance Institute, lots of event space and a top-notch tennis facility combine to form a family-friendly atmosphere laid out in a communal space.
THE PLAY
Two recently renovated golf courses await players at La Costa, a venue rich in history because of its status as a former event host for the PGA and LPGA tours and as the 2014 site for the California State Amateur, which will return in 2018.
The design team of Damian Pascuzzo and Steve Pate led the project that started with Champions Course renovations in 2011 and Legends Course refurbishments in 2013.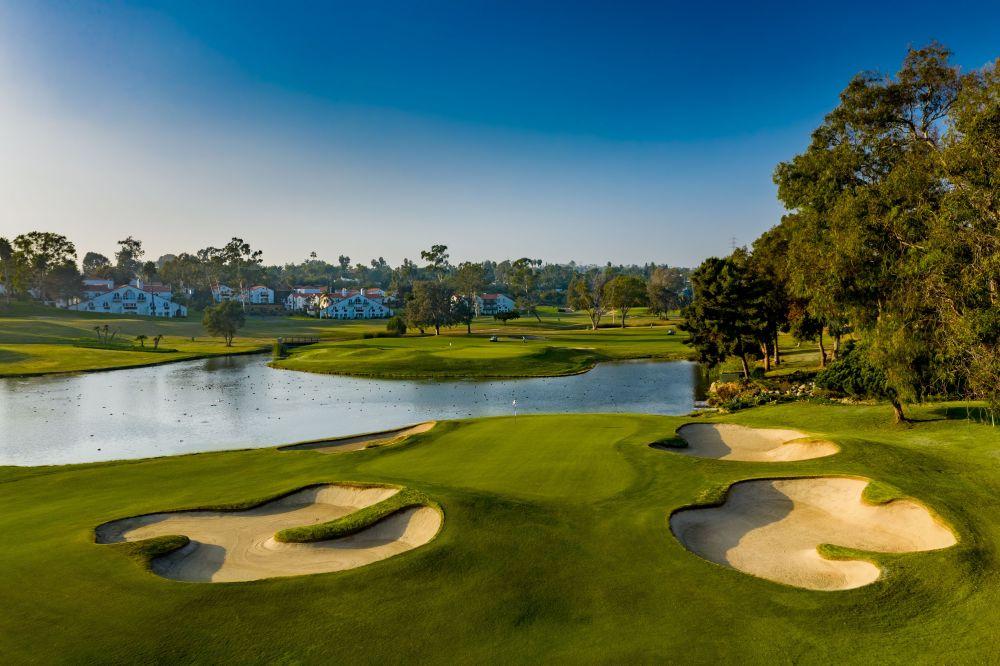 As resort courses, both layouts provide a pleasant amount of playability and challenge because of their traditional designs and gentle flows.
"Both courses have a distinct style, which is nice for a 36-hole facility," said head professional Ken Simonds, who came to La Costa in March 2016. "While both have similar feels and can be described as classic designs, there are enough differences to keep things interesting."
The main difference between the layouts is more space to maneuver your ball on the Legends Course because of its parkland-style design, while the fairways of the Champions Course were reconstructed to be fast and firm.
Champions also is laid out in a long loop design, with the first nine holes heading north and the back nine returning south. The Legends has more back-and-forth flow and a stout quartet of par-3s that average close to 200 yards from the tips.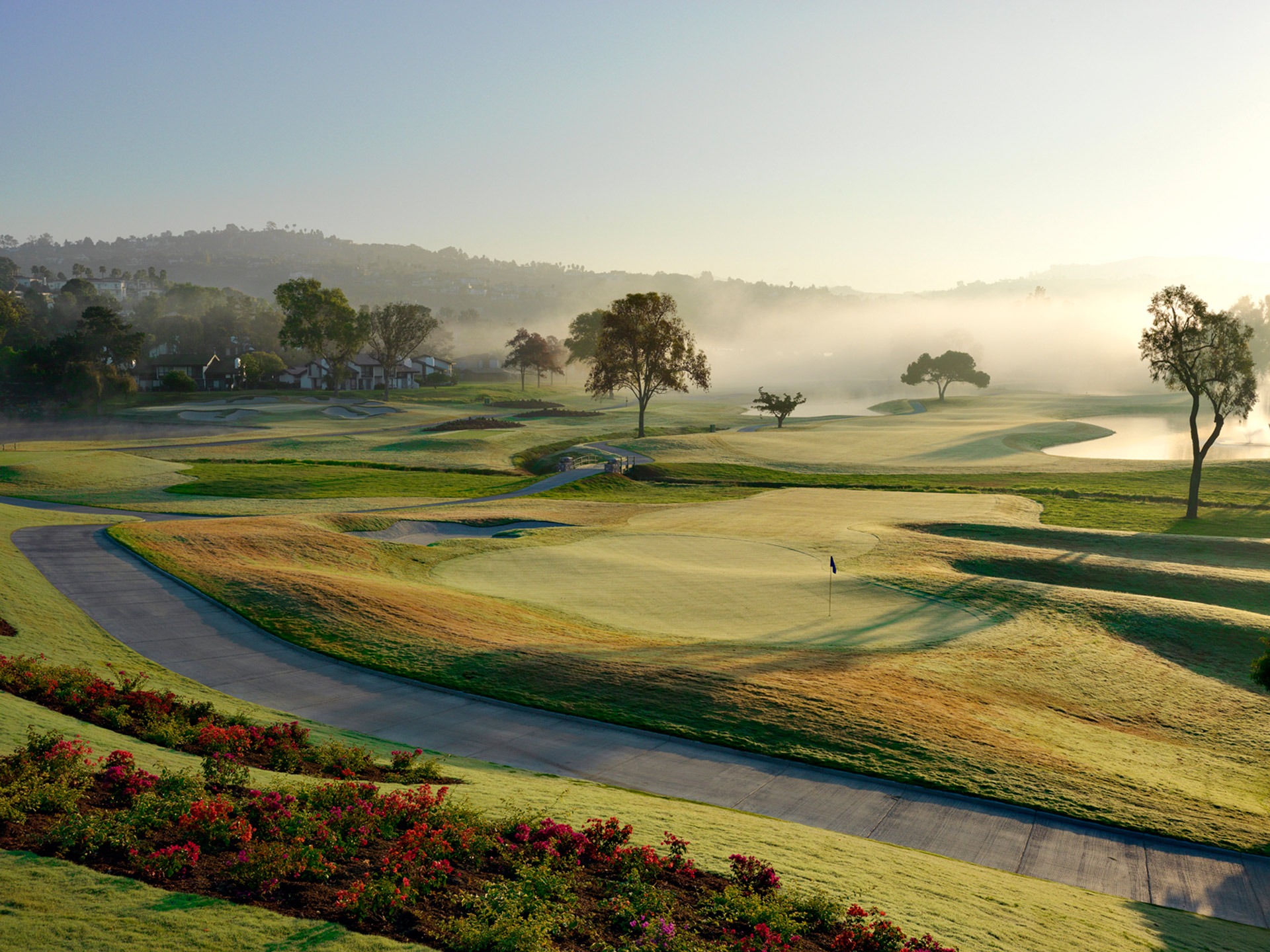 There are also more water hazards on Champions, with eight lakes, as opposed to three on Legends. But a creek is evident on a majority of Legends holes while only being in play on about half the holes of the Champions layout.
"I wasn't here during the renovations," Simonds said, "but I like how things turned out. It's a fun test."
THE STAY
Pulling into Omni La Costa Resort & Spa gives guests a feeling of being home, mainly because of the property's neighborhood feel – from the layout of the room's buildings to the central area where restaurants, shops, event spaces and communal areas blend nicely together.
Situated on more than 400 acres in the coastal foothills of Carlsbad, the Spanish Mission-style property has more than 600 guestrooms, suites and villas, pools, 110,000 square feet of meeting and event space, a nice mix of dining options and The Spa at La Costa that has 28,000 square feet of indoor space and a 15,000-square-foot courtyard.
THE WAY
In addition to Beyond Performance Sports, the La Costa Golf Performance Institute offers physical, mental and high-tech programs to assist golfers of all levels. Director of instruction AJ Avioli describes the approach as a "mind, body, sport" philosophy that involves a staff with a variety of talents.
"The golf pro cannot be the expert in all facets of instruction," Avioli said, "so I'm trying to surround myself with as many experts as possible to help people of all levels play better and enjoy the game more."
Some of the experts and high-tech gadgets at his disposal are Roger Fredericks, seen by many as a leader in posture restoration and flexibility programs, a MySwing 3D motion technology system and the RoboGolfPro that helps users groove the best motion for their body type and game.
The MySwing device and RoboGolfPro are new to the La Costa range this year, with the venue being only one of about 20 in the country with a RoboGolfPro on site. It's the type of apparatus that needs to be tried to be appreciated, as it's billed as the only machine in existence that guides you through a perfect swing. All users do is grab the handle of the machine's club while letting the device guide you the swing. For example, if you have an over-the-top swing, the RoboGolfPro will be programmed to make your downswing less steep while building in more lag.
"My plan has been to make this a very holistic approach to getting better at golf," Avioli said. "We have golf instruction, we have technology with the RoboGolfPro and 3D swing analyzer, we have other things like Flightscope and we incorporate mental and nutritional aspects as well. We're trying to create an experience for people so when they come here they can have a golf experience like no other."