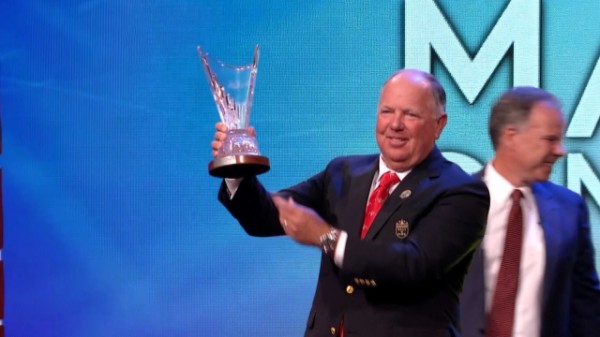 Mark O'Meara, who didn't play golf until he moved to Mission Viejo with his family at the age of 13, was inducted into the World Golf Hall of Fame in a ceremony at the University of St. Andrews in St. Andrews, Scotland, the Home of Golf.
O'Meara, Dame Laura Davies of England, David Graham of Australia and the late A.W. Tillinghast, one of the great golf courses designers, made up the Class of 2015 in the first Hall of Fame induction ceremony held outside the United States.
"Thanks go out to my family and friends on this incredible day," said O'Meara, who learned the game at Mission Viejo Country Club and was an All-American at Long Beach State. "To have the great honor of being inducted into the World Golf Hall of Fame is a dream come true.
"I can't think of a better place (than St. Andrews). It's an amazing honor bestowed upon us … to come into the World Golf Hall of Fame (located in St. Augustine, Fla.) and to have the ceremony here at St. Andrews, because I have a tremendous love for links golf.
"I certainly was fortunate in '98 to win the Open Championship. We know certainly what golf means in Scotland and throughout the world, but especially here at St. Andrews."
The 58-year-old O'Meara has won 34 times as a pro, including both the Masters and Open Championship in a memorable 1998 season in which he was selected PGA Tour Player of the Year.
O'Meara also captured the 1979 U.S. Amateur Championship at Canterbury Golf Club in Cleveland and represented the United States in five Ryder Cups and two Presidents Cups.
Davies, 51, who did not make it to the ceremony after playing in the U.S. Women's Open a day earlier, is considered to be the greatest female British golfer of all-time.
She claimed 79 victories around the world, including four LPGA Tour majors, and has represented Europe a record 12 times in the Solheim Cup. Davies was given the title of Dame by Queen Elizabeth last year.
Graham, 69, has won 38 times as a pro, including the 1979 PGA Championship at Oakland Hills and the 1981 U.S. Open at Merion, making him the first Australian to win two different majors.
The Aussie is among four players who have won on six continents in his career, joining Gary Player of South Africa, Bernhard Langer of Germany and Hale Irwin.
Tillinghast, who was born in Philadelphia in 1876 but was a student of Old Tom Morris at St. Andrews, brought his talents back to the United States, where his creations have hosted 50 major championships.
Among his 265 courses are Bethpage State Park, Winged Foot Golf Club, Baltusrol Golf Club, San Francisco Golf Club, Quaker Ridge Golf Club and Somerset Hills Country Club.