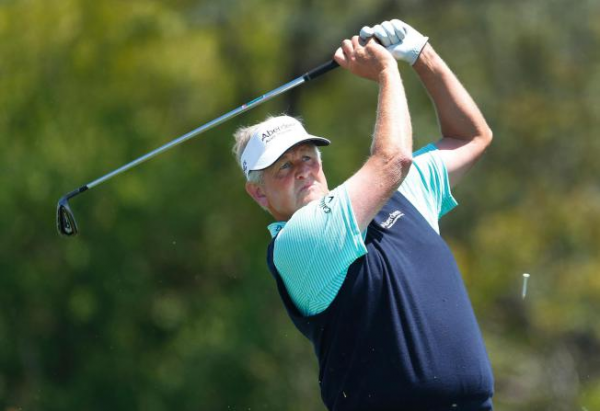 Colin Montgomerie of Scotland holed a 30-foot birdie putt on the final hole to cap a 3-under-par 68 and grab a one-stroke lead over Bernhard Langer going to the final round of the 75th Senior PGA Championship at the Golf Club at Harbor Shores in Benton Harbor, Mich.
The 51-year-old Montgomerie, who has won 41 times in his career but never a major of any kind, sprinkled five birdies across his scorecard to record his third straight round in the 60s after opening with 69-69.
"Bloody great," Monty said of his final putt, which came one hole after he carded his second bogey of the round. "It was going a bit quick. Thank God the hole got in the way. It was downhill, down grain, but it held its line and went in. It was a joyous occasion in the Montgomerie camp.
"So I came here to enjoy one's self. I would like to win wherever that might be. It would be great to win in America. I always felt to win in America is a very difficult thing to do, on an away patch, on golf courses that are usually suited to the American style of play."
Montgomerie has never won an official event in the United States and Jim Murray, the greatest sportswriter of all-time, once wrote that Monty "has lost more on American soil than any Brit since Cornwallis."
Langer, the two-time Masters champion who is seeking his third Champions Tour major title, overcame a double-bogey 6 on the seventh hole to post a 69 and will play alongside Montgomerie for the fourth consecutive day.
Marco Dawson collected nine birdies in a 64 that is the low round of the tournament and was two shots back in a tie for third with Bart Bryant and Kiyoshi Murota of Japan, who both had 70s.
Tom Watson, the 64-year-old Stanford grad who had a share of the 36-hole lead, finished with a 72 and slipped four strokes off the lead into a tie for sixth with John Cook of Rancho Palos Verdes (68), Jay Haas (70), David Frost (69) and Gary Hallberg (70).
Kenny Perry, who has won his last three major starts including the Regions Tradition last week, was five shots behind in a tie for 11th after a 66. Two years ago at Harbor Shores, he shot a tournament and course record 62 in the final round to win the Senior PGA.