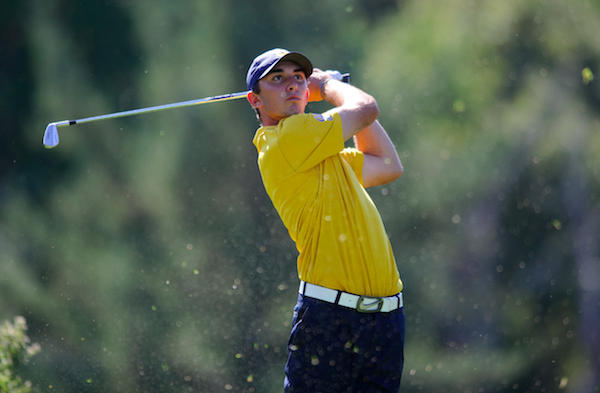 GREER, South Carolina – Former University of California men's golfer Max Homa won his first professional tournament Sunday with a victory at the Web.com Tour's BMW Charity Pro-Am Presented by SYNNEX Corporation. Homa (68-65-70-63 – 266, -20) earned a $117,000 paycheck for the win that was the fifth on the Web.com Tour by a former Cal men's golfer, with the others a trio of victories by Peter Tomasulo and one from James Hahn. Homa turned professional in 2013 after winning the NCAA and Pac-12 individual medalist honors during as a senior at Cal.
"Max continues to show his wonderful all-around game as a young professional," Cal head coach Steve Desimone said. "He played a great final round today and we saw a lot of that during his Cal career. The Cal golf family is smiling for Max this afternoon. This win is richly deserved and we're very proud of him. Go Bears and Max sure did today."
Homa fired an eight-under par 63 during Sunday's final round and quickly started moving up the leaderboard with an eagle on the par-five second hole. He would roll off birdies on each of the next two holes on the par-four third and par-three fourth, and then picked up another on the par-three ninth to close out a five-under par 30 on the front nine. Homa would make three more birdies on the back nine on the par-four 12th and 14th holes, as well as the par-five 15th.
"It's surreal. It's emotional," Homa said. "I didn't win a lot in college and to come out and do it quickly means a lot to me and gives me a lot of confidence for wherever I may wind up at the end of the year."
"It was an awesome, awesome day," he said. "I learned so much and feel so thankful to bring one home for the Bears."
Homa's third round started with four bogeys in his first six holes before turning it around with a 32 on the final nine to finish the day two under.
"We just got off to a terrible start there," Homa said. "My caddie and I talked about things at the turn and we just said let's do the best we've ever done to turn over-par into under-par. We posted that 32 and I knew I was riding some momentum."
Sunday's final round returned to Thornblade Club after the first three rounds rotated between Thornblade and two others — Green Valley Country Club and The Reserve at Lake Keowee. Homa fired a 65 on Friday at Thornblade, which was his lowest round of the week before his tournament-winning 63 on Sunday.
"This course fit my eye better than the others for some reason," Homa said about Thornblade.
Homa, who started Sunday's fourth and final round in sixth place, finished one shot ahead of Jonathan Randolph (65-70-69-63 – 267, -19). He was one of three former Cal men's golfers in the event as Tomasulo (71-63-72-66 – 272, -14) tied for 13th while Michael Kim (68-74-68 – 210) did not make the cut.