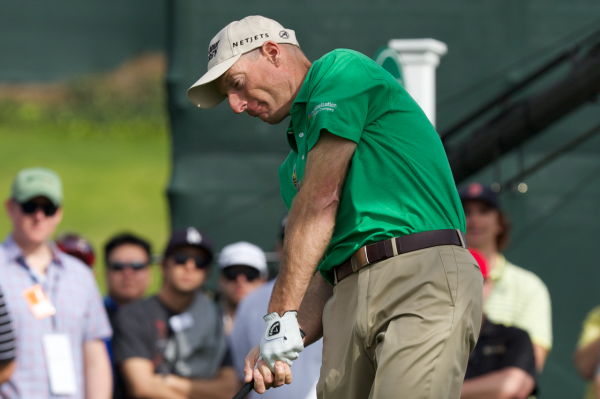 Jim Furyk is getting tired of television cameras capturing his reaction in the clubhouse as another player makes a putt on the final hole to beat him.
After that has happened to him in his past two tournaments, Furyk hopes to be the one holing the winning putt this week in the Crowne Plaza Invitational at Colonial in Fort Worth, Texas.
"You know, I think it sucks to have a TV (camera) in your face, really," said Furyk, who has finished in the top 10 in four of his last five events. "I'll be honest with you. Every time you scratch your nose, it's on television.
"But I understand it's part of the deal. You're looking for a reaction when you know you're not going to get one, considering a guy knows that there's three cameras pointed at him, so it seems a little pointless to me, but I understand."
J.B Holmes made a putt to beat Furyk, who closed with a 65, in the Wells Fargo Championship. Martin Kaymer did it to him a week later in the Players Championship after Furyk finished with a 66.
Furyk has finished second five times and third on three occasions since he claimed his most recent victory on the PGA Tour in the 2010 Tour Championship to wrap up the title in the season-long FedEx Cup race.
"You know, I feel good about my chances in the future," said Furyk, who has won 16 times on the PGA Tour, including the 2003 U.S. Open at Olympia Fields. "I'm disappointed it's been a while since I've won, and I've had some chances to close the door and haven't done it."
Mike Furyk, the only instructor his son Jim has ever had, added, "It's always frustrating because he's not playing golf for the money. He's playing to win. He told me, 'When I say that I've had a really good week and finish 10th, I'm done. Because I'm only playing to win. That's what I want.'"
When Furyk, who turned 44 last week the day after the Players ended, finished second to Jason Dufner last August in the PGA Championship at Oak Hill, he talked about his age.
Essentially, he told the media, it is just a number.
"I know someone is going to mention that I'm 43 and that I'm old and how many more chances am I going to have?" said Furyk, whose career accomplishments put him on the cusp of a berth in the World Golf Hall of Fame.
"You know, I'm not in the grave yet. … My career speaks for itself. I
don't have anything to prove to anyone. … I guess it's days like this that will make the next one sweeter."
After winning the FedEx Cup in 2010, Furyk admittedly fell off the radar and stumbled through a couple of mediocre seasons after being a model of consistency throughout his career.
Early last year, he figured it out.
"You know, it's my 21st year as a golf professional, or actually a PGA Tour professional," he said. "I've been a golf pro now for 22 years. I think I told someone earlier that last year I kind of got in a funk earlier in the year where golf  … it felt like a job. It felt like my occupation rather than being fun.
"I have no one to blame for that or I'm not looking for anyone to feel bad for me by any means. I only had myself to blame. … I was going to change my attitude and get back to having fun and playing golf like I was a kid again and enjoying it. …
"I just felt like I needed to limit my schedule a little bit, kind of play the events that I really loved and wanted to be at, and I needed to go in with a much better attitude. I think it's bred me turning around and being patient and kind of enjoying the game a little bit more again."
Furyk didn't become like Steve Stricker, who is semi-retired at the age of 47 to be at home with his family, but he did find he enjoyed being around the house more, and then was ready when it was time to go back out on the PGA Tour again.
It led to five top-10 finishes late last year and seven more this season.
"I've been playing really well," Furyk said. "I like being out on the golf course."
Of course, it will be a lot more fun when he wins again.
–Story courtesy of The Sports Xchange, TSX Golf Editor Tom LaMarre