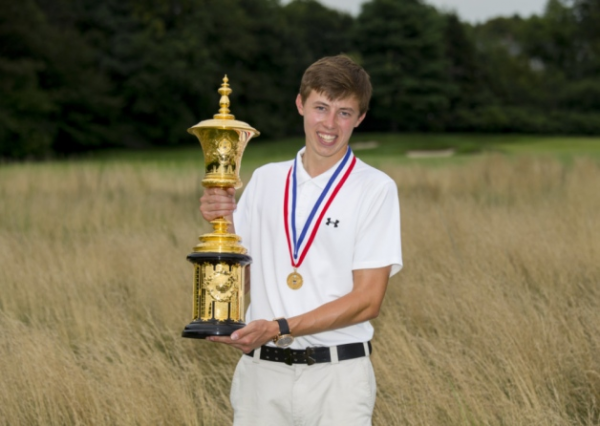 Matt Fitzpatrick, the first Englishman since 1911 to capture the United States Amateur Championship, surprised many when he withdrew from Northwestern after one semester on campus.
The 19-year-old Fitzpatrick, No. 1-ranked amateur in the world, did not say if he has any immediate plans to turn pro.
"I very much enjoyed my experience at Northwestern," Fitzpatrick, who lives in Sheffield, England, said in statement released by Northwestern. "Based on the opportunities I have right now from a golf perspective, I feel it is important to dedicate 100 percent of my time to the game and have decided to withdraw from university in the U.S.
" … I very much enjoyed my experience at Northwestern. The people, the school and the great city of Chicago all exceeded my expectations."
In addition to winning the U.S. Amateur last summer at the Country Club in Brookline, Mass., Fitzpatrick earned the Silver Medal as low amateur by finishing in a tie for 44th in the Open Championship at Muirfield.
Fitzpatrick shared medalist honors at the Rod Myers Invitational with teammate Jack Perry, finished third in the Windon Memorial hosted by Northwestern and tied for 15th in the Gifford Collegiate in his three fall events for the Wildcats.
"The surprising part for us was how much his family valued education and how important it was to them during the recruitment at Northwestern," said coach Pat Goss, who also coached Luke Donald at Northwestern and is credited for helping him become one of the great short-game players in the world. "His family and Matt had nothing but espoused the value of education here.
" … Having Matt Fitzpatrick was a positive experience. We recruited a player who was the 11th-ranked player in the world at the time, and he went on and achieved great things. We wish Matt nothing but the best and appreciate the time he was here."
As long as he remains an amateur, Fitzpatrick has exemptions this year into the Masters, the U.S. Open at Pinehurst and the Open Championship at Royal Liverpool.
–USGA photo