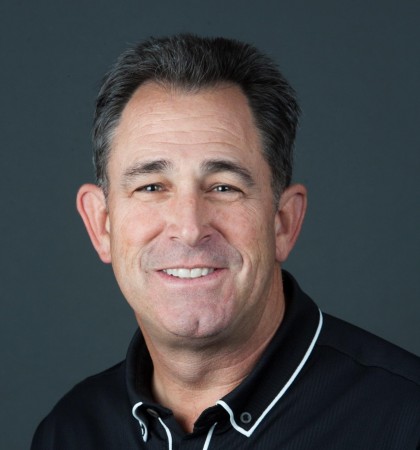 Mark Wilson, Director of Golf at North Ranch Country Club in Thousand Oaks has been selected 2015 Southern California PGA Golf Professional of the Year.
Wilson is a 1978 graduate of Buena High in Ventura and graduated from Cal State Long Beach with a BSEE in 1988. He joined the staff at North Ranch in 1996, received his PGA membership in 2000 and has been a member of the SCPGA Section Board since 2006.
Other 2015 SCPGA award-winners include Honorary Life Member–Jim Vernon, Past President; USGA; Teacher of the Year–Brady Riggs of Woodley Lakes Golf Club;       Bill Strausbaugh Award–Robin Shelton of SeaCliff Country Club; Horton Smith Award–Billy McKinney of Marbella Golf & Country Club; Assistant Professional of the Year– Chris Eikenberg of Desert Horizons Country Club; Player Development Award–Holly Kennedy of Kennedy Golf, LLC; Youth Player Development Award of Randy Chang Journey at Pechanga & Talega Golf Club; Clubfitter of the Year Don Gatch of Emerald Isle Golf Course; Merchandiser of the Year, Private–Mike Goodcase of Birman Wood Golf Club; Merchandiser of the Year, Public–John Kulow of La Mirada Golf Course;     Merchandiser of the Year, Resort–Anthony Holder of Westin Mission Hills Golf Resort; Player of the Year–Michael Block of Arroyo Trabuco Golf Club; AAA Player of the Year–Kenny Pigman of Goose Creek Golf Club; Women's Player of the Year–Julie Wells of Banning; Women's Apprentice Player of the Year–Jackie Kazarian of Monarch Beach Golf Links; Senior Player of the Year–Chris Starkjohann, PGA Life Member; Super Senior Player of the Year–Fred Wood of Oceanside Golf Course.
The 2015 award-winners will be honored at the President's Dinner on Dec. 6 2015 at Westin Mission Hills Golf Resort.
The recipient of the 2015 President's Award will be announced at the ceremony.