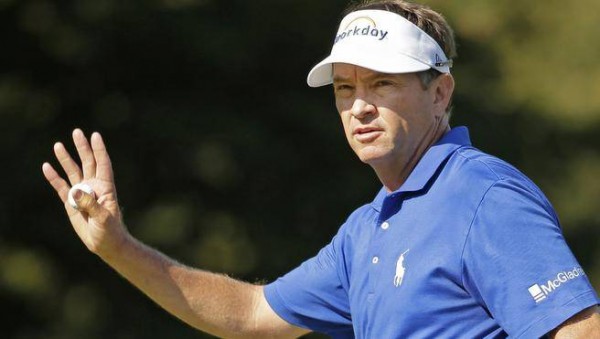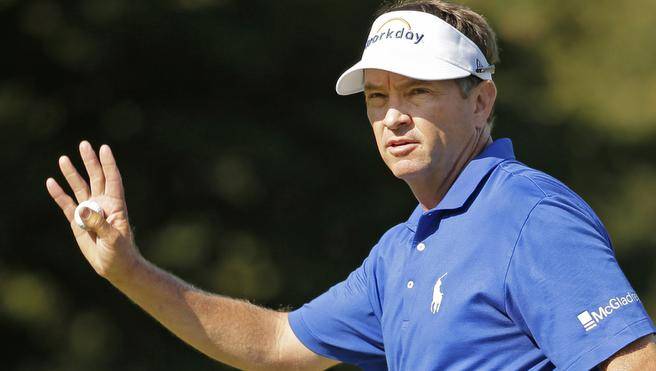 Davis Love III is a busy man.
Love is captain of the United States team for the 2016 Ryder Cup at Hazeltine. He was an assistant captain for the U.S. team in the Presidents Cup last month in South Korea, and at the age of 51, he still plays a full schedule on the PGA Tour, winning the Wyndham Championship in August.
This week, he will perform his duties as tournament host of the RSM Classic and also will be in the field at Sea Island Resort in Sea Island, Ga.
"I think this is the best time of year to be here," said Love, who has been heavily involved in the tournament since its inception in what was then the Fall Series in 2010. "I've lived here since I was 15 years old. October, November is a great time.
"This resort, these golf courses, this place, the way the tournament has been run the last five years, I think it sells itself, so I think you could have it really almost in any slot in the six or seven weeks (of the fall schedule on the PGA Tour), and we'd come out with basically the same field, so I'm not concerned about that.
"It's been an incredible five years, and I'm excited to work just as hard through 2020 (the length of the current contract) to keep this tournament growing."
Perhaps because of the demands on his time and the pressure of playing before the home fans, Love has not played particularly well in four of the previous five editions of the tournament, which was known as the McGladrey Classic until a recent name chance.
However, three years ago he opened with 65-66-66 and was tied for the lead with Jim Furyk through 54 holes before closing with a 1-over-par 71 to wind up in a tie for fourth. He finished four strokes behind winner Tommy Gainey, who shot 60.
"Home-field advantage is good and bad," said Love, who has not finished in the top 30 in the other four years of the tournament and missed the cut twice.
"You know, you're comfortable with the golf course, but you've also got the pressures of playing at home and expectations.
"You try a little too hard, and I know Jim Furyk and I certainly, the last group (that) year were trying too hard to win because it would have been neat for either one of us to win this event."
Love proved in the Wyndham that he can still win against the young guys, posting bookend 64s to prevail by one stroke over Jason Gore. He claimed his third victory in what started out as the Greater Greensboro Open at Sedgefield Country Club.
At 51 years, 4 months, 10 days, Love became the third-oldest winner in PGA Tour history, trailing Sam Snead, who won the last of his eight Greensboro titles at Sedgefield in 1965 at 52 years, 10 months, 8 days; and Art Wall, who captured the 1975 Greater Milwaukee Open at 51 years, 7 months, 10 days.
"Any victory now is going to be really sweet when you're over 50," said Love, whose previous victory was at the 2008 Children's Miracle Network Classic at Disney World. "To have your name thrown out there with Sam Snead at any point is incredible. For some reason, this (Greensboro) tournament has been good to guys in my age group."
It was Love's 21st victory on the PGA Tour, including the 1997 PGA Championship and the Players Championships in 1992 and 2003, and it put him on the doorstep of the World Golf Hall of Fame.
Love is not ready to start acting his age. He has no plans to play full time on the Champions Tour with the 50-and-older set anytime soon, although he will play selected events on the senior circuit.
"I'm going to play mostly regular tour," said Love, who played three events on the Champions Tour in 2015, with his best result a tie for third in the Principal Charity Classic. "There's some tournaments like the First Tee at Pebble (Beach), I hope I get to withdraw from that one, as well, because it's opposite Tour Championship (which he hopes to qualify for).
"But there are some tournaments out there that I've played or I want to play, but it's going to be mostly regular tour. I just feel like the advantage as Ryder Cup Captain, come next summer, if I'm playing in the events with the guys (who will make the U.S. team), watching them play, getting to hang out with them — and we don't really know the team.
"We know obviously Jordan Spieth is on a roll, got a lot of points. But it could be some new guy. Looking right now (at) Justin Thomas, Brooks Koepka, guys that have not played on a team before. So it would be nice for me next year to be around those guys a little bit more."
As we said — busy, busy, busy.
–Story courtesy of The Sports Xchange, TSX Golf Editor