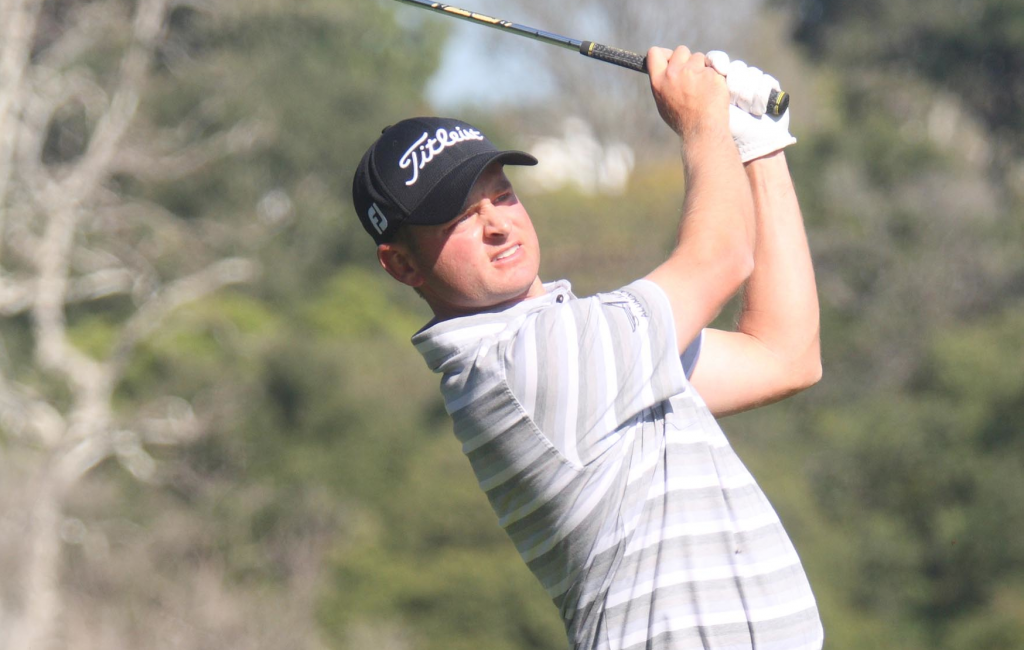 By RANDY YOUNGMAN
Pacific Palisades – Hollywood ending, indeed.
John Merrick picked the perfect city, the perfect course and the perfect tournament to win for the first time on the PGA Tour – the Northern Trust Open at famed Riviera Country Club, a few minutes down Sunset Boulevard from where he went to college at UCLA.
Merrick, who was born and raised and still lives in Long Beach, became the first Los Angeles County native to win the storied LA tour event, beating Charlie Beljan with a par on the second hole of a sudden-death playoff.
For Merrick, 30, it was his first victory in 169 PGA Tour events over seven years. And it seemed apropos that it happened at Riviera, where Merrick remembers sitting on the hill behind the 18th green when Robert Allenby won a six-man playoff at the then-Nissan Open in 2001.
"I can't put into words (what this means)," a misty-eyed Merrick said afterward, his voice breaking with emotion. "Growing up as a kid (in Southern California), coming out here, I just wanted to play in this tournament."
And now he's the Northern Trust champion, earning him a berth in the Masters at Augusta National in April.
A playoff was needed to decide the title after Merrick shot a final-round 69 and and Beljan a final-round 67 to finish tied atop the leaderboard at 11-under, one shot ahead of Fredrik Jacobson, Charl Schwartzel and defending champion Bill Haas. Jacobson and Schwartzel both missed putts on No. 17 and No. 18 that would have enabled them to join the playoff.
Beljan birdied the final hole of regulation by rolling in an 18-footer to tie Merrick, and the drama continued in sudden death.
On No. 18, the first hole of the playoff, Merrick pushed his drive into the rough in the right tree line and punched a low-flying long iron that rolled just over the back of the green. From there, he got up and down for par with a perfectly executed downhill chip to tap-in range.
Meanwhile, Beljan hammered a 325-yard drive down the middle and pulled his pitching-wedge second shot onto the left fringe, settling against the edge of the collar 26 feet from the cup. After a tricky first putt left him 6 feet for par, he drained the putt to extend the playoff.
On No. 10, a diabolical 312-yard par-4, Merrick laid up with a long iron, and Beljan pulled his driver left of the green into the deep rough. After Merrick hit a 60-degree sand wedge that spun to a halt 19 feet from the hole, Beljan chipped just short of the green, 18 yards away from the flagstick, and made a nice lag putt that stopped 5 feet right of the cup.
Merrick applied the pressure again, lagging to 21 inches and tapping in for par. Then Beljan missed his tying attempt to the right, and Merrick celebrated his first tour victory.
Until Sunday, Merrick's top PGA Tour finishes were a pair of seconds, at the 2009 Bob Hope Classic and 2012 FedEx St. Jude Classic.
As a Southern California amateur, Merrick won10 individual titles at Long Beach Wilson High, the 2001 SCGA Amateur, the 2001 and 2002 Long Beach City Amateur and the 2003 Pac-10 Men's Individual Championship.
He is a member at Virginia Country Club in Long Beach, along with fellow tour pros John Mallinger, Peter Tomasulo, Patrick Cantlay, Paul Goydos and John Cook. Their coach is Jamie Mulligan, Chief Operating Officer at Virginia CC, whom Merrick credits for his development as a tour pro.
"Jamie has helped me a long time with my game, ever since I've been a kid," Merrick said earlier in the week at Riviera. "He's definitely more than a golf coach. He's a close friend, and confidant, and you feel like you can tell him anything on or off the golf course with business deals or whatever. So he's been a huge help for me and the other guys, too."
Merrick shot rounds of 68, 66, 70 and 69 and came from three shots behind on Sunday en route to earning the biggest paycheck of his career: $1,188,000. It was his sixth career tour start at Riviera, but a course he's played many more times than that.
It was the perfect Hollywood ending.