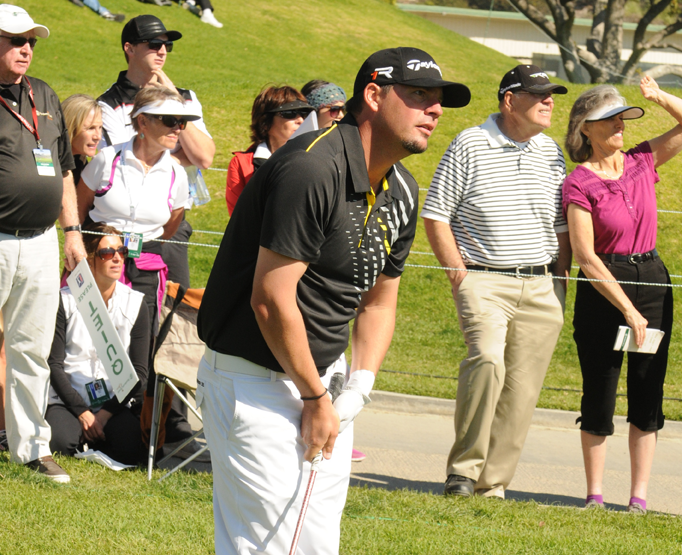 BY RANDY YOUNGMAN —
Pacific Palisades – While stuck in Sunset Boulevard traffic on the way to Riviera Country Club on Friday, Michael Block apologized to his son, Dylan, for having to work on his 8th birthday and promised that the family would celebrate in style next week.
Dylan's response floored Block, the head professional at Arroyo Trabuco Golf Club, who was competing in the Northern Trust Open.
" 'Hey, Daddy, you know what I want for my birthday?' " Block said, recalling their conversation. "I'm expecting him to say a puppy dog or something like that. And Dylan says, 'I want you to make the cut for me, Daddy.'
"That was quite amazing for an 8-year-old to say. And when your son, who loves golf, says something like that, as a father you kind of do everything you can to make it happen."
So Block, an Aliso Viejo resident who qualified for the PGA Tour event as the SCGA section champion, defied the odds of a club pro beating the tour pros and went out and made it happen.
But, of course, it wasn't that easy.
"Yeah, I guess you could say there was some drama," Block said, forcing a smile after shooting a 2-over 73 in Friday's second round to finish at even-par 142 for 36 holes, two shots above the cut line. "I'm bleeding, but I survived."
With darkness falling at Riviera, Block bogeyed two of his final three holes – No. 7 and No. 9 – but it could have been a lot worse.
After chipping in for birdie on No. 5 – from the deep rough on a slope several yards off the green – to get back to 2-under for the tournament, Block seemed to have a comfortable cushion to make the cut with four holes to play.
That was until he pushed his 3-metal tee shot into the deep brush right of the fairway on No. 7, where a lone marshal couldn't find his ball.
He had five minutes to locate his golf ball or he'd have to go back to the tee and hit again, bringing double-bogey or worse into play.
As Block's playing partners, Patrick Reed and Robert Streb, joined the search, a PGA Tour rules official drove over in a golf cart and informed him that they had already used 2 ½ minutes of their allotted time.
"About the 4-minute mark, Patrick found my ball; that was huge," Block said.
That was the good news. The bad news was that the ball was buried in thick vegetation.
"You should have seen my lie on (No.) 7," he said, shaking his head. "I hacked it out – barely – but I was lucky I got it out (of the hay). I literally got it six inches over the stuff."
The next shot, his third, landed on the back of the green, and he 2-putted for what felt like a glorious bogey, dropping him to 1-under for the tournament.
After he hit his tee shot in the middle of the fairway on No. 8 – with a hybrid, because his 3-metal had deserted him – Block said a tour official came over and asked if the group was going to try to finish despite the approaching darkness.
"I told him I wanted to keep playing. I wanted to get in (the clubhouse) and not have to come back to finish (the round) in the morning," he said.
He might have had second thoughts after he hit the eighth green in regulation and his first putt came up 6 feet short of the cup. But he rolled in the putt for par and arrived at No. 9, his last hole, knowing he could make the cut with a bogey or better.
By then, it was too dark to see the shots in the air, but he pounded a drive down the right side of the fairway and hit what he thought was "a great 8 iron" approach, only to find the ball short of the green in the rough.
"It was so dark, I couldn't really see  (on the green) where to chip or putt," Block said. "I had no idea."
His chip stopped 7 feet from the cup, and he cautiously 2-putted for another bogey that dropped him to even par for the tournament. But he knew he had made the cut.
He thought the cut was 1-over, but it turned out to be 2-over par, so he made it by two strokes. Didn't matter to him. He's tied for 50th place, nine shots behind co-leaders San Moon-Bae and Fredrik Jacobson. That didn't matter, either. What mattered most is that he had given Dylan the birthday present he wanted.
"The last six or seven holes, my hands weren't working as well as they had; I couldn't release my 3-wood all of a sudden," Block said. "And I'm sure everybody (in his gallery) was starting to go 'uh-oh.'  The (poa annua) greens were getting bumpy and difficult to read as it started getting darker. Let's just say the back nine was scary for me."
But Block was able to grind it out and make the cut, a significant accomplishment for a club pro. To put it in perspective, big-name tour pros such as Graeme McDowell, Dustin Johnson, Padraig Harrington, Bubba Watson and Zach Johnson didn't make the cut.
"It hasn't really sunk in yet," he said.
But Block made it a point to thank everyone who came out to support him at Riviera – all of the family and friends and fellow Arroyo Trabuco employees and club members who followed him both days.
"They were by far the biggest inspiration for me the last two days; they helped me make the cut, because I wanted to do so well for them," Block said.
Especially his parents, wife Val, 6-year-old son Ethan and, of course, the birthday boy, Dylan.
When he finally emerged from the clubhouse scoring area, Riviera was almost completely dark. But Block's entire family was waiting.
He hugged them all. But Dylan got the biggest and longest hug. Happy birthday, indeed.
************
On the day after Block battled to make the cut, he missed the cut.
Yes, it's confusing, so it requires an explanation.
Because 79 players made the 36-hole cut at 2-over-par or better, the field was reduced again after Saturday's third round to 70 players and ties.
After Block shot a disappointing 8-over 79 on Saturday and told reporters he needed to rest in the hope of posting  "a respectable" score Sunday, a PGA Tour official informed him outside the clubhouse that he would not be playing the final round.
Officially, it goes into tour records as an "MDF" – short for made the cut but did not finish. But he does get a PGA Tour paycheck, like his six fellow MDFs this week.
Block's 79 dropped him from 50th into a tie for 76th among the 79 players who made the 36-hole cut, earning him a $12,342 paycheck – suitable for framing.
Block said afterward that he struggled with his distance control all day, sometimes hitting the ball "one or two clubs" too long. He also lost confidence in his swing, and that combination added up to nine bogeys and one birdie (on the par-5 first).
He also finished with four consecutive bogeys (holes six through nine) and conceded his legs were weary after playing so many tournament and practice rounds this week.
Regardless of how the week ended, he said he'll always have great memories of the first two rounds and the large gallery of family and friends that followed him around.
He also beat 77 tour pros who didn't make the 36-hole cut – quite an accomplishment for a club pro who usually plays once a week.
"I felt good about that," Block said, "but I still don't like shooting 79."