THE LIFE AND TIMES OF THE GOLF MAN
By MATT GINELLA
Photos ROBERT BECK
I met John Ashworth like most of you did, on the racks of my home golf course back in the 80's. He was everywhere. That cool transcendent relaxed-fit cotton golf shirt, which hung off my slim shoulders, I'd pick up the sleeves in my pre-shot routine because that's the way Freddie did it. Couples, that is. It was Fred Couples who put Ashworth on the map, but it was the fashion-forward sense of the brand that got Couples, John Cook, Mark Wiebe, Ernie Els and Jim Nantz all wearing Ashworth in the early days. The iconic logo, a napkin sketch by the late and great Barry Grimes, was known as "The Golf Man." The black-and-white ad campaigns of Couples and company rolling around in convertibles.
Since the meteoric success of Ashworth, the brand and the man, John Ashworth launched Linksoul, another apparel company based in Oceanside and right down the street from Goat Hill Park, the municipal golf course that he, along with a selfless staff and loyal locals, has reimagined and revitalized. What once was an underachieving community asset has now become the home and host of the annual Wishbone Brawl in which notable pros like Xander Schauffele, Geoff Ogilvy, Charley Hoffman and Couples compete using persimmon woods.
The giddy gallery of 1,200, made up of adults, kids and dogs, aren't confined by ropes and fill in around each green like you'd see in tournament pics of the 1950s. The money raised by the Brawl goes to North County Junior Golf and Goat Hill Park's junior caddie and leadership academy that Ashworth started four years ago. The kids from the caddie academy carry the bags for the pros in the Wishbone Brawl, just one example of connecting the dots of what's possible with thoughtful leadership and a focus on paying it forward.
On that note, tee by tee, green by green, bunker by bunker, Ashworth has greatly enhanced Goat Hill Park's old driving range, he's revamping the clubhouse and added a 3-hole kid's course that he calls The Playground. It's all an answer key for other municipalities and public courses looking to restore an otherwise flailing business model. Meanwhile, Ashworth continues to lead by example and alter the way we wear and experience the game of golf. These days, he's swinging a shovel as often as he is a club.
In the morning, he might be in a meeting at Linksoul working on next season's clothing line, and, in the afternoon, he's in the seat of a tractor moving dirt to where the new 18th tee will be located. "Golf for all" was a mantra and mindset established by Old Tom Morris in the late-1800s as the grandfather of golf roamed and cultivated the sacred sod of St. Andrews. His spirit is alive and well in Ashworth as he roams and cultivates the spiritual and special experience at Goat Hill Park, linking souls along the way. And with that, let's play nine with John Ashworth, co-founder of Linksoul and Caretaker of Goat Hill Park.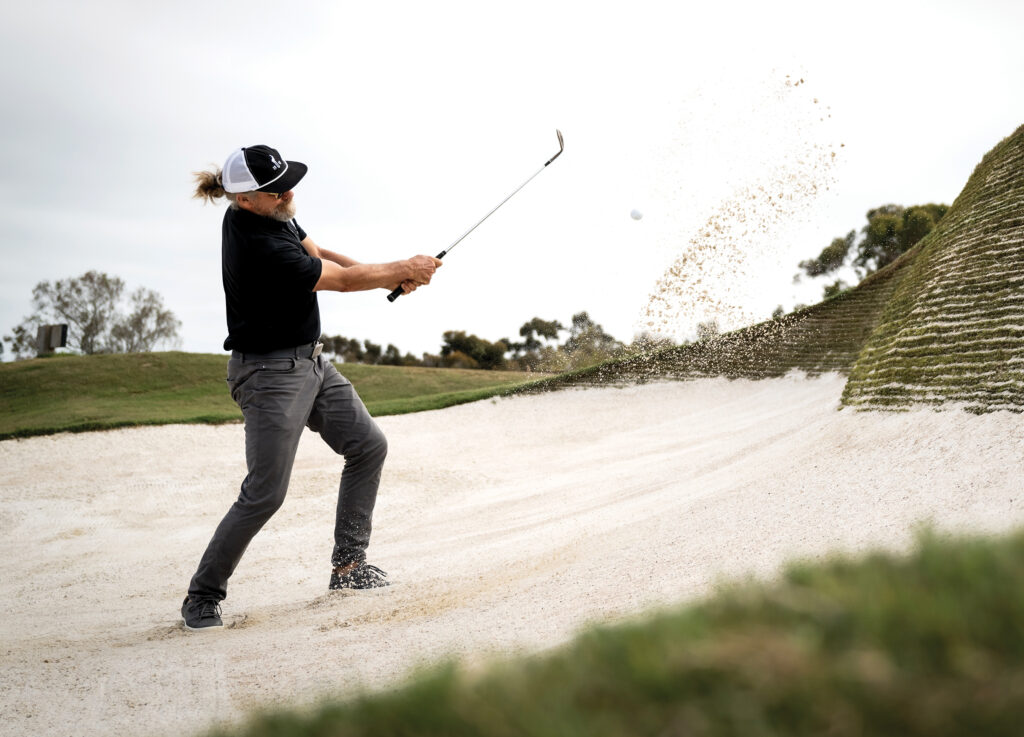 1. Let's start at the beginning: How did you get introduced to golf?
It was in Escondido in 1968, when I was 8 years old. My mom was a nurse and my dad was a school teacher. My dad's hobby and his passion was golf and every Sunday morning he had a standing dawn patrol game with a men's club at a public track called San Luis Rey. I remember my mom gave me an ultimatum: I could either go to Sunday school or caddie for my dad. Needless to say, it was a no-brainer, and I've been hooked on the game ever since.
2. Did you play competitively?
I was a pretty good junior golfer. I won the San Diego City Junior Championship in 1977. I had a mediocre college golf career at the University of Arizona, which gave me no desire to turn pro. In 1984 my good childhood friend Mark Wiebe asked me to come and caddie for him at Q-School and then after we successfully got his PGA tour card we went on tour for a year. On his bag and inside those ropes, that's when I saw what I considered bad fashion up close, which gave me the inspiration to start a clothing brand. It was Wiebe's sponsor, Jerry Montiel, who I partnered with to launch Ashworth in 1987.
3. If you didn't get into fashion, what was your Plan B?
I earned a bachelor degree in Agronomy at Arizona, essentially turf-grass management, and I got a minor in philosophy. I seemed destined to be a superintendent.
4. Do you have fond reflections on the Ashworth days?
Definitely. I loved the collaborative days with Barry Grimes, the photo shoots and catalogs, the clothes and what we were creating. The timing was right, the stars aligned and we caught lightning in a bottle. It was long before the days of cell phones and computers, and looking back now, I'm not sure how it was even possible. I was 27 years old and moved to Los Angeles without a clue about the fashion industry, but what I did have was lots of energy. They say "ignorance is bliss"? I got my Master's degree in the school of hard knocks. I was making sales calls out of the trunk of my car, but with the help of a lot of talented people, we managed to figure it out.
5. How did you land Couples and Cook?
I had played against Fred (Couples) and John (Cook) in college and knew they were studs on the course. In my mind, they both fit the image we were trying to create, so we asked them to be part of our company. I still can't believe how or why they said yes, but they did, and it was on the same day. Later, Ernie Els joined the team. Golf business was different back then, it was pre-Tiger, who, by the way, wore Ashworth as an amateur. Golf in the 80s and early-90s was still a boutique industry before all the big companies like Nike and Adidas jumped in. The whole experience was a wild ride, we went from that trunk of my car to $100 million in 10 years and changed the landscape of golf fashion forever. It seems crazy to say that out loud, but looking back, I believe that's all accurate. The goal was always to shine a light on the virtues of the game and present a modern yet timeless image that made golf cool to both golfers and non-golfers. I'd like to think that exactly what we're still trying to do with Linksoul, a brand you can wear on and off the course, in and out of the water, and it all plays out at places and courses like Goat Hill Park and along the beaches of Southern California.
6. What occupied your time between Ashworth and Linksoul?
I had made several trips to Scotland in the early 90s and fell in love with links golf. In 1996, I discovered a piece of land known as Archerfield, between Muirfield and North Berwick on the East Lothian coastline. It was where two links courses, dating back to the 1800's, had disappeared over time. I spent the next two years getting planning permissions to design three links courses, a boutique hotel, plus 100 cottages. We finally got the permits and I'm happy to say it all became a reality, but unfortunately, I kind of got squeezed out of the deal, which is a bit of a bummer. One of the golf courses, the Renaissance Club, a Tom Doak design, recently hosted the Scottish Open.
7. Lucas Glover, Geoff Ogilvy, Sahith Theegala, Bubba Watson, just some of the pros wearing Linksoul. What's your vision for the future of the brand as you look to 2024 and beyond?
I see a constant evolution of adding value to the golf community both globally and locally by connecting people to the soul of the game. We're committed to offering an effortless sense of style by attention to detail, designing quality clothing using fabrics that mitigate the negative impact to the environment.
8. When people ask you about Goat Hill Park, when they ask how they can get that same success and vibe that you've achieved in Oceanside, what's your advice?
The business of golf is kind of weird, and I have a whole new respect for anyone operating or managing a golf course of any type. Every day something can go terribly wrong. That being said, if I'm asked what the secret sauce that's worked at Goat Hill Park, I would say, focus on great greens and keep the rest of the course in the best shape possible. Keep it simple, hire friendly people. It's like inviting friends over to your backyard to hang out and play a game. Be welcoming and relaxed, it's all about the hang. Avoid anything that feels uptight and the basics we've adopted are: A) No overbearing dress code. B) An eclectic playlist of music going at all times around the clubhouse and driving range. C) We're dog-friendly.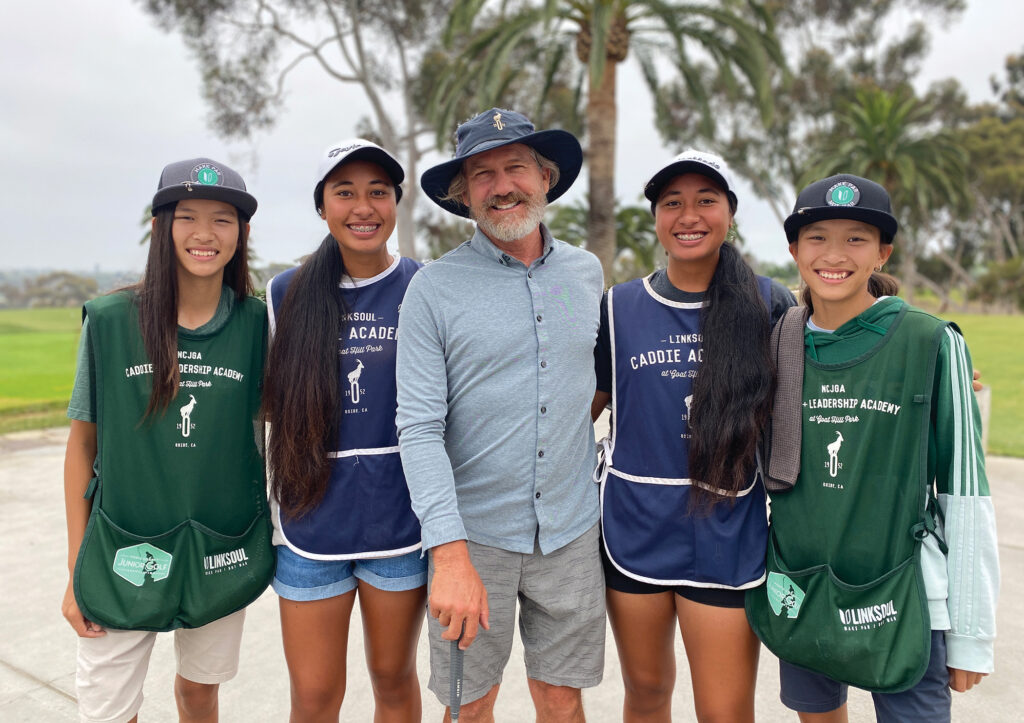 9. Of all the things you've accomplished so far, of all the things the game has given you, the relationships and opportunities, moments and memories, where does what you've done and continue to do at Goat Hill Park stack up?
For me, it's all related to Karma. Looking back to my opportunities, places I've been, things I've seen and experienced, the obstacles along the way, the good people I've met, it has all led to saving Goat Hill Park. I grew up playing there, so to spend the last ten years constantly fixing up and refurbishing that land, I've been able to watch the community come together and take part in the process. It has been amazing to witness all the friendships being forged, the positive transformations taking place on a daily basis. People getting married, babies being born, toddlers running around The Playground, kids becoming adults. From the cradle to the grave, it's been the full cycle of life playing out right in front of us. Golf is a healing game, it gets us close to nature, connects us to the earth and our surroundings. I see a golf course as much more than just greenspace, I see it as a spiritual place. I feel so incredibly lucky to have this opportunity to serve my community.