Two Magnificent Pete Dye Courses Highlight a Must-Visit Resort Experience
Traveling to play golf takes you to some pretty amazing places. And if your tastes often take you beyond the ordinary, Nemacolin is a word you should know and a singularly spectacular resort experience from the moment you arrive through its gates.
Perched among the picturesque Laurel Highlands one hour southwest of Pittsburgh, Nemacolin simply exceeds just about every expectation you can set. As first impressions go, Nemacolin sets the tone for the bold and dramatic with the scale and architectural splendor of its Chateau, the first hotel structure you come to and enter to check in for your stay. Talk about a sense of arrival. Patterned after The Ritz Paris, the vast Chateau welcomes guests not with cold, museum-like austerity, but with warmth and whimsy. When we passed through the entrance, we were greeted by a giant giraffe-themed topiary and friendly faces who offered us a welcome glass of sparkling wine. If we didn't know by now, we would soon find out that this place is characterized by indulgent fun and bountiful art at every turn.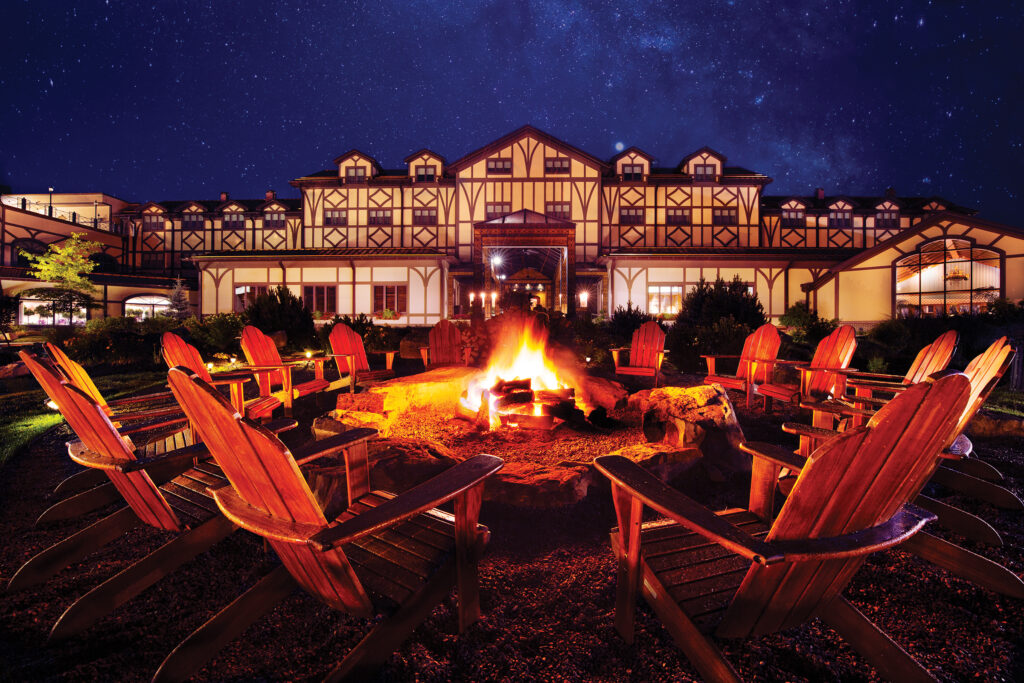 The Chateau is just one of the places you can stay at Nemacolin, along with the award-winning Falling Rock and the newly reimagined and soon-to-be-reopened space called The Grand Lodge. Nemacolin is world-class on all fronts, but we soon learned that it got that way, because it's constantly improving its guest experience and its infrastructure. We also saw a sneak peek of the fabulous new guest suites and reinvigorated common spaces within The Grand Lodge. We can't wait to return to experience the new Circle Bar and the brilliant new restaurant concept Fawn & Fable.
Nestled in the splendid Allegheny Mountains, Nemacolin is home to long views and Mystic Rock and Shepherd's Rock, two imaginative championship courses designed by the legendary Pete Dye. Both courses take ample advantage of the area's vast, rugged topography, lush terrain and majestic sweeping vistas. Just down the road from architect Frank Lloyd Wright's acclaimed masterpiece Fallingwater and Fort Necessity National Battlefield (site of the opening action of the French and Indian War in 1754), Nemacolin is making its own distinctive brand of history in those nature-rich Laurel Highlands.
Owned by the visionary Hardy family who founded and operate 84 Lumber, Nemacolin has an attraction for any mood or interest you've probably ever had, including a diverse and internationally acclaimed art collection, the Hardy Room cigar lounge, Tea Room, The Patisserie for coffee, pastries and essentials. The Michelin-caliber dining at Lautrec will return after the re-opening of The Grand Lodge and the debut of Fawn & Fable. We enjoyed a transcendent seafood meal at the chic Aqueous we've revisited in our heads many times since. In one's spare time they can enjoy luxury shopping boutiques, art walks and even a 1950s-style ice cream parlor. Beyond golf, outdoor adventurers can enjoy the Field Club (soon to be renamed Rod and Range); Wildlife Adventures that features everything from safari tours to dog sledding; The Peak adventure center (complete with climbing wall, paintball field, and cosmic bowling); and Jeep Off-Road, fly fishing as well as antique auto and aircraft collections.
You'll find artwork and sculptures at almost every turn at Nemacolin. It's a feast for the senses that somehow fits seamlessly along with the 2,200-acre resort's breathtaking natural surroundings. Nemacolin offers guests 280 luxuriously appointed guest rooms, suites, townhouses and private upscale homes, including Falling Rock, a Forbes Five-Star boutique hotel with rooms overlooking the Mystic Rock course..
Before rounds on Mystic Rock, Shepherd's Rock, we took time to check out all the state-of-the-art toys inside The Nemacolin Golf Academy. The all-season entertainment and game improvement space is a great place to play and learn on TrackMan or get a lesson or custom fitting from director of instruction Mike LaBella and his team.
Teeing it up at Nemacolin means being ready to tackle the crafty Pete Dye and walk in the footsteps of the PGA Tour players who competed in the 84 Lumber Classic from 2003 to 2006, including champions like Vijay Singh Open Championship winner Ben Curtis.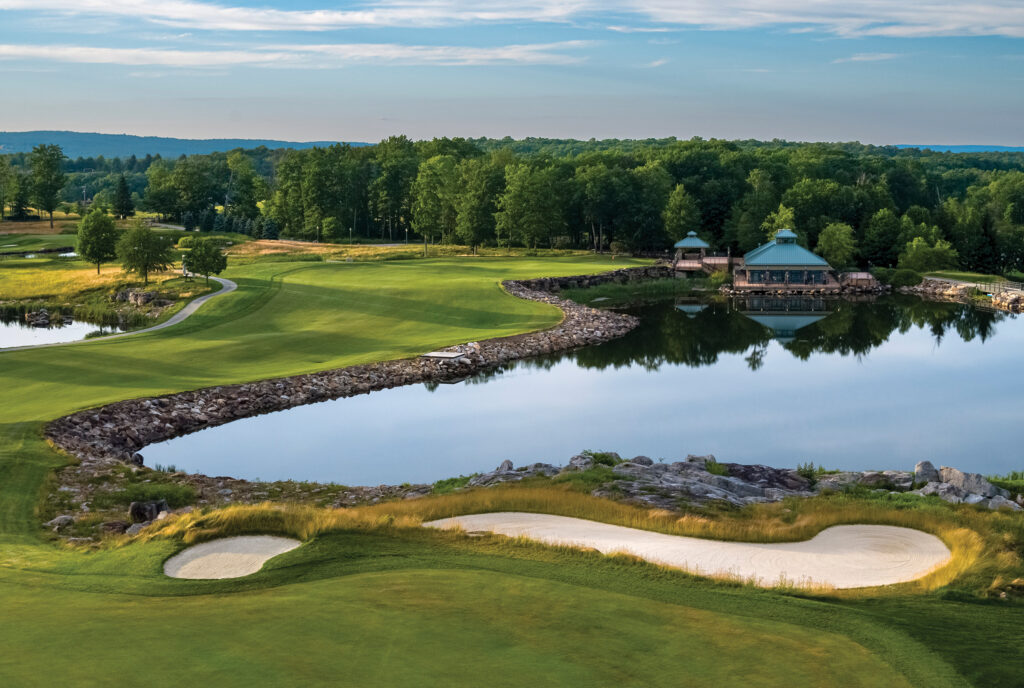 Mystic Rock is a sterling example of a more subtle and cerebral side of Dye. He lets the rolling land dictate the routing and shot values here with ample landing areas, walkability and serene sight lines. There are very few daunting forced carries, but endless risk-reward scenarios and plenty of ways to make the round more complicated than it needs to be. Positioning off the tee and hitting to the correct parts of the green comes into play routinely as Dye plays with angles, misdirection, false fronts and greens that run off the sides or back if you mis-club.
There's a great mix of short par 4s like the first hole, the sneaky-long, uphill fourth – which is one of the few holes that asks for a tee shot to carry water – and more humbling long holes like the daunting 476-yard ninth with water left off the tee and a narrow, sloping green. You can gain momentum early in the round with manageable par 5s at the fifth and eighth holes and a wedge-shot par 3 at number seven, but beware the geometry Dye throws at you on holes like nine, the winding, 439-yard par-4 10th and the long, dogleg-right uphill par-five 11th. After a satisfying stretch of par fours at 13, 14 and 15. Mystic Rock closes with a fun risk-reward par 5, a long, challenging par 3, with water lurking left, and uphill par 4 that demands solid strikes and respect of the angles of play. Mystic Rock belongs in the conversation with some of Dye's best work.
At Shepherd's Rock, the mischievous side of Pete Dye and his associate Tim Liddy come out to play. You'll find yourself playing shots 40 feet from the hole to allow Dye's slopes to (hopefully) do their work and you'll come to respect false fronts that can send even well struck shots that look pin high back down the front edge of the green and toward the man who hit it. What you probably won't figure out on the first try is the wildly sloping greens or the ideal angles into those greens.
That said, there's a great collection of beautiful holes that rise up hills and plunge down valleys. The crafty and postcard-worthy 11th is one of the handsomest holes on the property while views from fifth, seventh, 16th and 17th holes are extraordinary places to enjoy the nature around you. The 18th hole is a terrific and memorable par 4 that demands a strong drive that is safe from ponds and marshes right and trees left. The waterfalls and majestic setting near the green while inspire to return for another challenge.
Nemacolin's entertainment and adventure offerings are so creative, you can't help but feel the Hardy family's personal touches all over the grounds. It's like they've invited you to hang out at their estate and let your hair down for as long as you like.
Set in an area steeped in rich American, architectural and agricultural history, Nemacolin is carving out its own distinctive legacy in the nature-rich Laurel Highlands. To learn more about this one-of-a-kind destination, visit www.nemacolin.com.