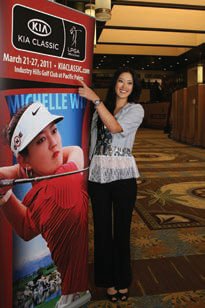 The LPGA recently announced that Kia Motors America (KMA) has signed a two-year extension to its title sponsorship of the Kia Classic. Industry Hills Golf Club at Pacific Palms in the City of Industry, Calif. will host the second-year event in 2011, marking the LPGA's return to the Los Angeles area for the first time since 2005.
Last year's site for the inaugural Kia Classic, La Costa Resort & Spa, was unable to continue as host due to an extensive golf course renovation planned for 2011. The tournament, which will feature a 144-player field, will be played March 21-27.
Kia's sponsorship of the Southern California-based tournament complements its sports marketing activities in the U.S., including its partnership with two-time LPGA winner Michelle Wie, who is the brand's official golf ambassador.
"We are pleased to once again bring the fun and excitement of world-class competition, including Michelle Wie and all of the talented LPGA players, to golf fans in Southern California."
The tournament will mark the return of the LPGA to Industry Hills Golf Club at Pacific Palms following the 1981 and 1982 Olympic Gold Classic. The 72-hole event will be played on a combination of the Dwight D. Eisenhower (The Ike) and Babe Didrikson Zaharias (The Babe) courses. Tickets for the event are now on-sale at www.KiaClassic.com.