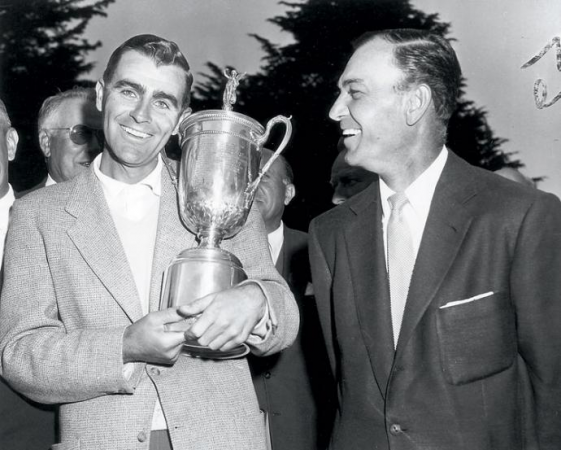 Jack Fleck, who pulled off perhaps the greatest upset in golf history, died at the age of 92 in Fort Smith, Ark. He was the oldest living United States Open champion at the time of his death.
Fleck was an obscure teaching pro at a municipal course in Iowa who got into the 1955 U.S. Open on the Lake Course at the Olympic Club in San Francisco through a 36-hole qualifying event in Chicago.
Ben Hogan was seeking his fifth U.S. Open title and raised five fingers after he putted out for a closing even-par 70, which seemed to give him the title, and NBC proclaimed him the winner before going off the air.
However, Fleck was still on the course and trailed by only two strokes before he birdied the 15th hole, lipped out a 50-foot birdie putt at No. 17 and holed a eight-footer for birdie on the final hole to force an 18-hole playoff.
The next day, Fleck became part of golfing lore by shooting 69 to Hogan's 72.
"I remember his reaction very much," Fleck said in a 2013 interview with the Star Ledger of Newark, N.J. "I thought he would be disappointed with the fact he didn't play to his highest level. But he was very nice and very appreciative, even though he lost the playoff."
In a bit of irony, Fleck won the title using custom-made Ben Hogan clubs, and Hogan personally delivered two wedges to him before the tournament.
Fleck proved his victory was no fluke by winning twice more on the PGA Tour, the 1960 Phoenix Open Invitational in a playoff over Bill Collins, and the 1961 Bakersfield Open in a playoff over Bob Rosburg.
In 1979, he captured the PGA Senior Championship by sinking a 25-foot birdie putt on the third playoff hole to beat Bob Erikson of Casselberry, Fla., and Bill Johnson of Phoenix.