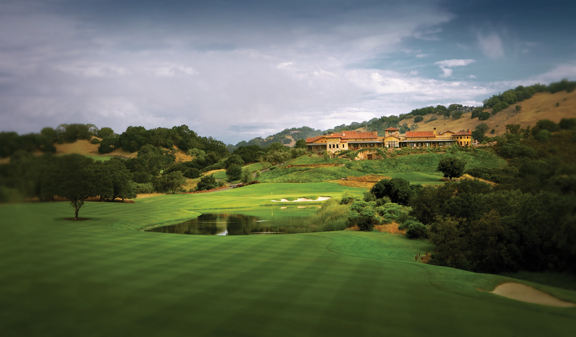 Set in the soft rolling hills just an hour's drive north of San Francisco in Sonoma County are 675 acres crisscrossed by quiet streams and marshes, waving golden grasses, gnarled ancient oaks and an abundance of wildlife. Situated deep against its namesake mountains, the land is peaceful, and soothing to the spirit. At Mayacama, life revolves around an expansive Mediterranean-inspired clubhouse, but above all, what prevails is a sense of belonging – to the land and the community. This is the enduring charm of Mayacama.
Jack Nicklaus Signature Golf – Of the 200 courses that carry his name, this is among Jack's very best, where deep green fairways snake though golden valleys and oak-studded hills. Tees or greens, and sometimes both, are elevated. And while not long for a championship track of this caliber at 6,800 yards, the slope is a challenging 150. As such, Mayacama is not a course where power prevails, but one where a deft touch and patience pay off. It is that truly rewarding member's course – one where every round is anticipated, where each is an invigorating challenge, and perhaps best of all, where the stakes are not dollars but wine, and winnings happily shared.
In the heart of the Wine Country – At Mayacama, a golf club of consequence, it is telling that there are as many wine lockers as golf lockers – nearly 500 in all and filled with impossible to find cult vintages that never see the market. Indeed, the wine program at Mayacama is extraordinary and immersive, an experience richly enhanced by a membership that includes 35 of the world's most notable vintners. This is all perfectly complimented by seasonal, fresh Wine Country cuisine from Executive Chef Scott Pikey.
The complete club experience – Wellness is a way of life at Mayacama. Sunrise might bring a hike along the rim trail or a visit to the gym. Then it's off for a swim or a few sets of tennis. Happily, all this hard work has a reward – the Spa, an exquisite and serene escape that elevates the entire Mayacama experience. For the younger generations, Mayacama brings new and different adventures with junior clinics and kids camps that teach science, filmmaking, trapeze and more.
Ownership made effortless ­– Shared ownership in the Private Residence Club at Mayacama is both practical and effortless, allowing one to enjoy an exceptional private club community complete with five-star amenities and services, yet free from the traditional second-home ownership worries. Residences are comfortably elegant, with hand-plastered walls, limestone fireplaces and pecan and slate floors. Baths include a deep soaking tub and outdoor shower; feather beds are sumptuous and inviting. To make the most of the near-perfect climate, equal attention is given to outside and inside living – every room opens to sheltered great rooms and terraces.
Thoughtful amenities include arriving to a fully stocked refrigerator and pantry, in-residence chefs and of course, dining at the Club. There is a knowing staff and dedicated concierge who will see to your every request on property and throughout Sonoma.
Residential Members at Mayacama have the opportunity to further enhance the ownership experience with Timbers Collection Benefits – a host of perks and privileges from some of the world's most recognized travel and lifestyle partners, including Sentient Jet, Hertz, MedJet Assist and more.
In addition, ownership assures access to the Timbers Reciprocity Program and the ability to trade your vacation time with other destinations in the portfolio. These are extraordinary places that enrich and invigorate. From the rolling hills of Napa and Tuscany, to the slopes of Aspen, Steamboat and Vail, to the beaches of Cabo San Lucas, and the golf courses of Sonoma and Ireland.
FYI: For membership information, e-mail [email protected], call (800) 575-9603 or visit mayacama.com.