BY RANDY YOUNGMAN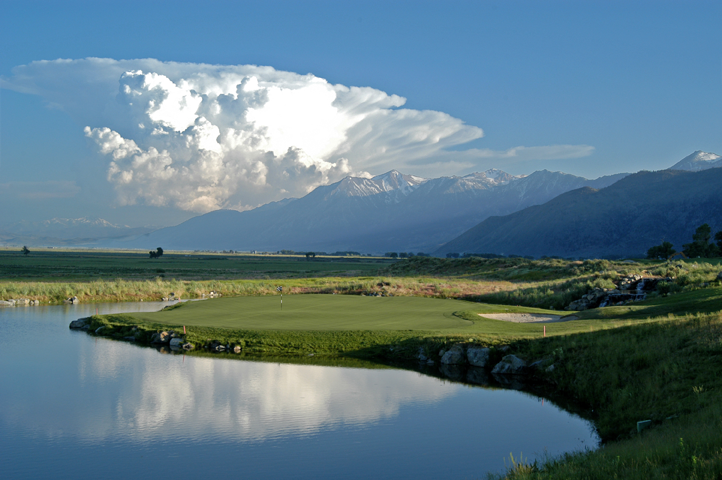 Ever played nine golf courses in one day?
Believe it or not, I recently did. I teed it up at nine different courses in the span of 12 hours, in fact.
OK, here's the catch: I played two holes on nine championship courses, all of them in and around the Nevada state capital – a welcome diversion from the back-biting, bickering, posturing and polling related to the dueling presidential campaigns.
And this was actually organized insanity – an annual media day tour called the "Divine Nine," a cooperative venture to promote the area as a regional golf destination that was sponsored by the courses, as well as the Carson City Convention & Visitors' Bureau and the Carson Valley Chamber of Commerce & Visitors' Authority.
Sure, it was an offbeat golf adventure, but that's why I signed up. Golf gimmick, will travel. That's my motto. The wackier, the better.
Runnin'-gunnin' golf, with a shot clock, designated hecklers and water balloons exploding at your feet while you putt? Been there, done that, during past Irrelevant Week festivities honoring the last pick in the NFL draft.
One hundred holes in one day, in a charity marathon? Pass the ibuprofen, get the icepacks ready and point me to the first tee.
Three-club tournaments and 32-player horse races? Sign me up.
So how difficult could it be jumping on a shuttle bus with 20 participants and playing 18 holes on nine courses, especially with a designated driver and an ice chest of refreshments provided?
Well, in retrospect, let's just say it's a good thing we played only two selected holes at each course, or else we might still be out there turning over the sod while chasing our dimpled white spheroids in this slice of paradise south of Reno and east of Lake Tahoe.
In the interest of full disclosure, we spent much of the day exploring the natural vegetation outside the staked boundaries of the courses, hacking and chopping through the sagebrush as if our irons were machetes and we were fighting to save our lives. There were also quite a few unintended splashes.
Midway through the tour, regular Divine Nine participant Dennis Miller from ACES magazine – he's just as funny as the comedian with the same name who gets paid to wise-crack – yelled on the bus, "This is the worst collection of golfers we've ever had!"
Guilty, as charged. And now I know the origin of the term "media hack."  But I am proud to report that all of the wildlife we encountered during the day were unharmed by all the errant shots fired. One participant actually hit another with a skulled chip shot, but paramedics thankfully were not needed.
It was a fun day, but it was a l-o-n-g day. Shortly after 7, we loaded our clubs onto the party bus that would transport us from course to course and headed first to the Lakes Course at Genoa Lakes, a breathtaking Peter Jacobsen/John Harbottle design where we were greeted in the chill of the early morning by dozens of deer congregating on the par-5 17th and par-4 18th holes. "Drive for doe, putt for show!" I quipped, eliciting more than a few groans.
Next up was the Resort Course at Genoa Lakes (formerly Sierra Nevada), a Johnny Miller/Harbottle design with spectacular elevation changes, followed in order by Sunridge G.C. (water, water – and geese – everywhere), Empire Ranch G.C. (the only 27-hole layout in the area, where the first birdies were recorded), Dayton Valley G.C. (Arnold Palmer design, tour-quality greens, site of PGA Tour Qualifying since 1995), Eagle Valley East (wide open: tee it high and let it fly), Eagle Valley West (plenty of forced carries and target golf at its best), Silver Oak G.C. (impressive views and elevation changes) and Carson Valley G.C. (my favorite: a traditional tree-lined track that winds through century-old cottonwoods and along the Carson River).
Charles Dickens would have loved the tour, because it was the best of times and the worst of times. My best and worst shots came at Carson Valley – a driver over the top of the cottonwoods guarding the middle of the fairway on the 325-yard, dogleg-left 14th (where I lipped out my birdie putt) and a shanked 6-iron out of bounds en route to an 8 on the par-5 15th hole.
All told, the Divine Nine composite course totaled 7,337 yards with a par of 77. To demonstrate how overmatched we were, here are a few conversational snippets I overheard:
• "Where did that go?"
• "I missed a putt and lost a ball in the water."
• "I would have been perfectly happy if this were the Divine Seven," as the sun was disappearing behind the majestic Sierra Nevada mountain range.
Suffice to say, it took a lot more endurance and concentration than I envisioned, as attested by a few of the day's ugly totals, courtesy of official scorekeeper Bill Henderson, director of sales and marketing for the Carson Valley Inn: 11 scores over 100, 104 double-bogeys, 33 "snowmen," 97 lost balls, 89 miles traveled, 12 hours, 1 minute consumed (9:05 of it on the courses). Average score: 109. Low media score: 88 by Dan Hinxman of the Reno Gazette Journal. High score:121. (If you must know, my embarrassing 93 was good for fourth place.)
Would I do it again? Absolutely. But why not 18 courses in one day, with everyone carrying flashlights in their mouths?